A new steak house has set up shop around my neighbourhood recently in an attempt to loosen Aston's stranglehold on the steak market for low to mid tier pricing steaks. Named Ministry of Steak (MOS), the name sounds like a rip off of the now defunct Ministry of Sound (also MOS for short) in Singapore.


The Place
Tucked away along the row of shophouses at Serangoon Gardens where the new NTUC is and just a stones throw away from Astons, MOS suffers from low visibility as the entire row of shops face away from the central bus stop. This particular unit has changed hands quite a few times due to low human traffic so it remains to be seen if MOS can thrive in such an obscure location.


Mushroom Soup
You have the option of adding $3 and getting a calamansi drink + a soup, which happened to be mushroom soup. The soup was rather watered down but at least it was decently creamy and had bits of mushroom in it. Not too bad for the price.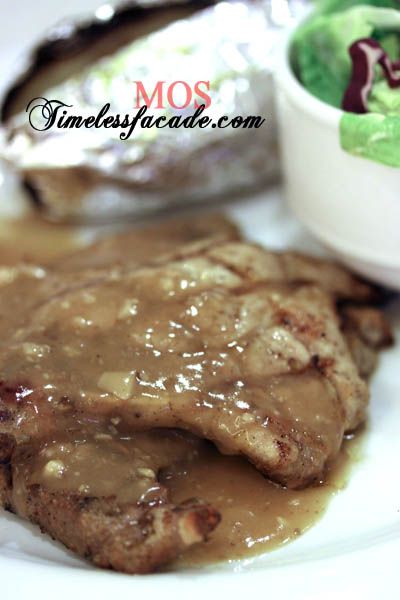 Pork Chops
With a name like Ministry of Steak, pork chops probably aren't their forte but this dish didn't turn out half as bad as I expected it to be. Sure, the meat was a little too chewy in certain areas and the garlic sauce a little too runny, but portions were generous and it beats eating tough pork chops served at some places.


Prime Sirloin
Cheapo me chose the cheapest steak on the menu - the prime sirloin. I must say that I was quite impressed by the handling and preparation of the meat. Beautifully grilled to medium rare as per my request and harbouring a moderate hint of salt, the steak was succulent and boasted natural beefy sweetness. You get 2 sides with every main course and my coleslaw and fries tasted decently fresh. Nothing to holler about though.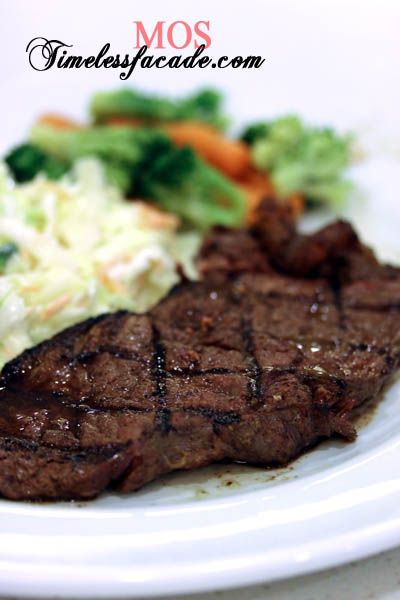 Black Pepper Steak
This was essentially the same cut as the prime sirloin, except that it came with black pepper instead of garlic sauce. And if it looks darker, yes it is, due to the fact that it was done medium well. A little drier and tougher, but still good for those who can't stand really stand the sight of blood.


Bill
The emergence of MOS in the area is sure to give Astons a terrific run for its money, given its quality and competitive pricing (3 of us spent $35). Throw in air conditioning and decent service and I know where I'll be satisfying my steak cravings again. This time I might just be tempted to try out the grade 5 wagyu for $30.
Final Verdict:
Ambience:6.5/10
Service:7/10
Food:7/10 (7.5/10 for the steaks)
Value for money:7/10
Overall:6.875/10
Address: 4 Maju Ave
Contact: 6280 1633
Opening Hours: Daily: 11am - 10pm
EDIT as of 7th Feb 2010: I have received notification that the owner has left MOS and has set up his own steak joint elsewhere.