Memories of an excellent dinner at Peony Jade
some 2 years back
wafted through my head as I made the trip down specially to reacquaint myself with this established Szechuan/Cantonese restaurant.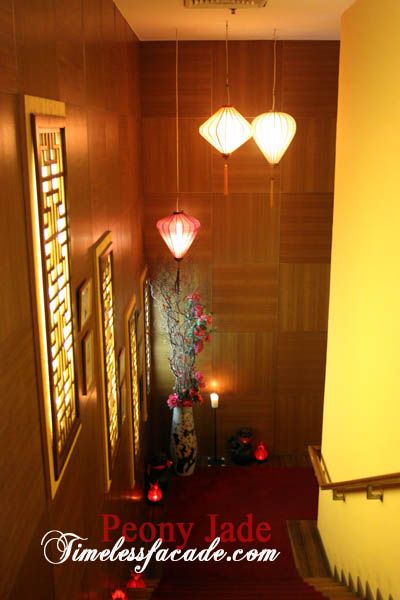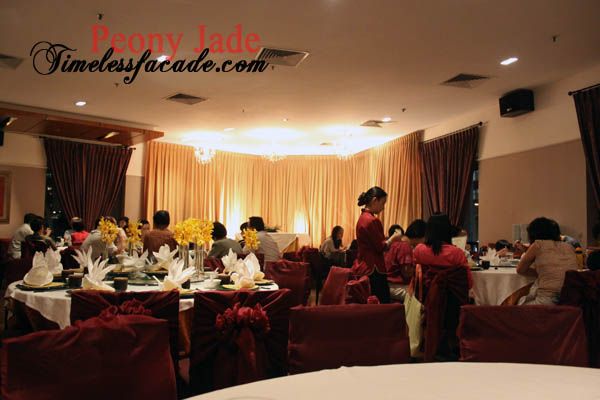 Interior
With wooden fixtures and heavy curtains that partially mask the street view below and the Singapore River, this restaurant housed in a converted godown at Clarke Quay spots oriental touches throughout and packs in probably in excess of a hundred people. And by golly, it sure was packed on a weekend evening.


French Bean
I've always had a penchant for french bean stir fried with minced pork but Peony Jade's rendition was greatly disappointing. The beans were cooked for way too long, resulting in limp and soft stalks that came across as overly oily. It was so bad that we took a few nibbles and left the rest untouched.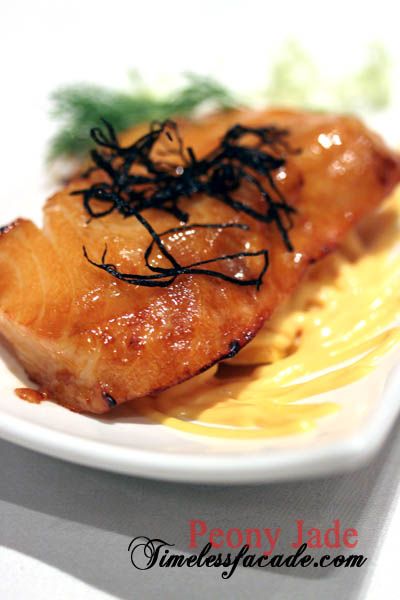 Cod Fish
You can choose to have your cod fish done in a couple of variations and we chose the mango sauce option. The fish was fresh and homogeneously pan fried to achieve a firm texture that didn't crumble under the slightest pressure. The mango cubes provided a nice sweet compliment to the natural sweetness of the fish.


Sesame Chicken
Crisp crackling skin accompanied by tender juicy meat with a hint of salt throughout. In short, finger licking good. Except that I didn't quite take to the sesame "paste" which had a myraid of flavours - spicy, sourish and sweet.


Prawns with Curry Leaves
What I liked immensely about this dish was the fact that all the prawns were deshelled (yes I'm lazy). The relatively large and fresh prawns were lightly dusted with flour and fast fried, sealing in the juices without coming across as too oily. The sauce was a little starchy with a hint of curry leaves and egg yolk. Very good!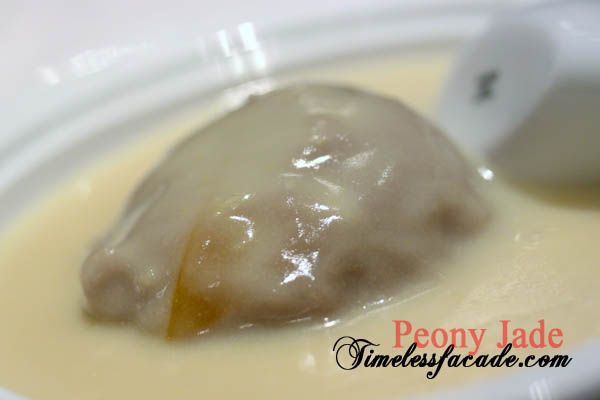 Yam Paste
I remember not quite taking to this dessert when I first visited Peony Jade. However, 2 years on, things have taken a slight twist and I actually like it (maybe it has to do with age). The yam was smooth with hints of coconut milk while the sweet corn syrup wasn't too sweet or thick.


Bill
Save for the almost horrendous french bean, everything else was great and dinner for 2 set us back by almost $115. Certainly not in the cheap range but I wouldn't mind paying a little more for good food and excellent service.



Final Verdict:
Ambience:7.5/10
Service:8/10
Food:8/10 (4/10 for the french bean)
Value for money:6.5/10

Overall:7.5/10

Address: Clarke Quay, 3A River Valley Road #02-02

Contact: 63380138/63380305

Opening Hours: 11am to 3.00pm (Lunch) and 6pm to 11pm (Dinner)

Website: www.peonyjade.com