The plan was simple. We would go to Ah Yat Tian Xia at Orchard Central on its opening weekend to take advantage of its seemingly value for money premium sets (abalone and the likes). Alas, it was not meant to be as the place was fully booked. Not wanting to abandon our abalone plans, we settled for Rama Thai instead, which was also offering premium items at a discount.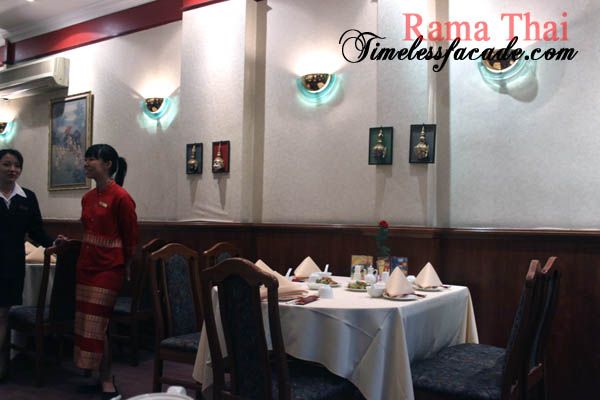 Interior & Menu
The restaurant is located amongst a row of shophouses along the winding Tanjong Pagar Road. Decor is simple and reminds me more of a pub then a restaurant, but that may be due to the fact that there was a sizeable bar counter at the side. Capacity peaks at about 50 pax or so.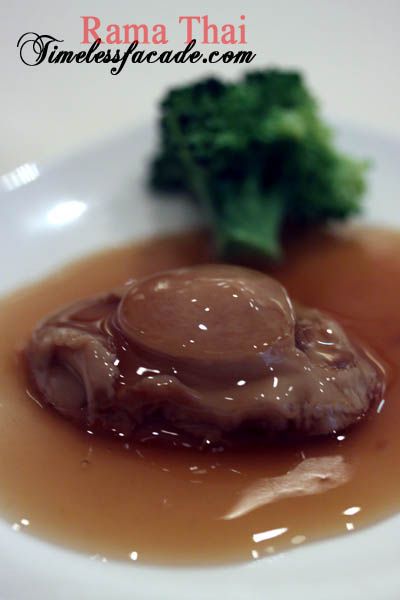 Australia Whole Abalone
The abalone was probably 8 head and quite well prepared if I may say. There wasn't the noticable raw taste that I personally dislike and carried lots of bite without coming across as too chewy or hard. The gravy didn't threaten to overwhelm either by being overly starchy.


Sharks Fin with Crabmeat
Apparently a signature of the restaurant (it's in the name), the soup was light without being too laden on the starch but could have done with a pinch less salt. The fins were decent size pieces (probably not dorsal fins) that came across as a wee bit too soft for my liking. The upside to it was the very generous portion size and the amount of crab meat that went into the soup. Decently nice and filling.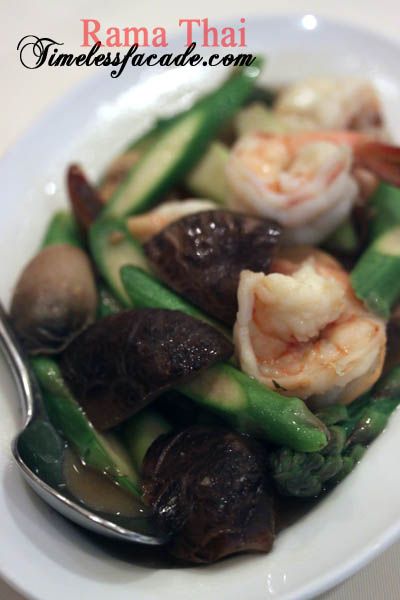 Asparagus with Prawns
The asparagus were of the larger variant, retaining its crunchiness by virtue of not being overcooked. Coupled with big, crunchy prawns and succulent mushrooms, I don't see anything to dislike about this dish.


Pork with Gingko Nuts
I liked this dish quite a fair bit. Simple yet tasty. The pork came in rather large slices and carried a mild chewy texture, dipped in light saltiness. The gingko nuts gave it a healthier connotation, not that they tasted bad or anything. Just a small lesser known fact that I thought I would share. Pork is actually white meat, not red meat as most people would think.


Rama Thai Fried Rice
A little too oily and bland was the first thought that came to mind after I popped a spoonful of rice into my mouth. However, credit has to be given for the mild wok hei (could have done with more though) that the rice emanated as well as the ingredients that went into the dish - cashew nuts, prawns and crab meat.


Birds Nest
There was a 1 for 1 promotion on the birds nest and we couldn't resist the temptation to treat ourselves with this sweet Chinese delicacy. Honestly, at $30/bowl ($15 after 1 for 1), I hardly think it was worth it. It was quite a small bowl and the nest came in bits and pieces, unlike the good quality ones which come in one huge piece. But as the old Chinese adage goes, 一汾钱一汾货, so no grouses.


Bill
I would readily admit that this was a rather extravagant dinner and the only consolation was probably the not so hefty price tag, at about $242 for 3 pax. Imagine the exorbitant prices if we had decided to go to a hotel restaurant or the likes instead. Service was good and I must say I enjoyed the meal quite a bit.



Final Verdict:
Ambience:6.5/10
Service:7.5/10
Food:7/10
Value for money:7/10

Overall:7/10

Address: 81 Tanjong Pagar Road

Contact: 62226626

Opening Hours: Daily 1130am - 230pm (Lunch), 6pm - 10pm (Dinner)

Website: http://www.ramathai.com.sg/