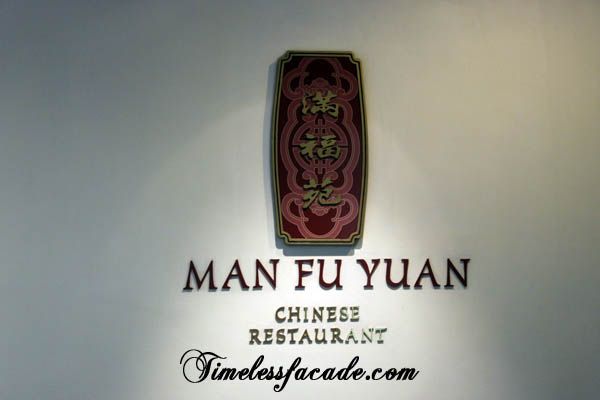 For a restaurant that was within walking distance from my previous office, it was rather surprising that my ex colleagues and I had dined at Man Fu Yuan, the flagship Cantonese restaurant of Hotel Intercontinental, helmed by Executive Chef Sunny Kong.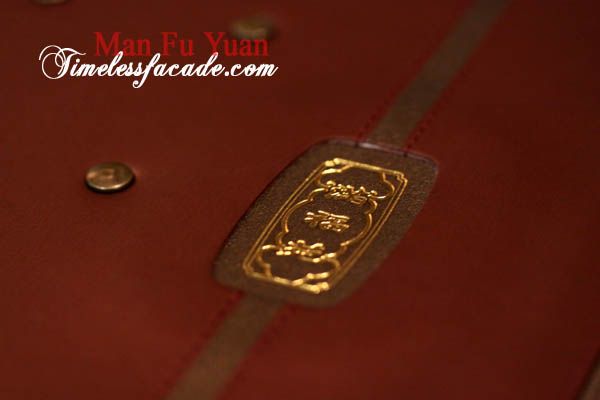 The Place & Menu
Tucked in a bright and cheery corner on the 2nd level of this charming 5 star hotel, Man Fu Yuan's dining space is divided into 2 sections, separated by a short bridge. There is the main dining area which can probably house about 10 tables or so and the more exclusive portion where you have private rooms and semi private spaces for 2 pax or more. Decor is simple with a touch of class but other then that, not much differentiation from other upscale Chinese restaurants.


Baked Honey Glazed BBQ Pork Pie
We were off to a good start with the
char siew sou
, which had a crisp and sweet top crust, very much like
bo luo bao
. The BBQ pork filling was savoury while the flaky base made for delightful nibbling.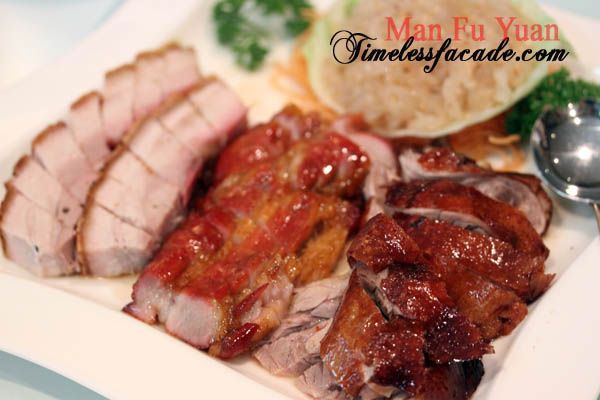 Roasted Platter
Things started going downhill pretty much with the roasted platter. The roast pork and BBQ pork had weight loss problems and were served cold while the roast duck's skin harboured no crispiness. But at least it didn't come across as too gamey.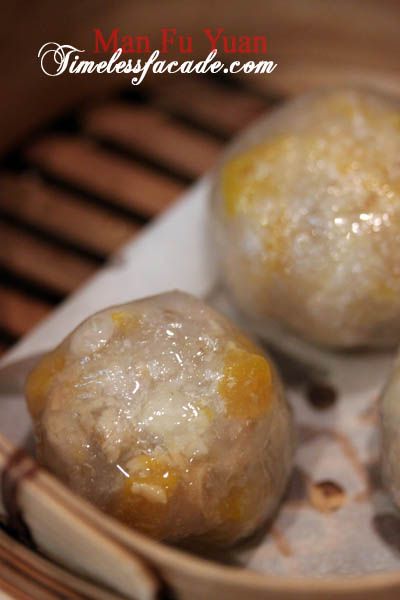 Crystal Dumpling with Chicken and Pumpkin
Now this was interesting. Thin glutinous skin wrapped around crunchy pumpkin and chicken bits. First time I'm having it but too unexciting to probably have it again.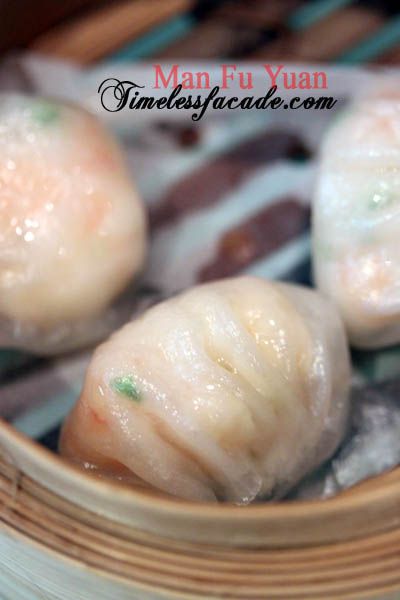 Prawn Dumpling with Asparagus
A quintessential dim sum order, the har gao had a sprinkling of chopped asparagus amidst fresh crunchy prawns. The skin did seem a little too elastic though.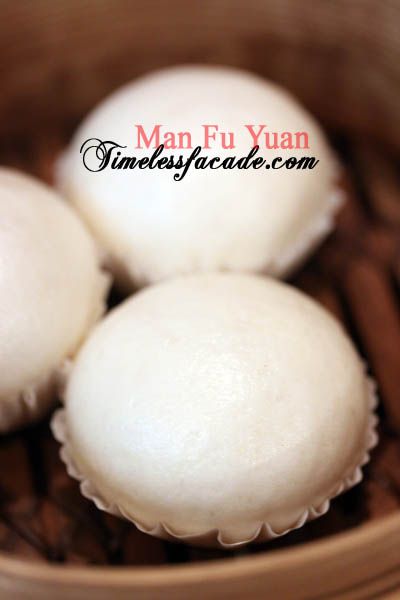 Custard Bun
I have always used Peach Garden's custard buns as the yardstick to measure the characteristics of good custard buns. And that looks set to be displaced by Man Fu Yuan's. Small portions aside, the buns had a oozing egg yolk laden center with bits of sediment to show for it. And to top it off, it won't give you a toothache.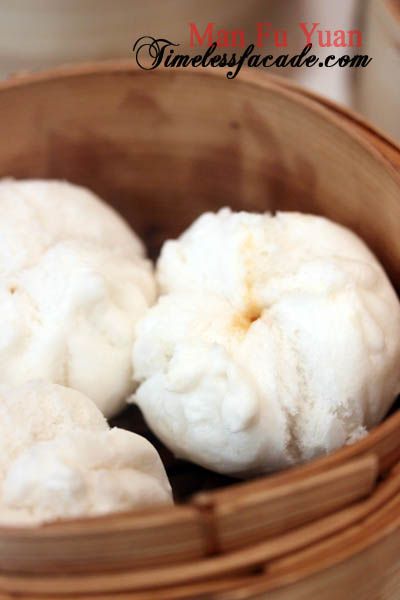 Honey Glazed Barbecued Pork Bun
Normal to say the least. And definitely a waste of stomach space and money. I remember quitting on it halfway through the chomping process.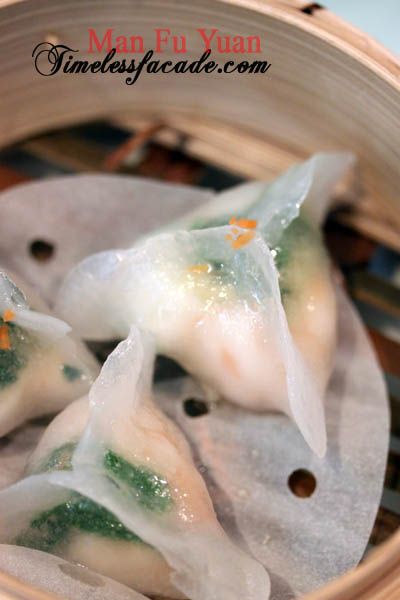 Dumpling with Dried Scallop and Pea Shoot
I honestly don't remember much about this dish except that it tasted similar to the prawn dumpling, save for bits of vegetables (I don't remember the variant) that replaced the pea shoot.
And I don't recall tasting or seeing any scallops.


Deep Fried Scallops and Prawns with Sugar Cane
To my limited knowledge, only the Vietnamese use sticks of sugarcane more commonly in their cooking so it was quite surprising/interesting to see it deep fried with scallops and prawns in a dim sum dish. That's not to say that this dish was any good. Overly salty and oily would be a good start in describing this nausea inducing deep fried lump of flour. Well at least the sugar cane was crunchy.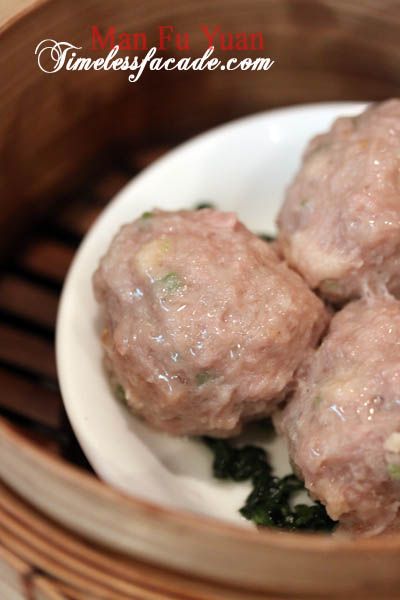 Beef Ball with Watercress
This has got to be one of, if not the worst beef ball I've eaten in a long long time. Cringingly soft without a trace of beefiness, almost to the extent of being gross. Way too much flour went into the beef and I could make out the taste of orange peel, which was probably the only reason why I didn't puke when I ate it.


Deep Fried Mango Prawn Roll with Wasabi
The mango prawn roll came across as flat. The mango slices weren't sweet and the wasabi sauce was weak. So that left the flour, which was well, fried.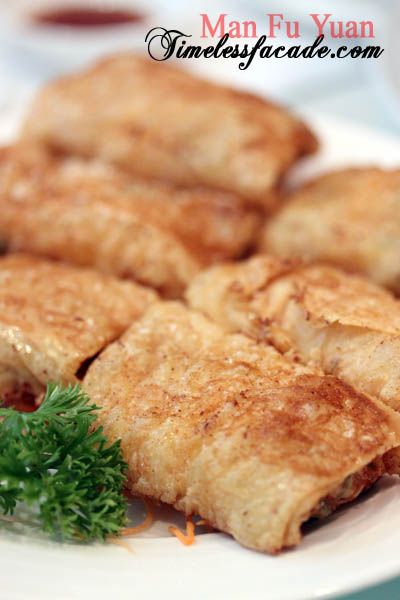 Deep Fried Bean Curd Skin Roll with Shrimps
As with alot of previous dishes, the bean curd skin roll was drenched in oil and no the least bit crisp. I appreciated the generous serving of prawns though but thats just about it.


Minced Pork Dumpling with Shark's Fin
The siew mai didn't threaten to overwhelm with its porky taste which probably meant less fat meat. There was a hint of fishiness from the tiny fragment of shark's fin adorning the top. Very palatable.


Jin Chuan Dumpling
This honestly looked like
jiaozi
(饺子) to me and I personally thought that the skin was a wee bit too thick for my liking. The sauce was spicy, salty and slightly vinegary - rather appetising.
Baked Mini Fluffy Egg Tart
The egg tarts had sheer disappointment written all over them. For starters, the pastry wasn't flaky and seemed to be sorely lacking in butter. As for the custard, it had an oily aftertaste which was just plain distasteful.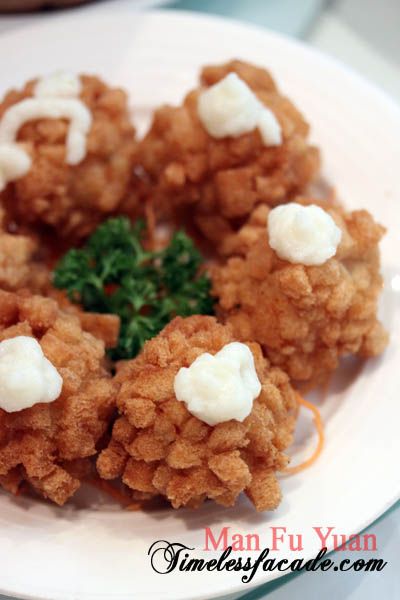 Baked Lobster Cheese Balls
Strangely enough, the lobster cheese balls reminded me of very salty and crispy croutons. Did I mention oily as well? Definitely not something for the health conscious. And honestly I couldn't quite make out much lobster or cheese for that matter. Everything was just salty.


Bill
An unforgettably horrid lunch for 6 cost us to the tune of $250. The only scant consolation we could derive was the 20% discount on food given to us by virtue of a credit card promotion and of course the promise of a complimentary peking duck if we should ever return. Service was good but with such sub standard quality of food, I'll be hard pressed to find a reason to ever return.
Final Verdict:
Ambience:7.5/10
Service:7/10
Food:5.5/10
Value for money:6/10 (after 20% discount)
Overall:6.5/10
Address: 2F Intercontinental Hotel
Contact: 6825 1062
Opening Hours:
Lunch: 11 am - 2.15 pm
Dinner: 6 pm - 10.30 pm
Website: http://www-singapore.com/intercontinental/dining.htm#2