It was in our interest that we decided to give Pete's Place a shot, having acquired recently, a 1 for 1 set dinner voucher. Holed up at the basement of Grand Hyatt, the name of the restaurant gave it a more personal and casual connotation as opposed to that of a swanky fine dining Italian restaurant usually found in hotels.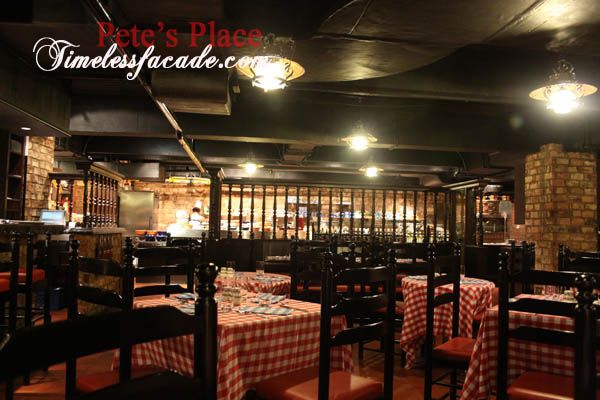 Interior & Menu
And living up to its casual billing, Pete's Place boasts brick walls coupled with checkered table cloths and an open kitchen where the chefs prepare your food. Being underground, there are no windows to speak off but the place oozes a nice comfortable feeling, one that evokes memories of sitting by a fireplace while having your meal.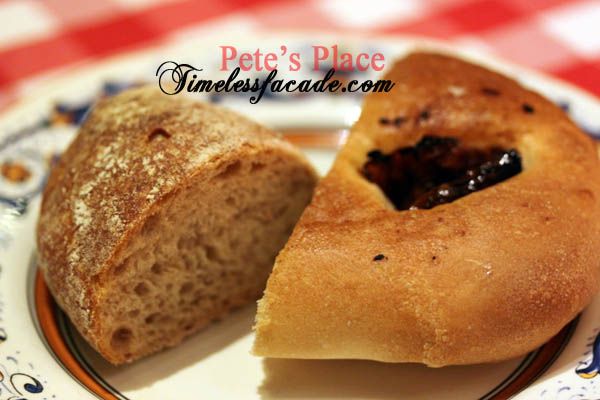 Free Flow Bread
You can help yourself to the limited variety of bread at the tiny bread station. None of the bread struck me as fantastic but gives you something to chew on while you wait for your food. There is of course the salad bar as well, which I thought to be pretty decent.


Minestrone & Complimentary glass of wine
Seafood Pasta
The pasta wasn't al dente, coming across as a tad too soft while the tomato base sauce was a little too runny for my liking. I appreciated the generous serving of sweet, crunchy prawns as well as delectable and sizable scallops. A little less salt would have been ideal though.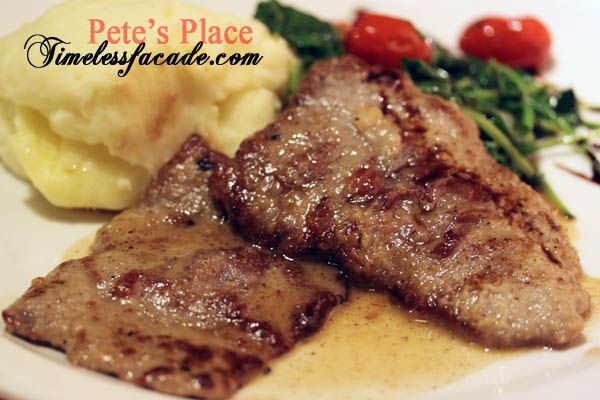 Saltimbocca Alla Romana
This veal dish is apparently a classic Roman dish that counts fresh sage as one of its main ingredients. Honestly, this is the first time I've eating this and I can't say that I'm a big fan of it. Firstly, I thought that it was overly salty and though tender, the meat had a weird "coated with flour and steamed" like texture. I did like the mashed potato though - finely whipped with a seductively strong hint of butter. Nice.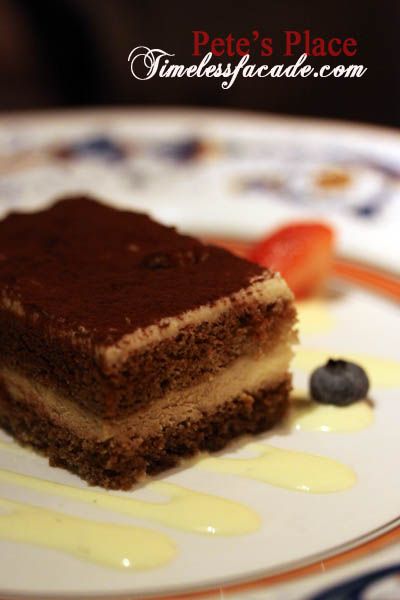 Tiramisu
Well it was between this and a scoop of ice cream. It was a no brainer for me really. But the tiramisu turned out to be a flop, unfortunately. Too much sponge, too little mascarpone cheese. And a teetotaler version to boot. At least there was the vanilla bean sauce with the occasional sighting of a bean or two in it.


Bill
Thank god for the 50%, paring what would have been an unreasonable amount of money to pay ($153 after tax) for such average food to something more manageable ($77). Even then, I don't find it exactly value for money. On the upside, service was reliable, benefiting from the experience of the wait staff, most of whom seemed to be in the older age bracket.
Final Verdict:
Ambience:7/10
Service:7/10
Food:6.5/10
Value for money:6.5/10 (after 50% discount)
Overall:6.75/10
Address:
Basement, Grand Wing, Grand Hyatt Singapore
Contact:
6732 1234
Opening Hours:
12:00 noon - 2:30 pm and 6:00 pm - 10:30 pm
Website: http://www.restaurants.singapore.hyatt.com/petes/petes_intro.html