Finally made the journey west to Two Chefs Eating Place, after reading about it a couple of months back in the Straits Times. Housed in a small coffeeshop in a rather remote part of Commonwealth, the place is rather small and tables are limited. Apparently the crowd starts coming in at about 6pm so get there before 6 or be prepared to wait.


Radish Soup
We started off with the radish soup, which wasn't on the menu. Light and mildly sweet, noticeably from the use of monosodium glutamate (MSG). Nice but excessive drinking is certainly not encouraged.


Butter Ribs
The butter ribs were a misnomer really. Ribs should come with bones, shouldn't they? But I'm definitely not complaining. The meat was tender without being fibrous or soft. What was interesting was the fact that the meat was coated with a concoction of cheese flakes, a dash of sugar and a sprinkling of curry leaves - Nice and sweet with a mild hint of spiciness, belying a smooth cheesy sensation with that tinge of curry aftertaste.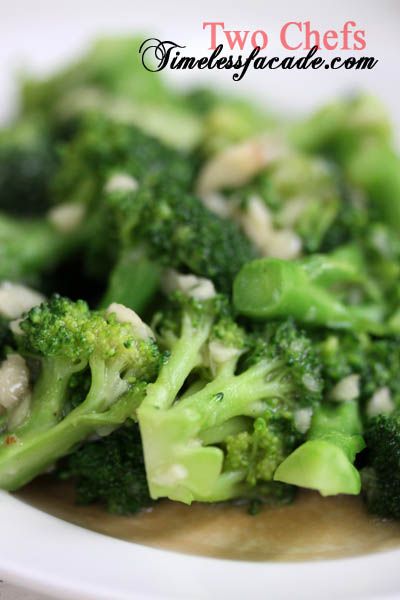 Stir Fried Broccoli with Garlic
This was your regular stir fried broccoli fried with tons of chopped garlic. Decent but a wee bit too soft and overcooked for my liking.


Beancurd with Golden Mushroom
I didn't think too highly of this dish though the tofu was smooth but rather bland and lacked silkiness. The sauce had lots of golden mushroom and minced meat but was weirdly sweet instead of savoury.


Hor Fun
The lowlight (as opposed to highlight. Ha Ha Ha. Corny I know) of the entire meal, the
hor fun
appeared rather slip shod. They were all clumped together and lacked any discernible
wok hei
taste. The pork and shrimp didn't taste fresh either. On a healthier note, there were lots of vegetables though.
Bill
At 50 cents shy of $34 for 3 pax, I wouldn't say it was expensive. However, only the butter ribs were good while the other dishes hovered around the average mark or faded into obscurity. Throw in the queues and I doubt I'll return, especially since the place is halfway across the island for me. But if I do, it will only be for the butter ribs.
Final Verdict:
Ambience:NA
Service:NA
Food:6.5/10 (7.5/10 for the butter ribs)
Value for money:7/10
Overall:6.75/10
Address: Blk 116 Commonwealth Drive, #01-129
Contact: 6472 5361
Opening Hours:
Mon: 5pm - 11.30pm
Tue-Sun: 11.45am - 2.30pm, 5pm - 11.30pm
(Closed every last Mon of the month)