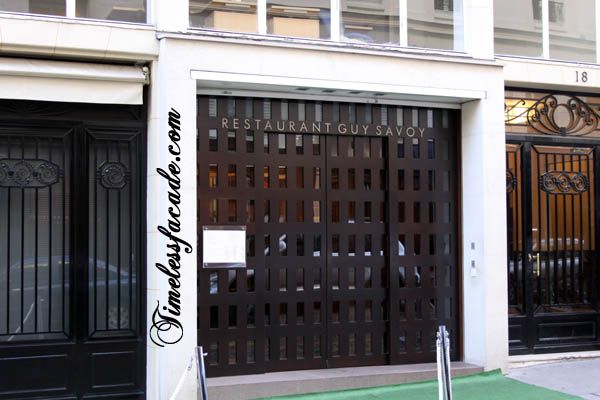 We were definitely under dressed for the occasion. Jackets, ties and dress pants were an unspoken requirement. Buttoned down shirts paired with slacks definitely didn't fit that bill. But then again, attire was the last thing on our minds after a 26 hr transit flight from Singapore to Paris. The name Guy Savoy (pronounced Gee Sav Wah) might seem familiar, with the eponymous 3 Michelin star restaurant opening an outlet at Marina Bay Sands in the very near future. The chef's motto? "Cuisine is the art of instantaneously turning produce suffused with history into happiness."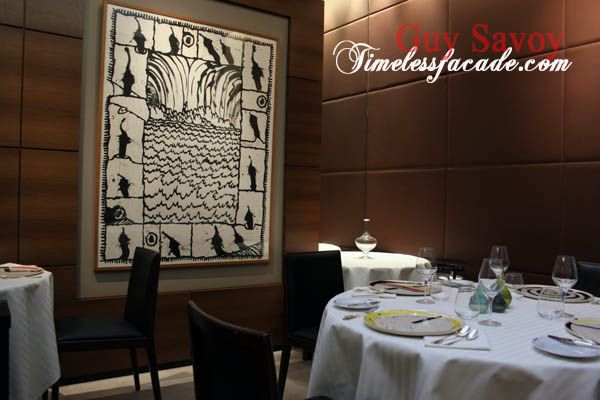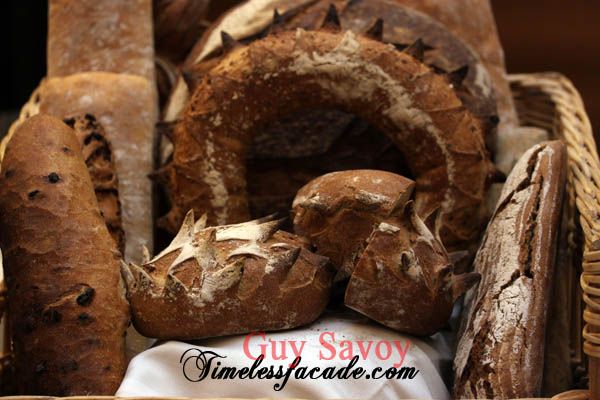 Interior, Complimentary Bread & Menu
The restaurant is a short walk from the historical Arc de Triomphe, at the start of rue Troyon and boasts an interior designed by the famous Jean-Michel Wilmotte, who also worked on the new Louvre Museum in Paris. Simplistic with luxury undertones resonating from dark paneled walls and rich leather. Decidedly modern.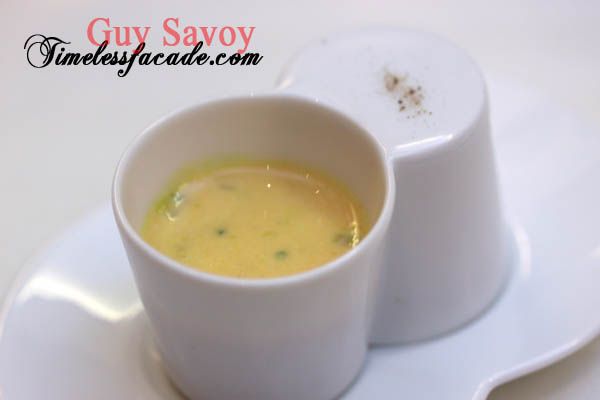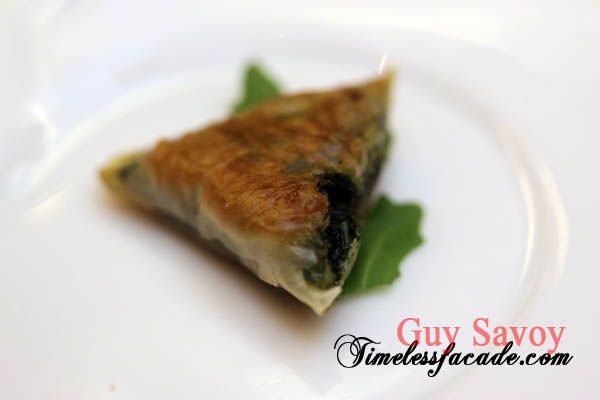 Amuse Bouche
We started off with a very casual foie gras terrine speared with toast that didn't overwhelm with its rawness. Subtle, smooth and silky. So good that we had seconds. The cream of carrot came across as thick and flavourful without being overly creamy. Hidden below the other half of the cup of soup was a "chef's surprise", which reminded me of samosa stuffed with vegetables.
Soupe d'artichaut a la truffe noire (82€)
A signature dish of Guy Savoy, the artichoke and black truffle soup was nothing short of excellent. Silky, rich, fragrant and made from pure artichoke puree, the soup was layered with slices of Parmesan cheese. Served up with Brioche Feuilletée aux Champignons et Truffes (Brioche Puff Pastry with Mushrooms & Truffles), this is a must have for truffles fan. The brioche came layered with mushrooms with truffle butter spread atop - soft on the inside and flaky on the outside with a heavy dosage of sinfully smooth and tasty truffle butter. I jumped at the opportunity for an extra serving of the brioche to mop up the velvety soup.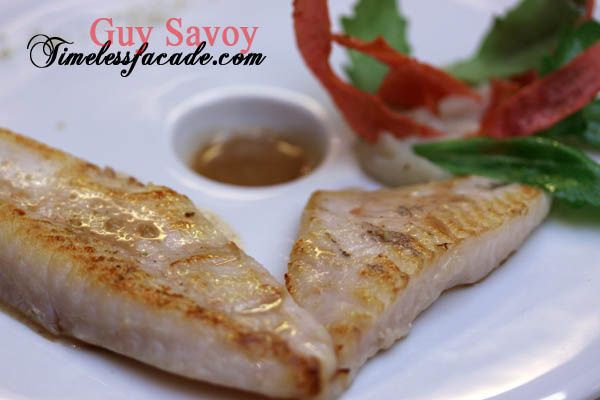 Filets de rouget barbet poêles, jus au foie, beignets o'herbes et pommes maxim's
The John Dory fillets were perfectly grilled with a touch of fishiness intact. Subtly smooth with portions big enough to pass off as a main in a fine dining restaurant in Singapore. I didn't quite take to the Jerusalem artichokes though, which apparently was titled "best soup vegetable" in the 2002 Nice festival for the heritage of French cuisine.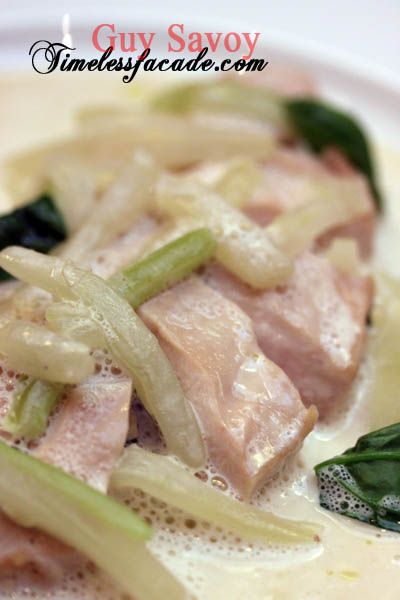 Suprême de volaille de Bresse en papillote a la citronnelle lêgumes en côtes, côtes de bettes glacêes au jus de volaille et laurier
Bresse in the chicken world is akin to the kobe/wagyu of beef and kurobuta of pork. Many of the world's gourmet experts agree that the best tasting chickens come from Bresse, France. The chickens have an appellation, are of a specific breed, get to eat real food (not chicken feed) and have at least 10 square metres for each bird to roam about, all regulated by law. And honestly, it blew away all inhibitions I had about paying a significant premium for it. The chicken was first steamed, then baked, retaining a gamey flavour coupled with fine and amazingly tender flesh. I could make out hints of lemongrass as well and the ribbed vegetables infused a nice crunch to the dish.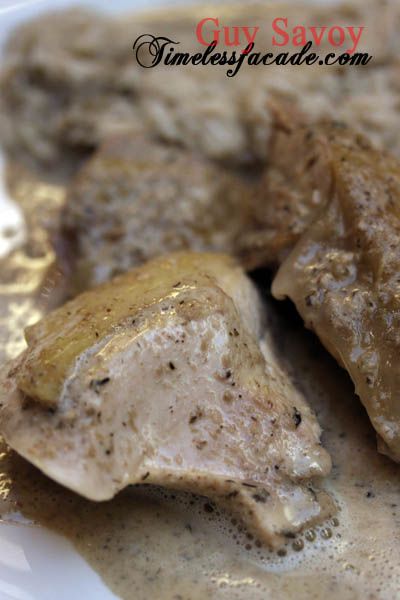 Breese Chicken done another way
Our server had this dish done a different way to allow us a different take on this prized chicken, which I thought was very thoughtful of him. This variation was topped with mushroom sauce and long grain rice. I loved the somewhat frothy "mushroomy" taste singing in tandem with the al dente grains of rice but did find the chicken texture a little tougher then the previous dish. Nonetheless, the skin was springy as well which made for a very good dish.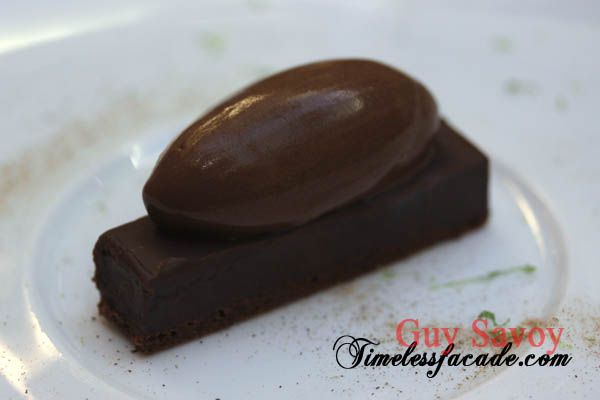 Noir
This dessert looks deceptively simple. A scoop of chocolate ice cream sitting on a chocolate ganache. In reality, it encompassed a chocolate biscuit made with marzipan marinated with lime juice, chocolate ganache flavoured with cardamon and black pepper, served with a dark chocolate sorbet. The cardamom and black pepper gave it a peckish twist to an otherwise relatively rich and safe dessert.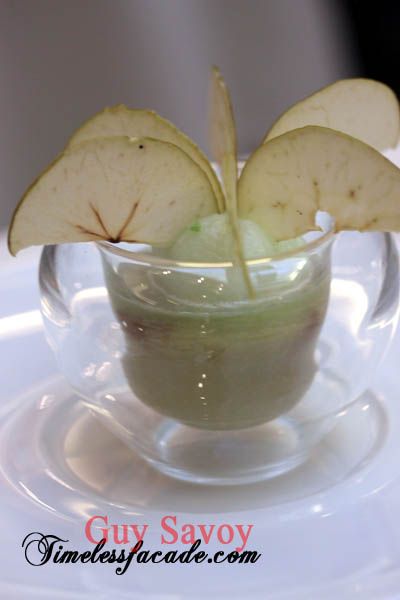 Pommes
Now this was one very sour dessert and certainly didn't sit well with me because of my intolerance for all things sour. But it was Guy Savoy and Granny Smith, so I had to try.The apple wafers were thin and very crisp, almost ideal for a snack, while the sorbet won me over with its zest and refreshing sensation. As a balance, chestnuts were added to make things a little more bearable for folks like myself. Truly wonderful.


Some of the other stuff that came with the meal
And of course there were many other things that came in between the courses as well as the awesome dessert trolley that came rambling out after all was said and done. I had a go at stuff like macarons, zesty lime marshmallows, chocolate tarts and the likes. To those who think that fine French dining wouldn't fill you up, think again.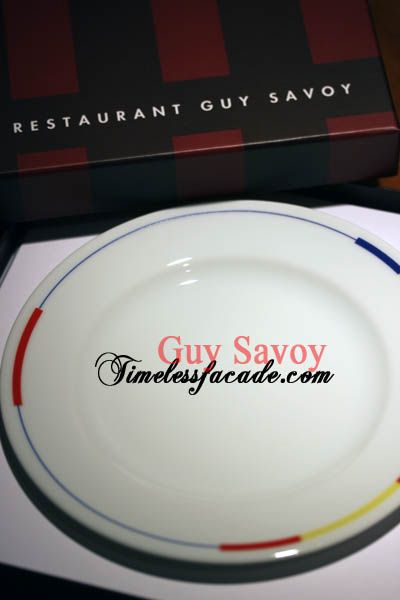 Complimentary Plate
Guy Savoy himself!
Our much anticipated and enjoyed lunch for 2 cost 300€ or about SGD$630 ($546 for the meal + $84 in tips) in total. Service was extremely professional and warm which did wonders in alleviating the stress that came with being the only under dressed people around. If I may say, our lunch at Guy Savoy was truly a wonderful experience - one that I have yet to experience in Singapore. I await, with high expectations, of its new restaurant in Singapore.



Final Verdict:
Ambience:8/10
Service:9.5/10
Food:9/10
Value for money:8.5/10

Overall:8.75/10

Address: 18 rue Troyon, 75017 Paris

Contact: +33(0)143 804 061

Opening Hours:

Tue–Fri
12pm–2pm, 7pm–1030pm

Sat
7pm–1030pm

Website: http://www.guysavoy.com/en/index.php

We dropped by Laduree and Pierre Herme after lunch to grab our fix of macarons.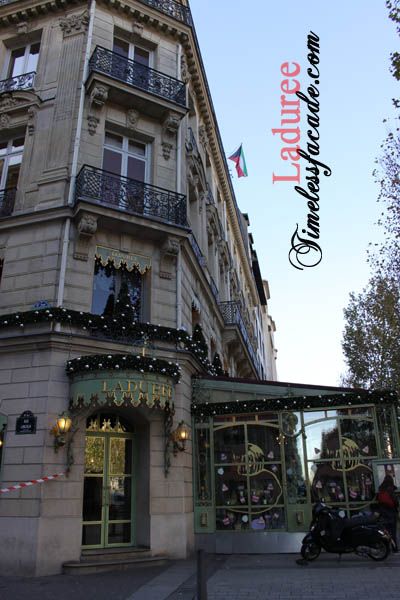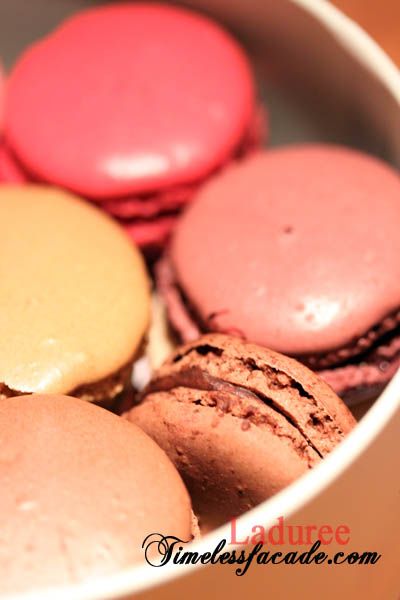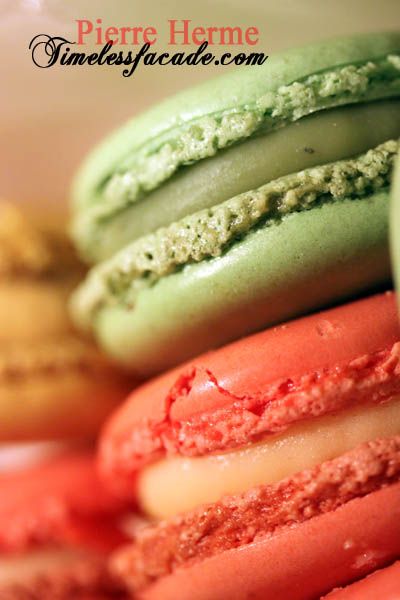 In my humble opinion, Laduree's macarons had a crispier shell but Pierre Herme's macarons won hands down for its intense and interesting flavours. And my favourite? Pierre Herme's White Truffle Hazelnut Macaron!
If you would like to see unrelated pictures of my trip to Europe, please see
here
.