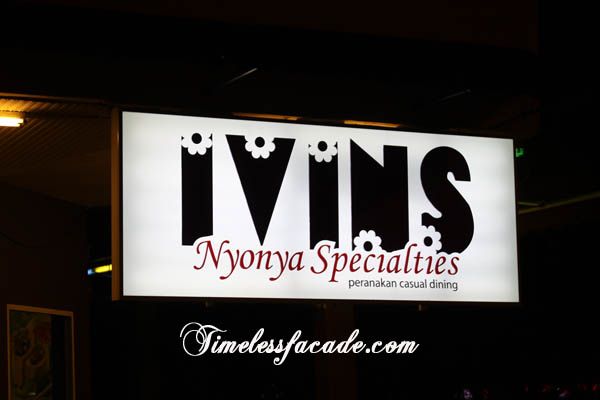 I have no idea how we ended up at Ivins, especially for someone like me whose tolerance level for spiciness is severely inadequate. Which of course made my exposure to Peranakan food pretty limited. Anyway I digress.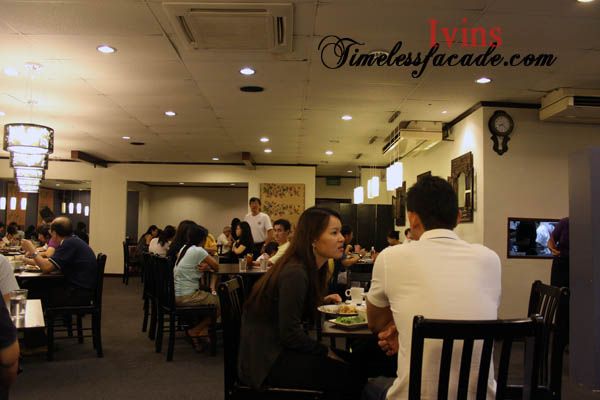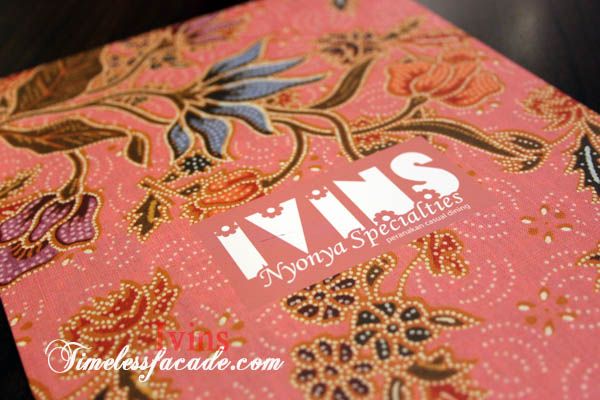 Interior & Menu
Situated in sleepy Jalan Leban, just off Sembawang Hills Road, Ivins' main outlet is at Binjai Park in the Bukit Timah area. I didn't know what to make of the decor except that it had hints of peranakan influences, as per what I had observed from my lunch trips to the Joo Chiat area. And for a restaurant located in such a secluded area, it was impressively packed with people even at 8pm on a weekday night.


Ayam Buah Keluak
As spicy as it looked, it was actually a stroll in the woods, even for me. The chicken pieces were chunky but I did think that the meat seemed a little dry while the gravy had a tad too much water. Still, nice when eaten with rice.


Bakwan Kepeting
This crab and meatball soup was reminiscent of a light yet flavourful Teochew styled soup with
tong cai
that I personally like. The meatballs were huge but had a little too much bounce in them whereas the soup suffered from an overdose of oil. Barring which, made for a very decent soup.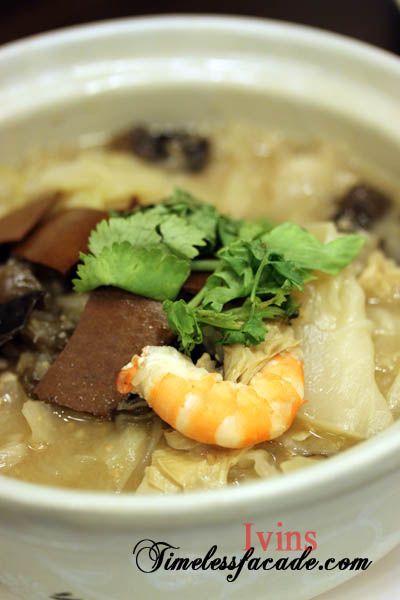 Nyonya Chap Chye
I've never had a good impression of
chap chye
(mixed vegetables) simply because most of the time, they turn out soft and all mashed up. This one was no exception. Well except it wasn't as mashed up as I expected it to be. And yes, the prawns added colour (not much taste though).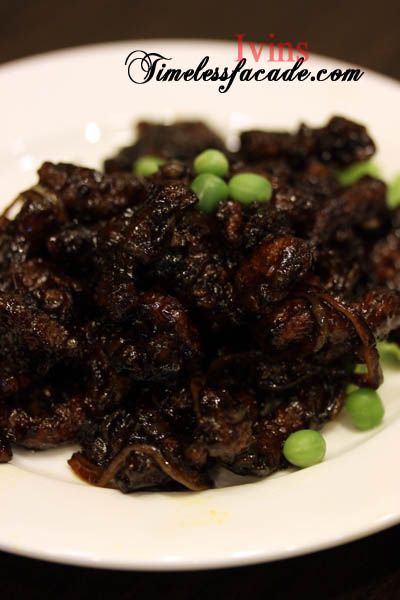 Honey Pork
Thinly sliced, the honey pork was as the name suggests, pork coated with a thick layer of not too sweet honey. Palatable but nothing too fancy in my humble opinion.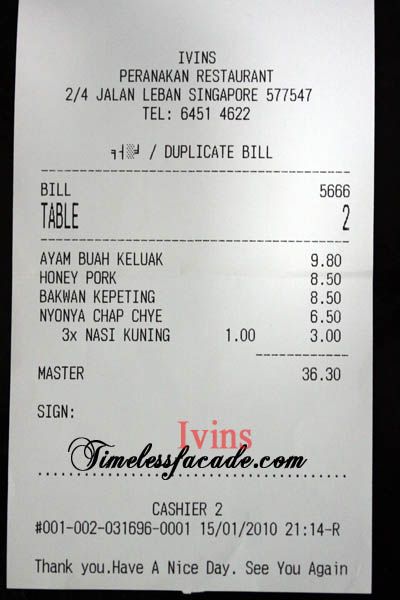 Bill
I wasn't too stuffed after dinner and I certainly didn't expect to be, considering we paid about $36 for 3 pax. Food quality hovers around a decent
cze char
stall's standard and prices are similar. Service was a little lacking but no complaints though as there is no service charge or GST levied.
Final Verdict:
Ambience:6.5/10
Service:6/10
Food:6.5/10
Value for money:7/10
Overall:6.5/10
Address: No. 4 Jalan Leban
Contact: 6451 4622
Opening Hours:
11am to 3pm (Lunch)
6pm to 10pm (Dinner)
Closed on Thursdays
Website: http://www.ivins.com.sg/