Fresh from the memory of a
very decent meal
at Nara a couple of weeks back, I revisited on a weekend evening since I had a voucher to utilize within a limited time frame.
Pitan Tofu
Let me first qualify that I am no fan of century egg so this appetiser grossed me out quite a fair bit. Chilled with a dollop of roe sitting prettily amidst a century egg gravy with bits of the egg itself, it was mildly nauseating. Definitely not my cup of tea.


Gyo Somen
One of the reasons why I returned to Nara - the Gyo Somen or fish noodles. Extremely springy noodles immersed in a lightly salty broth that drew part of its flavour from the smoked duck, which this time round was a little lacklustre in my humble opinion. Still very palatable nonetheless.


Nara Special Maki
I loved this the
first time
I had it. The wasabi taste was slightly stronger this time round but all in all, still good. The portions did seem a wee bit smaller though.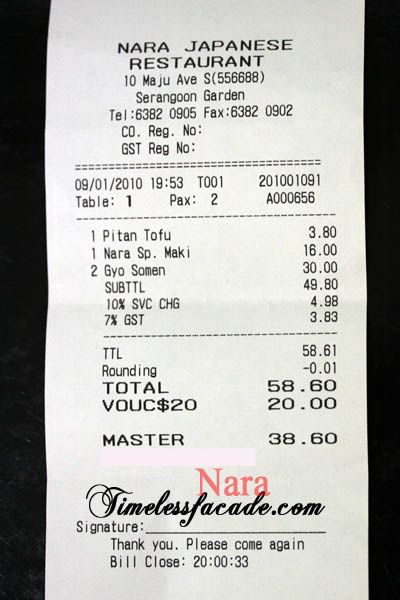 Bill
After a $20 voucher discount, it was down to almost $39 for 2 pax, which is still reasonable I guess. But too much of Gyo Somen can make you really sick, so I'm staying off Nara for a bit. Till next time!



Final Verdict:
Ambience:6.5/10
Service:7/10
Food:7/10
Value for money:7/10

Overall:6.875/10

Address: 10 Maju Avenue

Contact: 63820905

Opening Hours:

Weekdays: 11.30am – 2.15 pm, 6pm – 10.15pm

Sat & Sun: 11.30am - 10.30pm