Nara, with its original location at Goldhill Centre, has opened up a new outlet at Serangoon Gardens, to tap onto the revitalisation of the dining scene in the area. Helmed by Chef Ben Teo, who has almost 20 years of experience serving Japanese cuisine, Nara apparently has its fair share of loyal supporters.


Interior
The outlet at Serangoon Gardens is hidden in the back row of shophouses just a door or two away from
Ministry of Steak
. The place isn't big and can probably accomodate 30 odd people or so. Seats are spaced a little too close for comfort but at least you won't get to elbow your neighbour or eavesdrop on their conversation.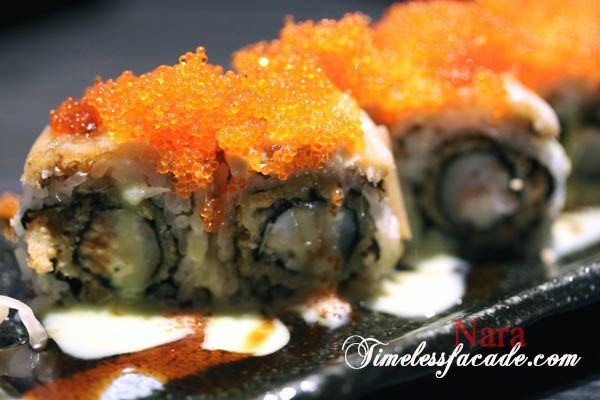 Nara Special Maki
This came at the recommendation of the manager (I believe) of the restaurant and with toppings of flying fish roe (tobiko) draped over soft, sticky sushi rice flanked by pieces of anago (which is alot finer then unagi), I found it delightful, especially with the light mayonnaise sauce that harboured a hint of wasabi.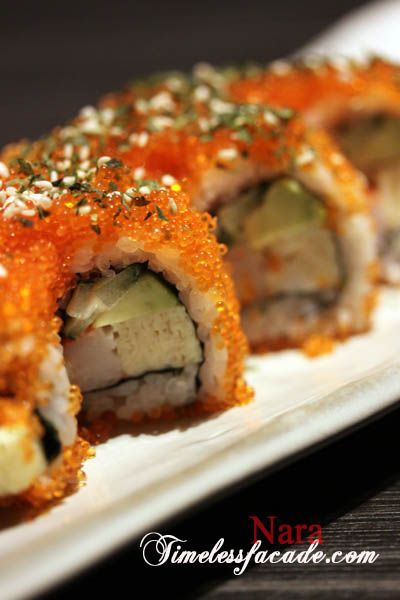 California Maki
Usually the simplest stuff pose the most difficulty in making and California Maki is one such dish and I have had my fair share of really bad ones in Japanese restaurants in various countries. Nara's rendition was surprisingly decent (to me at least), with the rice very light and hinting of vinegar, coupled with the crunchiness of the cucumber and of course the flying fish roe (tobiko).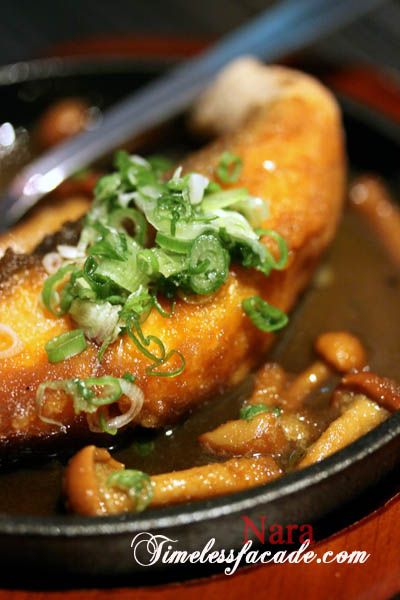 Shake Teppan
I'm not a big fan of salmon but at least this one was well grilled without the strong fishiness that I personally dislike. Of course the not cloyingly sweet sauce helped as well.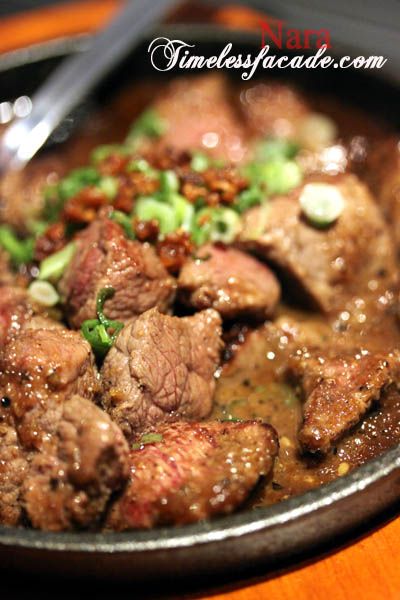 Nara Special Beef
Granted, the tenderloin was tender and definitely a pleasure to chew on, especially with the bits of fried garlic sprinkled all about. However I did find the sauce a little too sweet for my liking so perhaps they could cut down a little on the sugar. And $18 for a rather small plate of beef isn't exactly cheap.


Sukiyaki Nabe
Though chock full of ingredients, I wasn't too taken with this Japanese version of steamboat as it didn't seem out of the ordinary. The stock was flavourful but a little too sweet for my liking. I guess it all boils down to personal preference.


Tempura Soba
I didn't try the soba, but from what I gathered, it was, well, soba. I did try the tempura though and found the flour a wee bit too thick though it didn't retain much oil and seemed relatively light on the palate.


Gyo Somen
This is the first time I'm having fish noodles in a Japanese restaurant. I usually have them in Chinese restaurants that they come in a much thicker variant. Nara's rendition looked like mee kia, albeit way more springy with tons of bite. I appreciated the pieces of smoked duck breast that provided the necessary salt intake as well as the lingering smokey taste. Very good! A pity $15 doesn't get you much so you might want to order 2 bowls if you are hungry.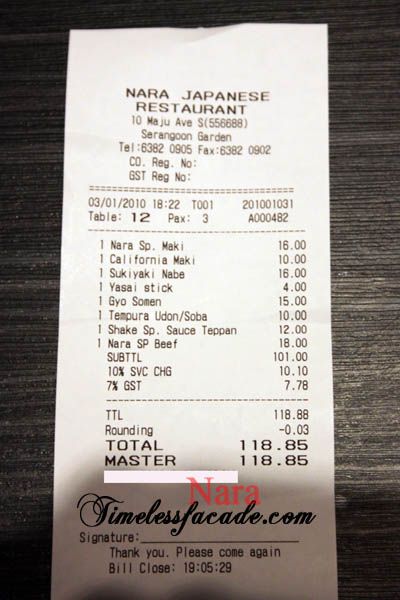 Bill
It has been quite some time since I last had Japanese food and Nara was a decently good choice to begin the plunge back in. Dinner for 3 cost almost $119, which isn't too expensive, considering the quality of food and the decent service (which did seem a little inexperienced at times). Nearby Sushi Tei now has a serious rival to contend with.
Final Verdict:
Ambience:6.5/10
Service:7/10
Food:7.5/10
Value for money:7/10
Overall:7/10
Address: 10 Maju Avenue
Contact: 63820905
Opening Hours:
Weekdays: 11.30am – 2.15 pm, 6pm – 10.15pm
Sat & Sun: 11.30am - 10.30pm