One of America's most loved fast food outlets, Wendy's, has opened in Singapore and credit goes to the Kopitiam group, which aims to open up 35 Wendy's outlets in our tiny nation in the next 10 years. The first outlet is located in the central business district - Lau Pa Sat and seats in the air conditioned area are limited so you will probably have to sit al fresco or within the premises of Lau Pa Sat. Honestly, that isn't a bad idea given that the interior of the eatery was smokey from the cooking and I could make out flies buzzing around. Talk about hygiene.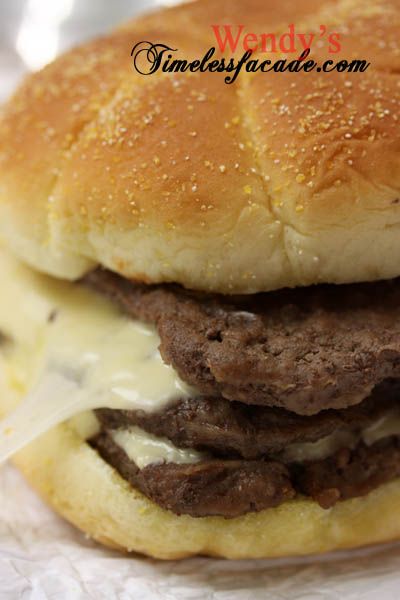 Triple Cheese
Wendy's beef burger patties come in square cuts, which is nothing more than a gimmick in my humble opinion. I had the largest burger on the menu - the 3/4lb triple cheese and honestly it wasn't as huge as I expected it to be. Think a cheeseburger from MacDonalds with 3 slices of beef. In case you balk at the comparison, please let me assure you that even the taste is similar, stemming from machine processed beef patties. Only the buns differ. Give me Carl's Junior anytime.


Spicy Chicken
This honestly tasted like a poor rendition of KFC's Zinger burger. For starters, the piece of chicken was smaller then that of the Zinger. And there wasn't much spiciness to speak of. The chicken essentially tasted limp and cold. Most disappointing!


Bill
We queued for 10 mins just to get our meals from the very cramp eatery, only to be disappointed with the food quality, which is miles apart from the Wendy's I tried in America. And prices are definitely more expensive then your usual MacDonalds or Burger King here in Singapore. Will I be back? Without a doubt, no.



Final Verdict:
Ambience:NA
Service:NA
Food:6/10
Value for money:6/10

Overall:6/10

Address: Lau Pa Sat, 18 Raffles Quay

Contact: NA

Opening Hours: Daily 7.30am – 10pm

Website: http://www.wendys.com.sg/