We finally decided to take the plunge and revisit Ion Orchard after so many months in the hope that the crazy crowds would have abated. But I guess our hope was in vain. Nonetheless, we decided on dinner at Imperial Treasure Noodle & Congee House (ITNCH for short), seeing that it was the only eatery that still had space to accommodate us.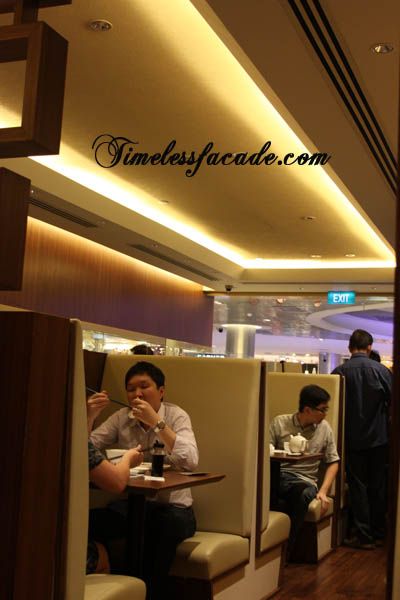 Interior
Located at B3 of the swanky shopping mall, ITNCH utilises an electronic queue system, which seems to be more rampant nowadays. The interior is seemingly cramp and reminiscent of your typical casual dining Chinese restaurant.


BBQ Combination
We opted for a roast pork/BBQ pork combination which was quite decent. The roasted pork had a thin layer of crisp skin coupled with a nice proportion of fat whereas the BBQ pork was mildly fibrous without coming across as overly sweet.


Fried Hor Fun with Egg and Prawn
Carrying a fleeting hint of
wok hei
, the hor fun was smooth without clumping together. The gravy was a little lacklustre even though it was flush with egg strands. I did like the prawns though, which were relatively big in size with a nice crunch to them.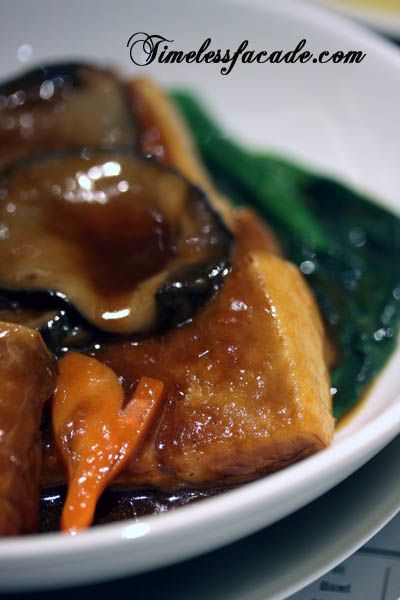 Beancurd with Oyster Sauce
An average dish, the beancurd wasn't silky smooth nor savoury but the oyster sauce did help though. Came served with mushrooms and vegetables.


Yang Chow Fried Rice
I personally thought that this was quite well done. The rice had a comforting
wok hei
taste with a nice homogenous egg coating and little bits of BBQ pork and prawns that made for a rather enjoyable plate of fried rice. Then again, maybe we were hungry.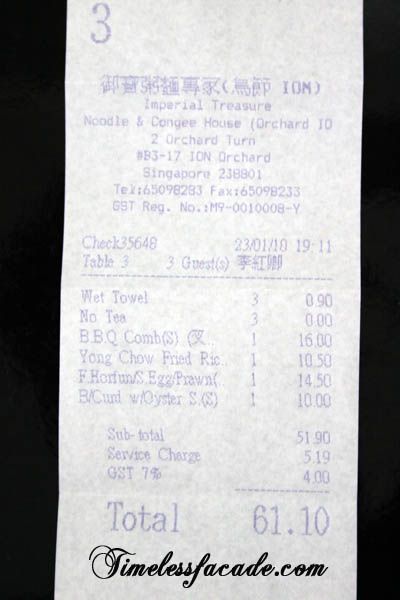 Bill
The bill totaled about $61 for the 3 of us, which wasn't too unreasonable given the decent service and food. This place beats any of the lower end Crystal Jade outlets that I've tried and I'll certainly be looking out for the Imperial Treasure brand name the next time I'm searching for a casual, convenient and inexpensive Chinese restaurant option.



Final Verdict:
Ambience:6.5/10
Service:7/10
Food:7/10
Value for money:6.5/10

Overall:6.75/10

Address: #B3-17 ION Orchard

Contact: 6509 8283

Opening Hours: Mon - Sun : 10:0am - 10:00pm