Back in 2008, we had a
delightful Chinese New Year reunion dinner
at Imperial Treasure Teochew Cuisine. Fast forward two years and with that experience still lingering on, we returned with high hopes and an emptier stomach (We had only managed to snag the 3rd seating at 845pm).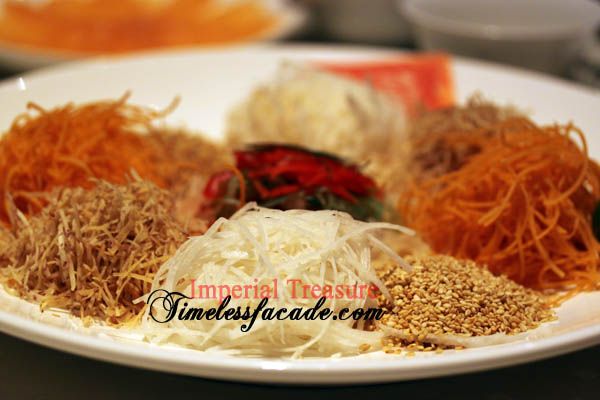 Fatt Choy Salmon Raw Fish
My very first
yu sheng
of the year and quite a good one at that. The sauce didn't come across as cloyingly sweet and the addition of pomelo gave it a nice lightly bitter/sourish taste.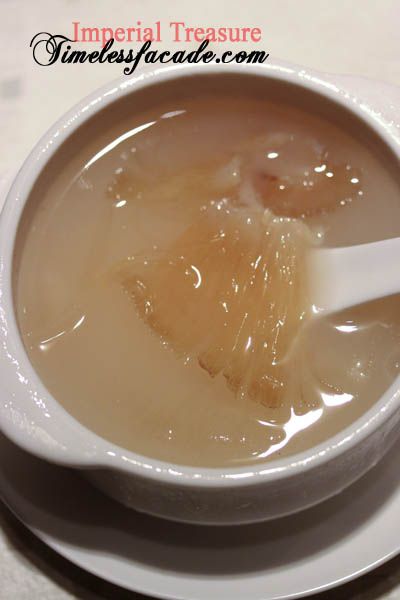 Double Boiled Superior Shark's Fin Soup with Shark Bone
This is the first time I'm having shark bone together with shark's fin and I must say that it was quite a good combination. The soup wasn't too milky/coagulated and came across as smooth on the palate, leaving a seemingly smooth layer of sediment on the tongue. The fins were quite a size and generous as well. Very good!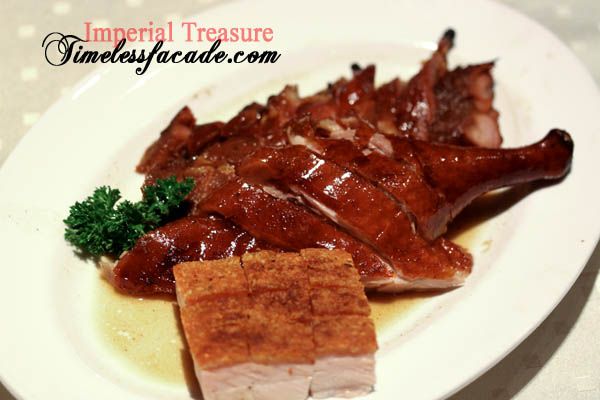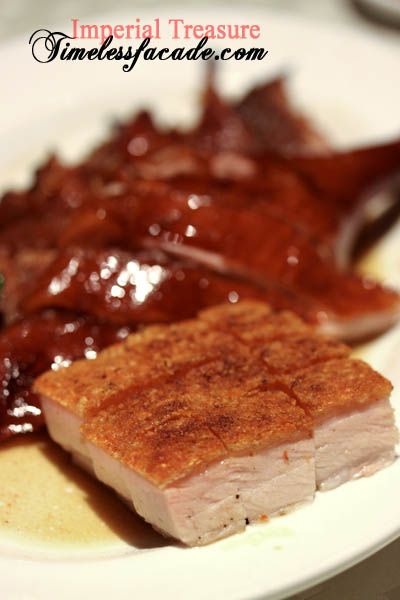 Roasted Goose & BBQ Meat Platter
I've always been a fan of Imperial Treasure's roasted meats (especially their roast pork and goose) and this meat platter wasn't just about to disappoint. The goose's skin was crisp and the meat, tender and flavourful. Spotting an even crispier skin was the roasted pork, which had a very good fat to lean meat proportion. Only gripe I had was the mild overdose of salt. I wasn't too taken by the char siew even though it was tender and mildy sweet with nice bits of fats wedged throughout. It was good, just not outstanding.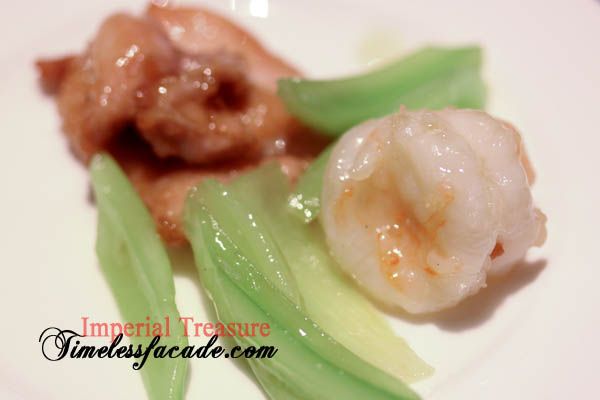 Sauteed Chicken with Prawn
After splitting this dish up, everyone around the table got exactly 1 prawn and a few slivers of chicken. So much for portion size. That aside, the chicken did seem a tad too oily but I liked the crisp edges and nice savoury taste. I also appreciate the freshness, crunchiness and size of the prawn(s), save for the minor over zealousness in the adding of salt.


Braised Sliced Abalone with Dried Oyster & Fish Maw
The sliced abalones were quite substantial (both in quantity and size) and carried quite a bit of bite without coming across as too raw. The fish maw was springy and soft but could have done with a little less cooking. There were quite a few huge dried oysters as well, but honestly, I'm not a big fan of them, so no comments.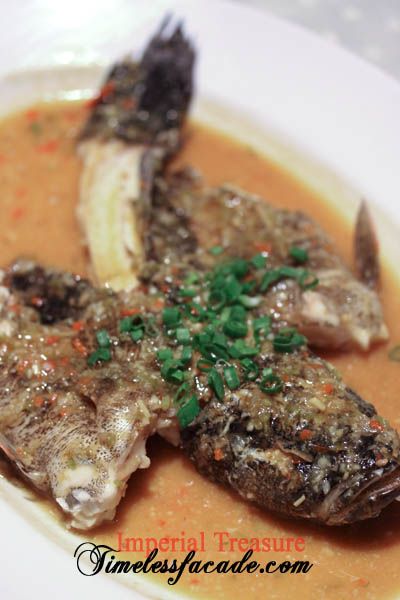 Steamed Live "Soon Hock" Fish with Plum Sauce
Honestly, the soon hock looked a little out of sorts when I first saw it. But aesthetics aside, the fish was very fresh with flesh being firm and sweet. The sauce was a little sourish and savoury, making for a very appetising eat.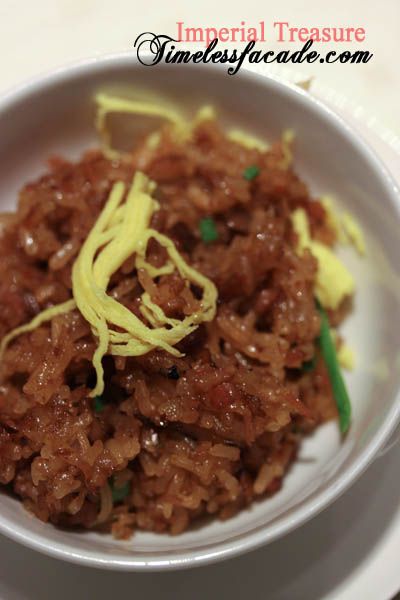 Fried Glutinous Rice with Waxed Meat & Waxed Sausages
An integral part of a CNY reunion dinner, the glutinous rice symbolises family cohesion. Imperial Treasure's rendition of this symbolic dish was fragrant without being too oily or dry. The bits of waxed meat and sausages added to the bite while the egg shreds gave it colour. Very good.


Sweetened Walnut Cream with Glutinous Dumpling
The walnut cream was very smooth, harbouring a lightly burnt taste sans the sugar overload. A lone sesame filled tang yuan in the equation made this dessert a nice and not too sweet ending to the excellent meal.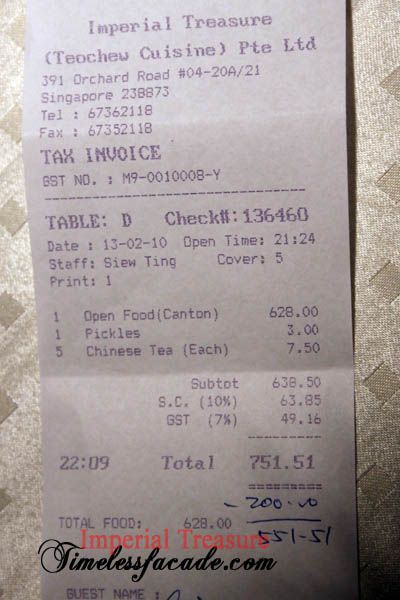 Bill
Our bill this year was more reasonable, standing at just above $750 for 5 pax (as compared to almost 1k the past 2 years). However, food quality hasn't been compromised and service still remains top notch. It definitely helped that we were seated in a private room as well. With such positive experiences with Imperial Treasure thus far, I'll be most eager to return again.



Final Verdict:
Ambience:7.5/10 (Private room)
Service:8/10
Food:8/10
Value for money:6.5/10

Overall:7.5/10

Address: #04-20A Ngee Ann City

Contact: 6736 2118

Opening Hours: Daily: 11am to 2.30pm, 6pm to 10.30pm