Apparently one of the owners of
Ministry of Steak
had a disagreement with his partners and left to open his own steak house in town. Lured by the prospect of having good and inexpensive steak for lunch, I popped by the eatery one afternoon with my colleague.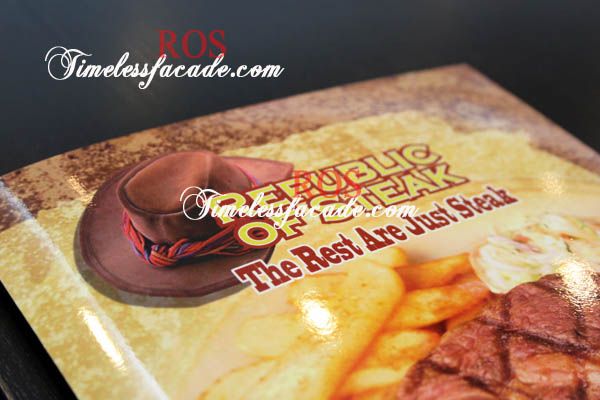 Interior & Menu
Occupying a slightly spruced up shop lot on the ground level of Victoria Hotel which used to house a Chinese eatery that sold mixed rice for lunch, the eatery focuses mainly on steak, with the obligatory pork, chicken and fish dishes to cater to non beef eaters. One thing to note is that prices are seemingly steeper then Ministry of Steak, but if my memory serves me well, there seems to be slightly more variety.


Cream of Mushroom
This came complimentary while I waited for my steak to be recooked. I didn't think too much of it as the soup seemed a little too starchy/coagulated for my liking but at least the mushroom bits were plentiful.


Chicken & Sausage Combo
The chicken was nicely grilled with charred bits providing a nice burnt taste and texture while the grilled sausages were pretty decent - a little juicy but a overly oily. I took issue with the mushroom sauce though, which came across as rather limp and failed to provide the extra oomph I was looking for.


Cowboy Sirloin
The sirloin had 2 variations - one for the guys and one for the ladies, with 2 different weights and price points. I had requested for steak to be done medium rare but it came out rare instead. The official explanation was that the meat had been sitting in the freezer truck and should have been thawed first before putting it on the grill. Nonetheless, it was sent back to get the doneness right. Unfortunately, meat when recooked, becomes a little dry and rubbery and loses flavour, which was the case with my steak. Fortunately, the boss practiced excellent service recovery and apologized, presenting me a complimentary soup (above) as well as a "voucher" for a complimentary steak on my next visit, with the promise that he would personally grill my steak.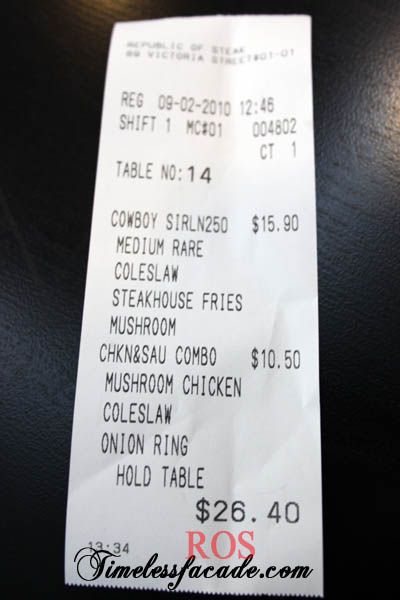 Bill
Overall I thought that the lunch was a little lacklustre, probably due to the disappointment from my steak. However, I am heartened by the good service rendered by the boss and with a complimentary steak in hand, I would be hard pressed to find a reason not to give them one more chance. Let's just hope things get better.



Final Verdict:
Ambience:6.5/10
Service:7/10 (8/10 for the boss)
Food:6.5/10
Value for money:6.5/10

Overall:6.625/10

Address: #01-01 Victoria Hotel, 89 Victoria Street

Contact: 67208103

Opening Hours: 11.30am - 10pm daily