We were wondering around Suntec City on a weekday evening, surprised by how empty most restaurants were. A certain craving for pork led us to Tonkichi, owned and operated by the Pokka group, which also has the Domani and Rive Gauche brand under its fold. And to think I only associated Pokka with their namesake line of drinks!


Interior & Menu
Tonkichi is one of the many restaurants that surround the fountain of wealth at the basement of Suntec City. Occupying a reasonably large space, the restaurant's decor is simple and definitely catered to the masses.


Sesame Seeds for you to pound/grind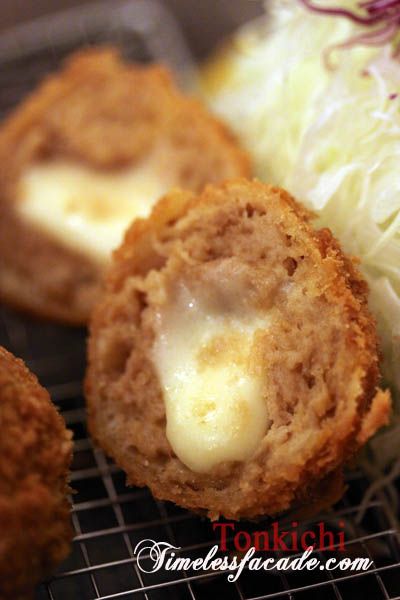 Kuro Cheese Katsu
My initial plan was to order the Kurobuta Hire Katsu but they were out of it so I had to settle for the Kuro Cheese Katsu, which turned out to be a mistake. Sure, the katsu was nicely breaded and deep fried without coming across as overly oily, but being minced up meant that the texture was left wanting. To me, mincing kurobuta up is akin to mincing wagyu beef up to make patties - a total waste. Not even the very elastic cheese could save this dish.


Prawn & Hire
On the contrary, I thought that this "normal" pork (and prawn) dish fared a great deal better than its more illustrious cousin. The pork was tender, juicy and nicely breaded without the oily residue. Personally I preferred the prawns though, which were relatively large and bursting with natural sweetness that there was no need for any tartar sauce to give it taste.


Bill
I see promise in Tonkichi's food. And at about $50 for 2 pax , it would be a great place to have a nice tonkatsu dinner without bursting your wallet. Service was good and I'll be sure not to order any minced pork tonkatsu or the likes.
Final Verdict:
Ambience:6.5/10
Service:7/10
Food:7/10
Value for money:6.5/10
Overall:6.75/10
Address: #B1-009, Suntec City Mall
Contact: 63394231
Opening Hours:
Only applies to the Suntec outlet
Weekdays/Eve of PH
11.30 am ~ 3.00 pm
6.00 pm ~ 10.30 pm
Weekends/PH
12.00 noon ~ 3.00 pm
5.30 pm ~ 10.30 pm
Website: http://www.pokkafood.com.sg/tonkichi/index.php