It was with much trepidation that I stepped into Hua Ting again, after my
last disappointing dinner some three years ago
. But with favourable reviews all this while, I just had to give it another shot, lest my previous experience was just a one off slip. And with reservations relatively difficult to secure, it added to the allure of a revisit. After all, if so many people are clamouring to get a table there, the restaurant must be doing something right, right?
Interior & Menu
The interior hasn't changed since my last visit and honestly I think it looks a little dated (it applies to the whole hotel for that matter!) so some mild restoration would probably be in order. We managed to snag a corner window seat that offered a little privacy and personal communication space.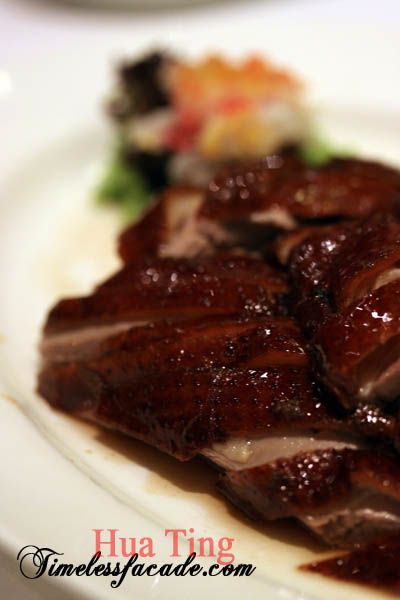 Roasted Duck
One of the renowned dishes of Hua Ting and partly why I was inclined to return. The duck was, to put it simply, excellent. Juicy and tender meat under a layer of crisp skin sans the fats. Coupled with a nice mildly sweet gravy, this dish garnered glowing reviews around the table. It might be good to take notice of the price tag though, as at $38 for half a duck, it's more expensive than half a peking duck in most Chinese restaurants.


Broccoli with Fresh Scallops
I personally liked the scallops, which weren't overcooked (great texture!) and didn't have the overwhelming raw shellfish taste that I dislike. And they were full of natural sweetness to boot. No complaints about the broccoli as well but the addition of walnuts into the picture seemed a little odd, especially when walnuts have a slightly bitter taste to them. But that's just my personal opinion.


Pan Fried Cod Fish
The sight of a chunk of deep fried cod fish sitting atop a sea of algae lookalike gravy (it was spinach) was weirdly soothing but not as appetising as I had envisioned it to be. The fresh cod fish had a nice crisp on the surface but being deep fried, it lost most of its natural sweetness and became rather nausea inducing, especially when the gravy was very bland and failed to add any flavour.


Seafood Fish Noodles
Simply put, the fish noodles were a delight to eat. Thicker than your average noodle with an evident springy texture, the noodles had a hint of fish. Throw in the fresh seafood as well as a savoury, not too coagulated shark bone soup base and you have a recipe for success. Just watch how much you eat as it can get really nauseating after a while.


Bill
In all fairness, our meal this time round was better than my previous experience but I am still not quite convinced of Hua Ting's quality, save for the fish noodles and roasted duck. Sure, $202 for 4 pax isn't that expensive but it wasn't exactly a satisfying dinner. Good but lacking in depth.



Final Verdict:
Ambience:7/10
Service:7.5/10
Food:7/10 (8/10 for the duck)
Value for money:6.5/10

Overall:7/10

Address: 2nd Floor Orchard Hotel, 442 Orchard Road

Contact: 67396666 or 67343872