Thai Prawn Cake
Having grown a little weary of the usual Thai fish cakes, we opted for the prawn cake, which came looking like deep fried fish fillets - golden brown on the outside and oozing a generous amount of oil. Health concerns aside, the prawn cakes had a mild prawn taste with minimal flour. Huge portions were also a plus.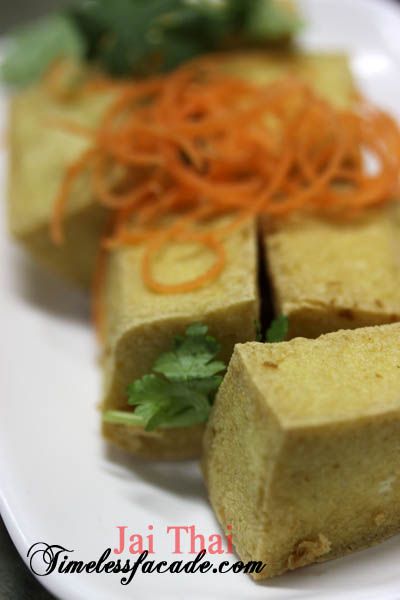 Deep Fried Beancurd
Normal stuff you can get almost anywhere. Palatable but probably not worth another mention.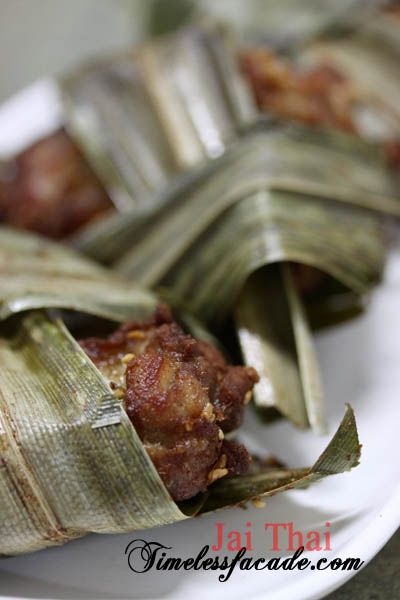 Pandan Chicken
3 huge piece for $5. Now that's a steal, especially when the chicken was nicely marinated without being overly oily. Tender and tasty flesh coupled with an easy to remove pandan leave wrapper, what's not to like?


Pineapple Fried Rice
As per
my first visit
, the pineapple fried rice wasn't too much of a crowd pleaser. The rice was bland and the only taste stemmed from the meat floss.
Phad Thai
I am actually a big fan of phad thai but Jai Thai's rendition wasn't anything I would term as fantastic. For starters, the fish sauce was overly generous, resulting in a mildly nauseating taste that didn't sit too well with me (but if you like fish sauce, then this might work for you). The noodles came across as the moist kind, whereas I prefer the drier versions. Ingredients were a little lacking but at $5 a pop, no complaints really.


Stir Fried Kailan
Some people might argue that vegetables with holes in them are considered pesticide free. I never quite took to that theory but still managed to polish off the kailan, which was stir fried with garlic. I love my vegetables.


Crab Vermicelli
I thought this dish was a steal at a mere $12 that included two reasonably sized pincers sitting on a bed of vermicelli. The crabs were relatively fresh but the vermicelli was almost soaked in oil towards the bottom of the pan.
Dinner, including 2
chendols
and a glass of lime juice, set us back by $45 - A very reasonable price for the huge variety and acceptable quality of food. Service was acceptable this time round even with the eatery operating at full capacity.
Final Verdict:
Ambience:6/10
Service:6.5/10
Food:6.5/10
Value for money:7.5/10
Overall:6.625/10
Address: 7 Clover Way
Contact: 62580228
Opening Hours:
Mon-Sat: 11am - 3pm, 6pm - 9pm
Sun: 6pm - 9pm
Website: http://www.jai-thai.com/index.htm