It was meant to be a Chinese New Year dim sum gathering with a couple of my makan kakis at Taste Paradise Ion. Unfortunately, only the ala carte menu was available because it was still within the CNY period. Which was fine with me, considering that I had a
great meal
at Taste Paradise Mosque Street 2 years back.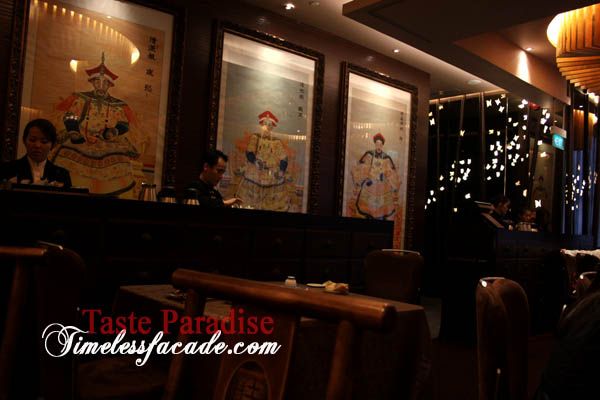 The Place & Menu
It must be posh interior fatigue that I was suffering from because the dim lighted luxurious interior with huge paintings of past Chinese emperors certainly didn't impress me much. But I must say it's definitely nicer than alot of the Chinese restaurants out there.


Crispy Silver Bait
We got off to a great start with the crispy silver bait, as recommended by our waitress. The silver fish was crisp and sweet with a touch of sour. Portion size was quite small so get more to share if you have a big group.


XO Carrot Cake
What used to wow me back then turned out to be sheer disappointment this time round. It was overly soft and I couldn't make out any savoury aftertaste. The only thing I could make out was the spice from the chilli, if you consider that a taste. I reckon your local hawker centre could do a much better job at a less than half the price for the same portion size.


Roasted Pork
This dish of roasted pork takes edibility to a new low and I'm not kidding. Each tiny cube was literally one layer skin, one layer lean meat and two layers of fats. Sure, the skin was crisp but the pork taste was just too overwhelming (they probably didn't blanch it long enough) and they tried to mask it by seasoning it with more salt. Someone commented it was akin to literally biting into a raw pig and I can't help but agree. Gross.


Peking Duck
At least the peking duck didn't suffer the same fate as the roast pork. It was decently crisp but overall could have been better. The crepes were a little too thick and could have done with less sweet sauce. Oh and the crackers that came alongside were just plain bland.
We opted to have the meat fried with rice and it was average at best. Rather tasteless and a tad too moist with an evident fowl smell. Poor duck.


Yuan Yang Prawn Ball
Finally a dish that presented a glimmer of hope - the yuan yang prawn ball, comprising of one wasabi prawn and one
laksa
prawn, served up in a martini glass. While both were big and crunchy, I personally favoured the wasabi prawn over the latter as the laksa seasoning did seem a little bland and lacklustre as compared to the more provocative wasabi.
Garoupa in Two Ways
This was apparently the special for the day and it honestly didn't look or taste as great as what our waitress had described to us. Presentation wise, it looked haphazard at best with the steamed garoupa and asparagus occupying the centre and flanked by fried pieces of garoupa. Generally speaking, the fish meat was fresh but sticky (too much corn flour!) and not very sweet. I couldn't quite make out the delicateness of the fish.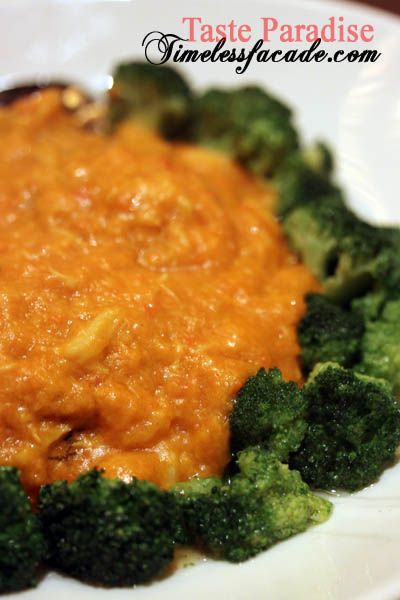 Tofu with Crab Roe
Another bordering on average dish. I appreciated the generous serving of crab meat shreds in the gravy but could have done with a little more flavour. ie. crab taste. Same goes for the tofu as well, which was barely in existence. One interesting/weird thing about the gravy was that it had a sourish overtone that didn't sit too well with either of us.


Bill
The bill dealt a $360 blow to the 7 of us. Food quality was average but service was decent. I cannot fathom how an excellent dinner at Taste Paradise Mosque Street could culminate in such a poor showing at the Ion outlet. Looks like I'll be placing my trust elsewhere in future.



Final Verdict:
Ambience:8/10
Service:7/10
Food:6/10
Value for money:5/10

Overall:6.5/10

Address: #04-07, ION Orchard

Contact: 6509 9660

Opening Hours:

Mon – Fri
11.30am- 3.00pm (last order at 2.30pm)
6.00pm - 11pm (last order at 10.00pm)

Sat, Sun & PH
11.00am – 5.00pm (last order at 10.30pm)
6.00pm - 11.00pm (last order at 10.00pm)

Website: http://www.tasteparadise.com.sg/


At least desserts were decent.