Armed with
a promise
from the head honcho of Republic of Steak that he would personally grill my steak for me on my next visit, I shrug off the threat of what seemed like an impending thunderstorm to arrive at the eatery just in time for dinner.
Menu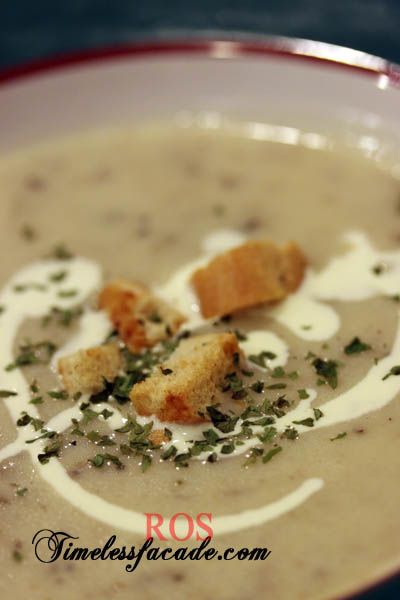 Mushroom Soup
The eatery has introduced an "add on" concept which is essentially topping up a couple of dollars ($6.90 in this case) to get a full set, comprising a soup, a drink and a dessert. The mushroom soup tasted straight out of the can, save for bits of grounded mushrooms that added to the texture and taste. A little more stirring would have been appreciated though as I could make out hardened clumps of the soup.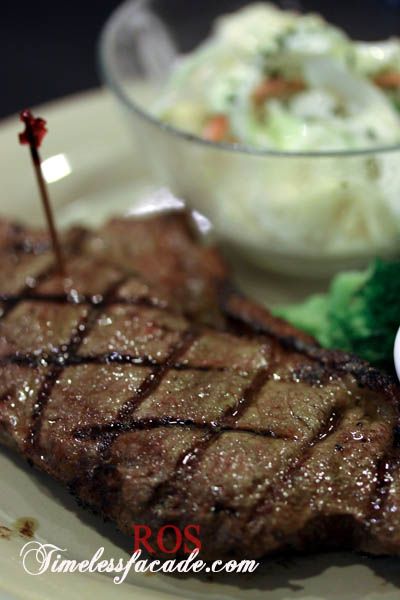 Cowboy Sirloin
The very reason why I was here and yes, the boss did make good on his promise to personally do up my steak for me (he did seem a little exhausted after that though). The steak was done to medium rare in most areas but certain spots were undercooked. That aside, the meat was tender and flavourful with a wonderfully subtle grilled aftertaste. My option of red wine sauce had a nice tinge of red wine, which is a change from the watered down ones I usually get. And if you are feeling guilty over the meat, go for the vegetable sides.


Pork Chop
The grill lines were apparent on the pork chop as well and it showed in the flavour. Smokey grilled taste coupled with decently tender meat, it was actually very decent for the price. The accompanying mushroom sauce was a washout though, coming across as watered down. You might take heed to go for the black pepper sauce instead, as recommended by the eatery.


Lava Cake with Ice Cream
Besides being aesthetically disastrous with the cake looking like it would crumble at any minute and a softer than expected crust (I believe they didn't bake it long enough), the lava cake was surprisingly, decent. Thick chocolate oozed out from the huge dent in the crust, whose texture was a cross between cake and
kueh
. And they might want to consider putting their ice cream in a less cold environment, considering that I had a hard time initially trying to eat my ice cream because it was simply too hard.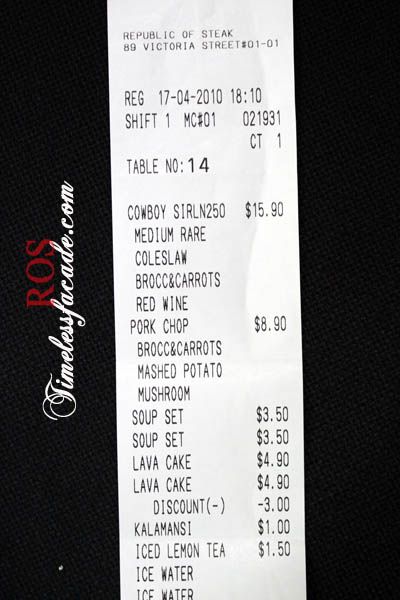 Bill
I personally thought that the dinner was rather value for money, considering the location and the quality of food. Service did seem a little lacking though as the wait for the food was quite long and I noticed a number of customers attempting to catch the wait staffs' attention for prolonged periods of time. Fix that and I'll be happy to return again. And again.



Final Verdict:
Ambience:6.5/10
Service:6.5/10
Food:7/10
Value for money:7/10

Overall:6.75/10

Address: #01-01 Victoria Hotel, 89 Victoria Street

Contact: 67208103

Opening Hours: 11.30am - 10pm daily