Its official. The 40 year F&B veteran of Hilton Hotel, Harbour Grill & Oyster Bar, will close come 15 May 2010 to make way for the renowned Iggy's. It was only fitting that I paid this esteemed restaurant a final visit before its swan song.

Amuse Bouche
We started off with a rather mundane amuse bouche of smoked duck breast with mango. Dry duck meat sans a heavy smoked taste didn't bode quite well for this dish but the tangy and crunchy mango strips did liven things up a little.


Complimentary Bread
An assortment of olive bread, cheese bread and the usual bread sticks came in the complimentary bread basket. Nothing too fancy but being served warm was definitely a plus.


Maine Lobster
This appetiser was actually done in 3 ways - served with tarragon ice cream, with caviar and with sour cream. The tarragon ice cream was relatively interesting with its smooth texture and mellow finish, masking the taste of the lobster salad. The caviar laden morsel of lobster was succulent but a tad overly salty sans the fishy undertones. Sour cream made the last serving of lobster nicely tart and appetising. Great way to start off the dinner - if only portions were bigger.


Caesar Salad
The mundane caesar salad was, well, mundane. Save for the fact that the vegetables were fresh and crisp, topped with poached egg, tender chicken slices, crisp bacon strips, non greasy croutons and cheese shavings. Can't go wrong with this dish.


Baked Cod Fish
I was pleasantly surprised with the baked cod, whose flesh was very tender, fine and full of richness. Very well executed in my humble opinion. The accompanying sauce was a tad sweet and had a lingering hint of ginger. Nice!


Prime Rib
They finally cut down on the salt content and my prime rib was a nice medium rare with a nice charred crusting along the edges. Tender, succulent with a nice natural beefy goodness. Certainly not the best that I've had, but pretty close.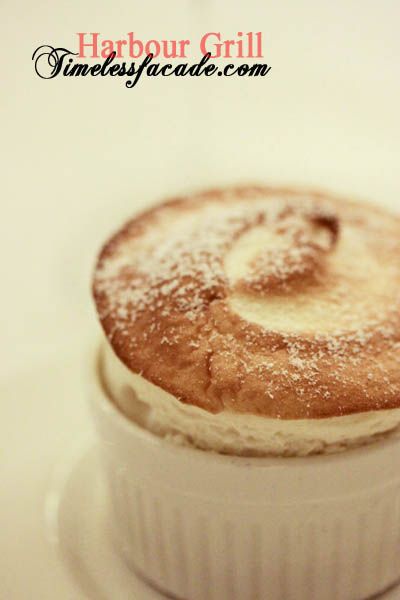 Grand Marnier Souffle
One of Harbour Grill's signature, this dessert had a significant alcohol presence infused within the delicately firm souffle with a high egg content. And I am still of the opinion that the scoop of orange sorbet was a little out of place with the souffle. But that's just me.


Petit Fours
Macarons, marshmallows, chocolates - what's not to like? A nice simple way to end of the meal.


Bill
We had an enjoyable dinner, accentuated by the great personal service and the charming ambience. Price wise, it hit us for about $176 for 2pax, which is a little on the steep side. However, having said that, it was money well spent, for the food, the company and of course the fond farewell to this historical restaurant.
Final Verdict:
Ambience:8/10
Service:8.5/10
Food:7.5/10
Value for money:6/10
Overall:7.5/10
Address: 3F Hilton Hotel
Contact: 6396 5493
Opening Hours: Mon-Sat: 12noon - 2.30pm, 7pm - 10.30pm (Closed on Sundays)
Closes 15 May 2010