Prior excellent meals throughout the months at various Imperial Treasure outlets paved the way for it to be the venue of choice for our annual Mother's day celebration meal. And to mark the occasion, we travelled far east to one of the chain's esteemed Cantonese outlets, where yours truly have had the pleasure of dining at on
previous occasions
.
Interior
In all honesty, we didn't exactly get very good seats, squashed right at the front of 2 private dining rooms. But at least it wasn't part of the main dining area, which of course meant more privacy and less environmental noise, or din if you would like.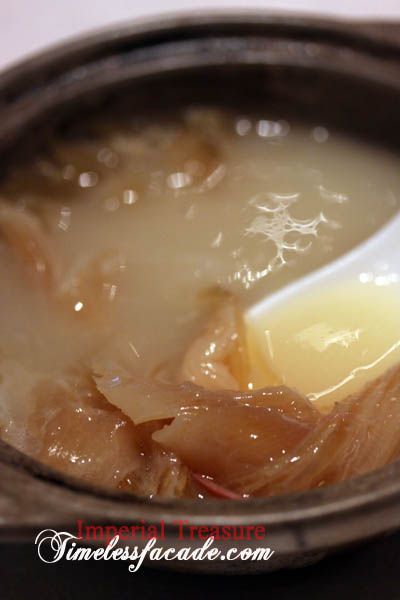 Special Shark's Fin Soup
I am not sure if this was on the menu, but it was recommended by our captain. Please allow me to express how fantastic this soup was. A huge whole piece of fin resting in a rich, lightly milky stock that didn't threaten to overwhelm. Pure unadulterated goodness and we finished the soup, down to the last drop. For the record, it was $60++/serving.


Roasted Platter
This wasn't your usual roasted platter as we opted to include suckling pig alongside the usual roasted goose and pork. And to be honest, the roasted pork was a little bit of a let down with its high fat content even though the skin was unbelievably crisp.
On the other hand, the roast goose was excellent. We had opted only for breast meat but even so, the meat was tender juicy with the flavours permeating right through the meat.
Now suckling pig can be a little tricky as alot tend to have an overwhelming porky taste. But not this one. Crackling crisp skin with a thin layer of fat beneath, it was just to good to resist, especially when dipped in the accompanying sweet sauce.


Sauteed Scallops with Truffle Oil
One of my must have dishes whenever I visit, the scallops with truffle oil were served up in individual portions ($7++ per piece) this time round. Very fragrant with a hint of earthy truffle oil taste in the egg white coupled with a huge, tender yet firm piece of scallop; seconds would have been great.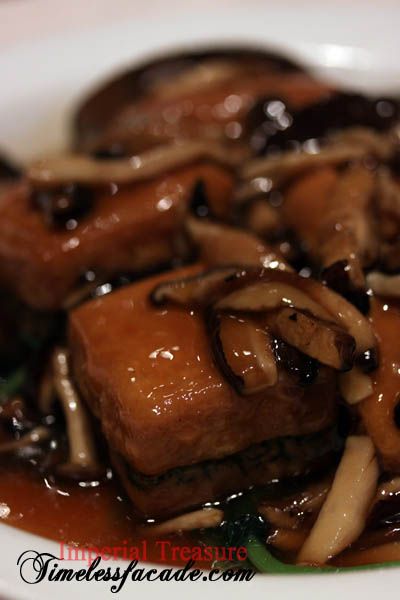 Homemade Beancurd
The homemade beancurd wasn't exactly my idea of a fantastic dish, but I personally thought that it was better than quite a fair bit of Chinese restaurants that I've eaten at. A mashed layer of spinach sandwiched between two pieces of savoury and soft egg beancurd - Very palatable, especially with the generous sprinkling of mushrooms alongside.


Sauteed Frog Leg in Chinese Wine
It's been quite some time (probably years!) since I've had frog leg and I'm glad that my reintroduction to this delicacy was a positive experience. The meat was tender yet firm, carrying a bit of a bite while the "soup" was lightly milky with a nice rice wine fragrance and taste.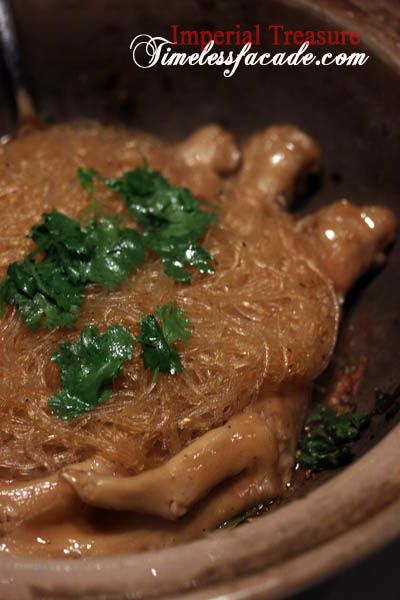 Vermicelli with Goose Web
We opted for this to be done Thai style which meant a tangy, mildly peppery rendition topped with a nice strong blend of lemongrass flavouring for the vermicelli, which remained springy while retaining a little moisture. Good! I am not a fan of goose web though so I shall reserve my comments.


Custard Buns
Although Peach Garden's custard buns still rank as the best I've tried in Singapore so far, Imperial Treasure's offering comes in a close second. Oozing custard with egg yolk sediments. Nice! Would have been topped my list if the egg yolk was a little saltier.


Durian Pudding
Durian desserts are aplenty nowadays and most Chinese restaurants would have a durian dessert in one form or another. Imperial Treasure was no exception but their durian pudding stood out from the crowd with its richness coupled with a smooth gelatin texture. Almost like the real thing, save for the texture. Best eaten chilled.


Bill
What can I say? A fantastic dinner with a matching price to boot - $600 for 5 pax. Worth every cent. Service was good as well which was a sweetener I guess. And we struggled to get our bottoms off our seat after the dinner. Now how good is that?



Final Verdict:
Ambience:7.5/10
Service:7.5/10
Food:8/10
Value for money:7/10

Overall:7.5/10

Address: #01-02 Crowne Plaza Hotel, 75 Airport Boulevard

Contact: 6822 8228

Opening Hours:

Mon–Fri
11.30am–3pm, 6pm–11pm

Sat–Sun & PH
10.30am–3pm, 6pm–11pm