Changi Village is probably one of the last remaining rustic, laid back places in Singapore and from the gateway to Pulau Ubin. So it is not surprising that many seafood places have sprouted up at this seaside enclave over the years, one of which is Ubin First Stop Restaurant where we opted to have lunch at one sunny weekday afternoon.
Interior
This seafood place is sandwiched between Changi Village hawker centre and the open air carpark and is reminiscent of an old kampung with its main structure elevated on low concrete stilts. The open air kitchen sits in a small seperate shack just outside the stairs leading to the dining area. Very nostalgic.


Soup of the day
This was a simple winter melon soup (if I remember correctly). A tad bland and a little oily. But easy on the palate.


Stir Fried Kang Kong
Nicely fried with a hint of wok hei. Not too limp from overcooking as well. Just watch out for the overdose of fiery chilli. But then again, it could be that none of us at the table had a high level of tolerance for spiciness.


Fried Fish
The fish was deep fried and drenched in a semi viscous salty gravy but still managed to maintain a mild crispiness on the exterior. Flesh was relatively fresh and firm and quite an enjoyable dish overall.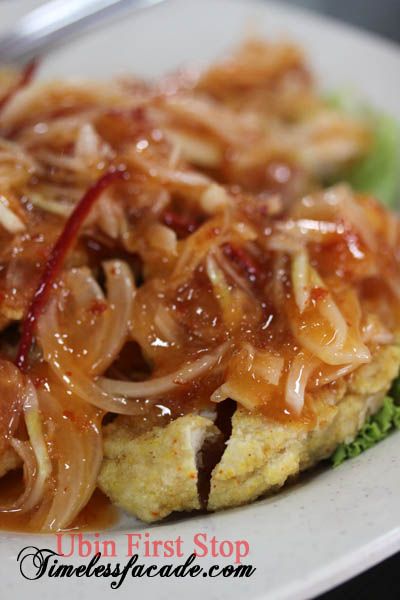 Thai Style Fried Chicken
Too much flour, too much thai sauce, rendering this dish rather unpleasant. The taste bud killer sauce also ensured that there was no chicken taste of whatsoever, just a glob of flour laden piece of unidentifiable meat.


Deep Fried Prawn Ball
Another flour obsessed dish - so fluffed up until I had problems locating the real prawn meat. Okay I am exaggerating, but 50% flour and 50% prawn just isn't funny. It was so gross that none of us wanted past our fair share of this dish, which meant leftovers.


Bill
The set lunch cost the 5 of us about $51, which isn't too expensive honestly. But factor in food quality and I'll probably take my chances at Macdonalds instead. Rice was free flow though, if that's any consolation.



Final Verdict:
Ambience:6/10
Service:6.5/10
Food:5.5/10
Value for money:6/10

Overall:6/10

Address: 57 Lorong Bekukong

Contact: 6546 5905

Opening Hours:

Monday to Thursday: 11.30 - 2pm & 5pm - 11pm

Friday, Saturday, Sunday & Public Holiday 11.30 - 11pm

Website: http://www.ubinfirststoprestaurant.com.sg/