The opportunity to visit 1TwentySix presented itself one humid weekday evening, in the guise of a voucher, courtesy of the management. I can't say that I've been eager to try out this sister outfit of One Rochester @ Rochester Park, not after the bad reviews I've heard about it so far.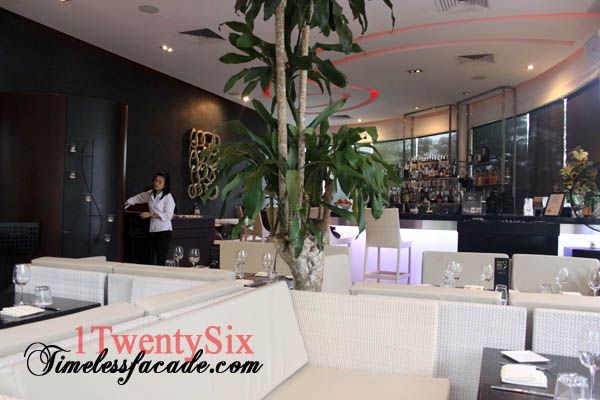 The Place & Menu
Located along the inner fringe of Big Splash towards the sea, 1TwentySix boasts an al fresco sitting area that is rich in nature and certainly great for chilling out. The "air conditioned" interior is actually a small area with some form of feeble air conditioning. The problem is, the area isn't enclosed and there is no air curtain to stop the cool air from escaping. There is a huge glass partition but it is apparently only used in the afternoons. And yes, it did get a little too warm that evening.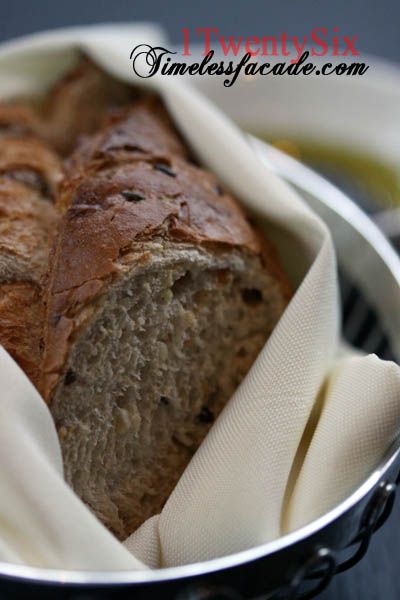 Complimentary Bread
Crusty exterior with bits of wheat and corn amidst the soft and warm dough - good bread never fails to start a meal off on the right foot.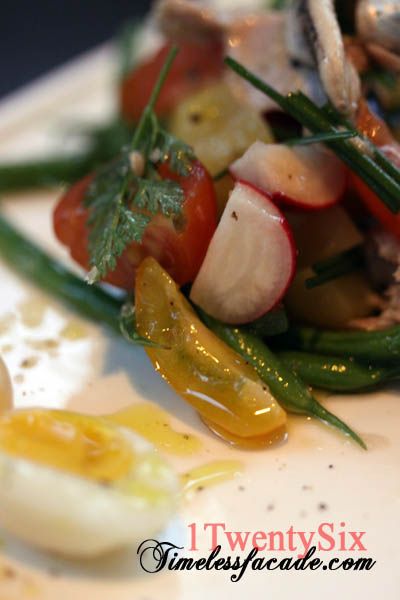 Tuna Nicoise in Two Styles, Seared Tuna Tataki and Tuna Confit with French Beans, Cherry Tomatoes and Soft Boiled Quails Eggs
The tuna tataki was good - well seared on the outside while retaining its smooth yet firm texture on the inside. A lingering smokey taste accompanied by a dash of saltiness. Can't really fault it.
The tuna confit, on the other hand, was lost amongst the salad, masked by a rather saline solution. I could still make out the tuna though, but barely.


Tartare of Scallop, Ocean Trout and Tuna Loin with Foie Gras Parfait and Caramelised Shallots
I had thought that the tartare of scallop, ocean trout and tuna loin would certainly be a very fishy combination, but I was wrong. It was actually nice and to a certain extent, refreshing, without coming across as overly raw. Topped with a raw egg.
Please let me qualify that even though I like foie gras, I am not a big fan of it done parfait (75% foie gras) or pate (50% foie gras) style simply because I like my liver whole. So the chilled, smooth foie gras parfait simply didn't appeal to me.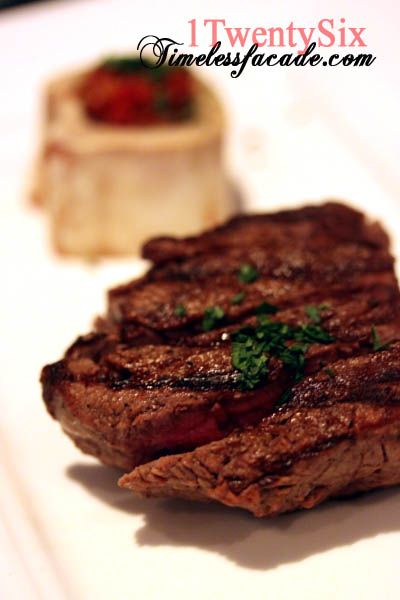 150 Day Grain Fed Beef Tenderloin with Roast Bone Marrow with Chilli and Shallots
Although 1TwentySix's menu seemingly focuses on produce from the sea, I took a gamble and went with the 150 day grain fed tenderloin. And I was suitably impressed. The tenderloin was nicely char grilled on the surface and done to a perfect medium rare. Add to the fact that the meat was tender and flavourful and you have a clear winner. One thing odd was the mushroom sauce, which had a strong mushroom taste but did seem a little overly sweet.
The side of fries were decent and didn't turn soggy when cold. What I thought was interesting was the broccolini, which was cooked with garlic and ginger - a very Chinese style of cooking, just way too oily.


Black Cod Fillet with Fennel, Blood Orange and Pistachio Salad served with Beaujolais Sauce
Fresh, firm yet flaky but outright bland. The fish wasn't sweet nor the sauce flavourful. All I could make out was a faint taste of fish and an initial sugar induced sweetness. Decent by any standards but could have been a lot better.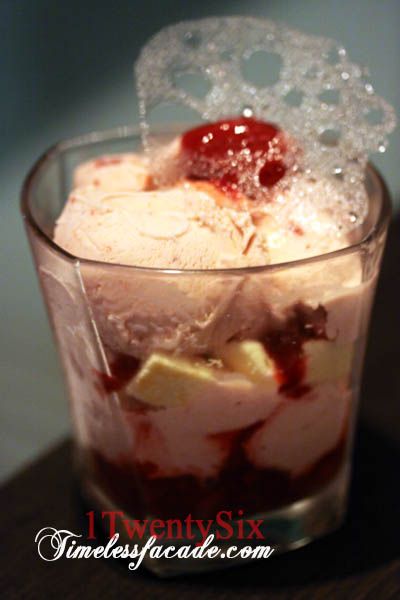 Frozen 'Deconstructed' Strawberry Shortcake with Home Churned Strawberry Ice Cream
A recommendation from our waitress, I didn't quite take to the strawberry shortcake at first due to the seemingly excessive strawberry ice cream. However, as I dug deeper, I could make out a mish mash of sponge and flaky pastry, making the dessert quite enjoyable after all. If only I had 2 stomachs.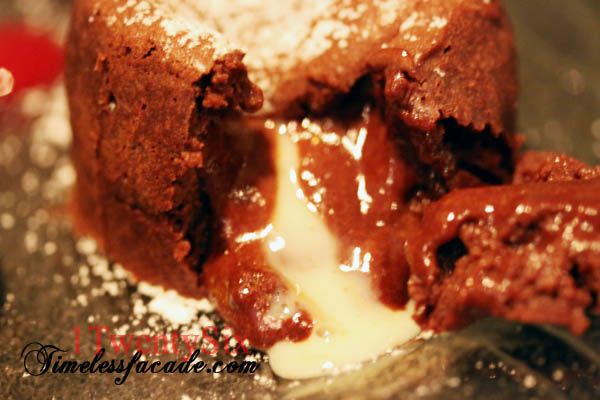 Valrhona Dark & White Chocolate Fondant with Coconut Praline Ice Cream
Most chocolate fondants come in only the dark variant, but 1TwentySix's offering combines both white and dark chocolate. Rather gimmicky if you ask me, because its just white chocolate oozing out together with the dark chocolate when you crack open the surface. But something different nonetheless. Texture wise, the crust was a little soft but at least it wasn't gelatin like. Coupled with a rich viscous chocolate filling and a creamy coconut ice cream, this dessert held promise for a sweet ending.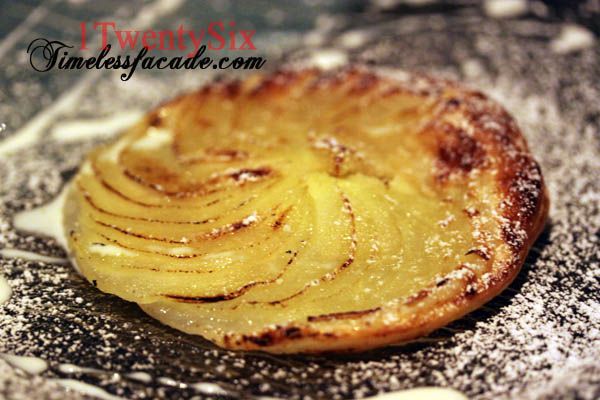 Fine Apple and Frangipane Tart with Calvados Ice Cream
The tart had a thin, flaky and crisp base with a nice oven baked taste to it. The apple slices weren't overly tart and I could make out a tinge of sweetness from the frangipane (sweet almond filling). It probably helped that the tart was sprinkled with icing sugar. The calvados (French apple brandy) ice cream didn't really make an impact though. Easily forgettable.


Bill
I would have had a wonderful meal if not for the less than cool dining environment. And the price for such an indulgence? Approximately $202 (before the use of discount voucher). Expensive? Arguably yes. But with very few other "fine dining" options in the east, 1TwentySix could probably be a consideration for your next special occasion or celebration.
Final Verdict:
Ambience:7.5/10 (-0.5 for the lack of aircon)
Service:7/10
Food:7.5/10
Value for money:6/10
Overall:7/10
Address: 902 East Coast Parkway, #01-26, Playground @ Big Splash
Contact: 6348 2126
Opening Hours:
A la Carte
Dinner: 6:30pm - 11:00pm*
Monday – Sunday
*last orders at 10.30pm
Sunday Brunch
10.00am - 3:00pm*
*last orders at 2.30pm
Gastro Bar
06:00pm - 1:00am
(Sunday - Thursday)
06:00pm - 3:00am
(Friday, Saturday, Eve of Public Holiday)
Website: http://www.1-twentysix.com/