A certain maniacal yearning for dim sum saw me at Wah Lok on a busy Saturday morning, in an attempt to kill off the tiny voice in my head that screamed "dim sum" over and over again.
Interior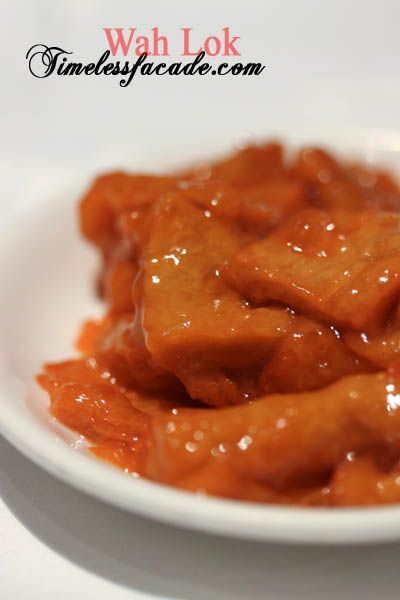 Appetiser
This was some sort of a sweet bean based appetiser. Tasted a little like sweet vegeterian mock meat. Interesting but not exactly my cup of tea.


Carrot Cake
Best eaten piping hot, the carrot cake was smooth with bits of pork and shrimp, but not sublime enough with the gravy being a tad too salty. A decent eat nonetheless.


BBQ Chee Cheong Fun
Silky semi translucent skin hiding a generous serving of BBQ pork and topped with chives, which gave it a nice contrast and helped cut through the nausea. Nice but best eaten warm/hot as well, lest the skin turns limp when cold.


Century Egg Porridge
I'm not a big fan of century egg so I shall reserve my comments save for the fact that the porridge was nicely textured with bits of grain evident.


Pork Dumpling
The
siew mai
hit the right notes with its low proportion of fatty meat as well as a generous serving of relatively fresh and crunchy prawns. Not too salty as well.
Prawn Dumpling
Another quintessential dim sum staple, the
har gao
had nice crunchy prawns enveloped in a thin, not too elastic skin.
BBQ Pork Bun
Wah Lok purportedly serves up one of the best BBQ Pork Bun aka
Bo Lo Bao
(波萝包) in Singapore and its easy to see why. A crusty semi sweet top coupled with a nice, almost oozing BBQ pork filling that wasn't cloyingly sweet - No complaints, really.
BBQ Pork Pastry
I thought that the
char siew
sou
lacked the buttery goodness in its pastry, something which I personally prefer. But still a notch above most places with its flakiness and not too sweet BBQ pork filling that had nice chewy bits of fat.
Egg Tart
Flaky pastry with a nice, moderately sweet custard center. Came in a nice bite size as well. Only thing lacking was the butter, in my humble opinion.


Custard Pastry
The 美人腰 (pretty lady's waist) ended our dim sum session on a positive note with its flaky pastry coated with tons of icing sugar, belying a warm, smooth and mildly sweet custard filling within.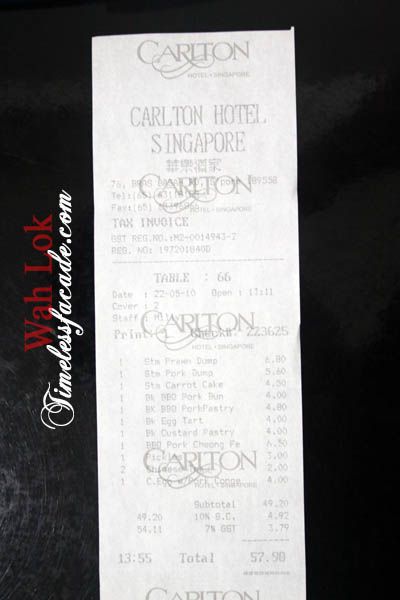 Bill
A satisfying dim sum lunch cost the both of us about $58, which is very reasonable considering the quality. Wah Lok has managed to maintain its consistency over the years and I am sure I'll be returning for many dim sum trips to come.



Final Verdict:
Ambience:7/10
Service:7/10
Food:7.5/10
Value for money:7/10
Overall:7.125/10

Address: 2nd floor, Carlton Hotel

Contact: 63118188/9

Opening Hours:

Lunch 11:30 am - 2.30 pm (Mon - Sat); 11 am - 2:30 pm (Sun & PH)

Dinner 6:30 pm - 10:30 pm

Website: http://www.carlton.com.sg/dining_wah.htm