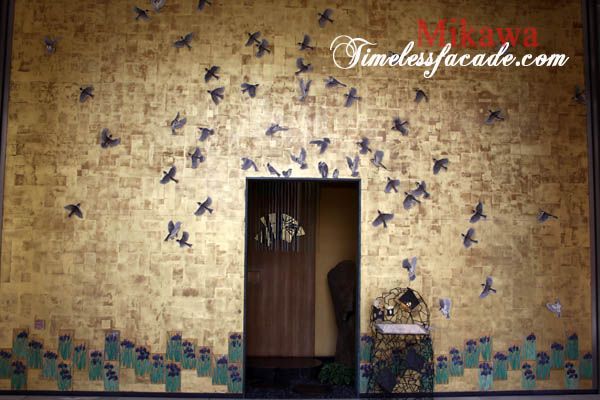 A visit to Tokyo or Japan in general, is never complete without a
tempura
stop. And what better place to have
tempura
than at Mikawa, coined the golden temple of tempura by
The Japan Times
in 2003. Mikawa's latest outlet (bringing the total number of outlets to 3), Mikawa Zezankyo, has also be awarded 1 star in the latest Michelin rankings. The owner and head chef of Mikawa, Tetsuya Saotome, is classic Edomae, which in the Edo period (1603 - 1867), referred to the practise of using seafood only found in Tokyo Bay and locally grown vegetables.
Interior
The outlet at Roppongi proved rather difficult to find as it was hidden on the 2nd floor of the Roppongi Hills residences. And once again, like many other famed eateries in Tokyo, there was no visible signboard. The beautifully tiled wall with images of birds fluttering around the doorway is giveaway though (I remember seeing pictures of it online). The interior consists mainly of a counter table where you can watch the chef at work and 2 small tatami rooms, 1 of which I had the opportunity to occupy.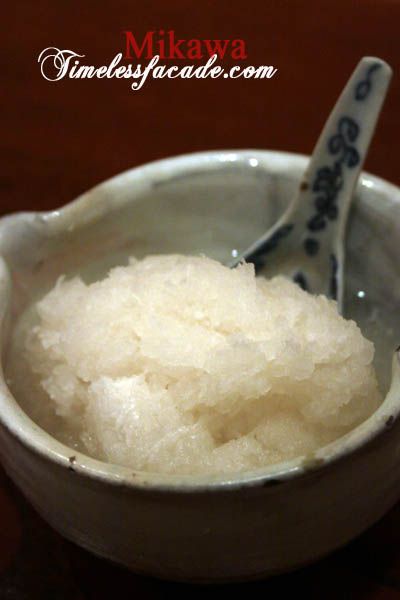 Grated Daikon Radish & Miso Soup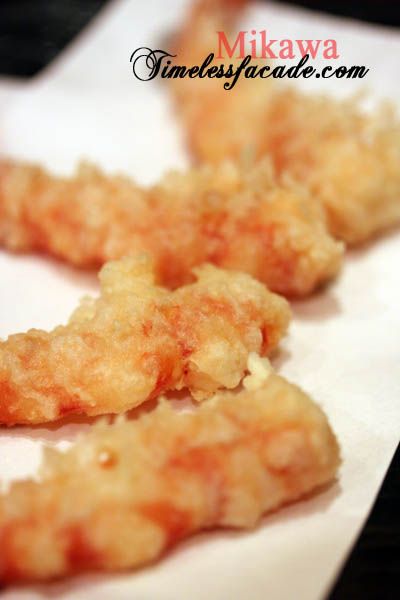 Ebi (Prawn)
Honestly I was a little miffed when I saw the size of the prawns, especially since I went to Mikawa for lunch very soon after being exposed to the huge wild tiger prawns at
Aronia
. I was expecting/hoping for prawns around the same size. But I digress. The quality of prawn tempura is never determined by it's size. And boy oh boy, it was love at first taste. Extremely fresh with the batter ethereally light, allowing the sweetness and texture of the prawn to permeate through. I never thought tempura could taste this good!
Kabuto (Prawn Head)
Prawn heads are known to be very high in cholesterol so I usually avoid them as far as possible. Having said that, it was well worth the health risk. Crisp and very tasty with a nice hint of prawn - this goes into my list of healthy eating exceptions together with
foie gras
. Seconds, anyone?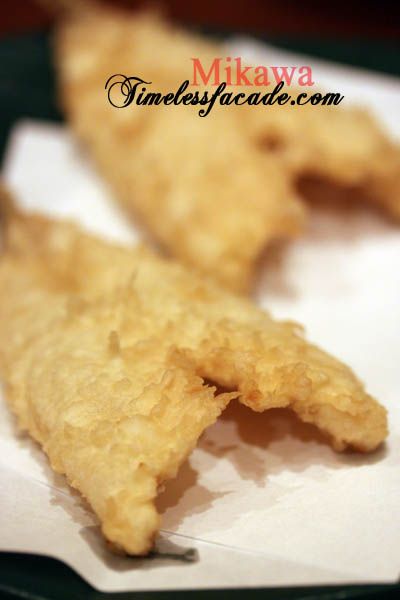 Kisu (Japanese Whiting)
Apparently Japanese Whiting was in season so it made it's way onto the menu. Honestly I wasn't too impressed by the fish as the batter on it did seem a wee bit thicker than what I would have expected, especially in comparison to the prawns. The fish itself wasn't that sweet either. Not my cup of tea.


Anago (Sea Eel)
Now the
anago
was a totally different story from the
kisu
. Crisp on the outside without the batter being overly thick and the flesh, naturally sweet and finer than your normal
unagi
. Good thing the portions were quite generous and we gladly lapped it all up.
Ika (Squid)
Another fine example of light as air batter, the squid was nothing short of excellent. Not too chewy yet retaining a fair bit of bite. And you get two pieces each. How nice is that?

There was another dish with 3 kinds of vegetables but I must have missed out on a shot of it. Though the batter was light, I didn't quite take to the eggplant and green pepper, but that's just personal preference. The mushroom though, was quite nice. Juicy and earthy.


Kakiage (Small Scallop/Hen Clams in a cluster)
Kakiage (Ten Don)
For the finale, you have a choice of having it 3 ways -
Tempura
style with salt or tempura sauce,
Ten Cha
style where the
kakiage
is served on a bed of steamed rice that has been topped with Japanese clear soup and finally,
Ten Don
style, where the
kaikage
is served on steamed rice that has been lightly topped with tempura sauce. However style you want it done is entirely up to personal preferences. For us, we had the original
Tempura
style and the
Ten Don
style, both of which were very good with bits of scallop and hen clams providing a nice savoury taste. Very much like eating seafood fritters sans the reused oil taste.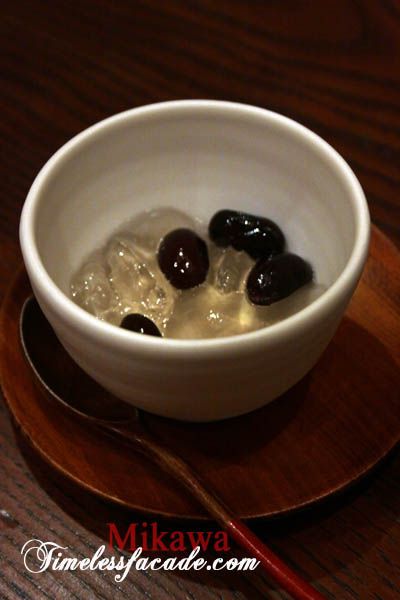 Dessert
A simple yet satisfying conclusion to our heavy lunch - Azuki beans served on a base of quivery jelly. I certainly wouldn't expect more.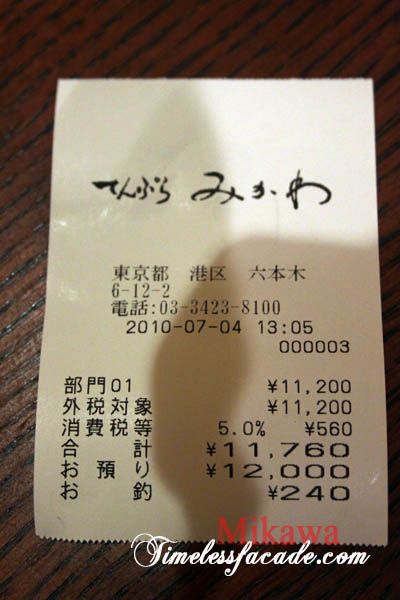 Bill
11,760¥ (SGD$183) for 2 tempura set lunches might seem a little whacky but hey, it was a great meal! Never have I eaten such light tempura in my life and Mikawa ranks top of my charts, miles apart from wherever I've eaten before. On a side note, dinner is even more expensive - in excess of 10,000¥ per set, so lunch might be a more viable option.
Final Verdict:
Ambience:7.5/10
Service:8/10
Food:8.5/10
Value for money:No Comments
Overall:8/10
Address:
Main - 3-4-7 Nihonbashi Kayabacho, Chuo-ku
Branch - Roppongi Hills Residence B, 6-12-2 Roppongi, Minato-ku
Mikawa Zezankyo - 東京都江東区福住1-3-1
Contact:
Main - 03-3664-9843
Branch - 03-3423-8100
Mikawa Zezankyo - 03-3643-8383
Opening Hours:
Main - 11:30-13:30, 17:00-21:30 (21:00 on Sundays)
Branch - 11:30-14:00 L.O.13:30 & 17:30-21:30 / Closed on Wed
Mikawa Zezankyo - 11:30-14:00 L.O.13:30 & 17:00-22:30 L.O.20:30