To dine at Aronia De Takazawa, two prerequisites must be fulfilled. One, you must be prepared to fork out a hefty sum of money for dinner (Yes they only serve dinner). Two, you must make your reservations early. Aronia only takes reservations up to 2 months in advance and while that might seem normal for any restaurant of its calibre, please be mindful that Aronia only has 2 tables for a maximum of 8 people. Voted one of the
world's top 10 life changing restaurants
by Food & Wine Magazine, Aronia surprisingly has no Michelin stars to its name. The word on the street is that it's talented chef cum owner, Chef Takazawa, declined to accept the award for reasons only known to himself.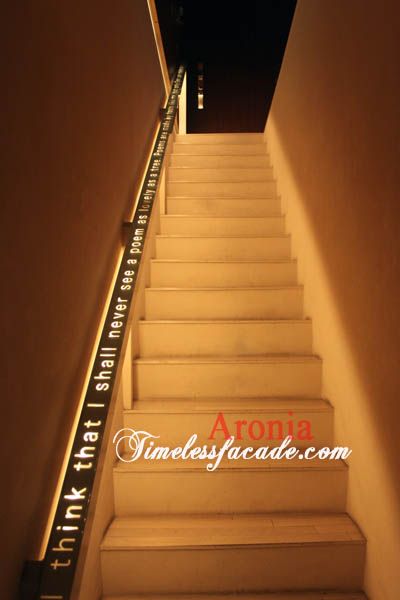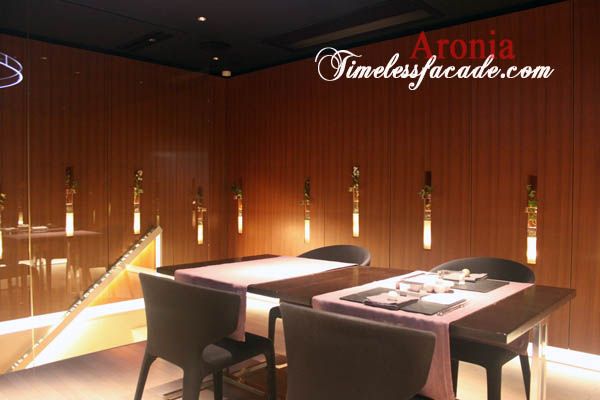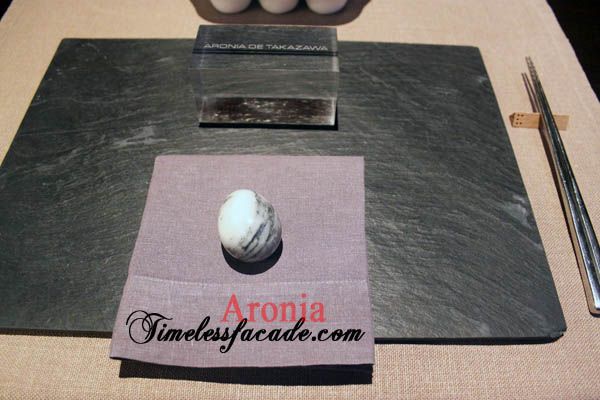 The Place & Menu
Aronia is a essentially a 3 men team, with Takazawa doing up his culinary magic and his wife, Akiko, manning all other aspects with the help of another wait staff. The place is quite difficult to find, especially for first timers as there is no obvious signboard or clues to its existence. Making things worse is the fact that the entrance looks like the back door of some restaurant. Thank god for the name mercifully etched on the door handle and the kind navigational assistance of the Akasaka metro station master. Walking up the flight of stairs to the main dining area, one is impressed by the simplicity of it all. 2 tables and a huge steel counter where Takazawa does some of his preparation. Everything is kept out of sight in the cleverly concealed cupboards which form part of the interior.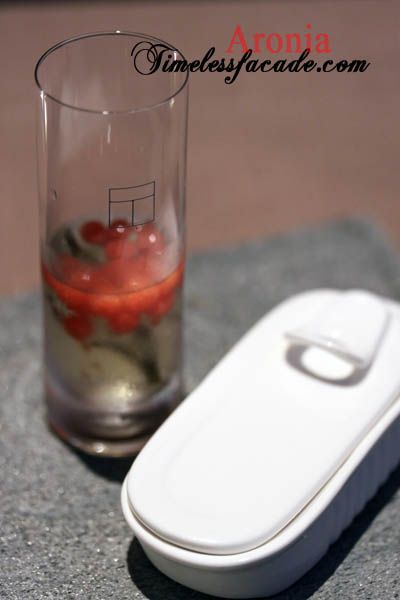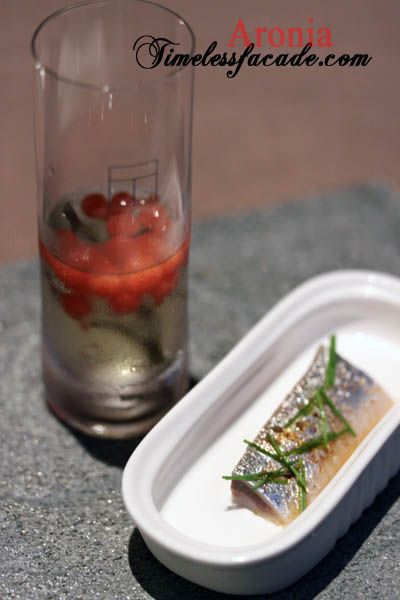 Amuse Bouche
I thought the amuse bouche was mildly amusing with the marinated sardine served in a porcelain "sardine tin" look alike holder coupled with a tiny glass of tomato puree balls with "jun se" (spelling? I couldn't get anything on it off google so any help would be much appreciated), which according to Akiko san, is a Japanese fruit. The tomato balls concoction was mildly tart and proved a great companion to rather fishy slice of sardine. Great way to begin our meal!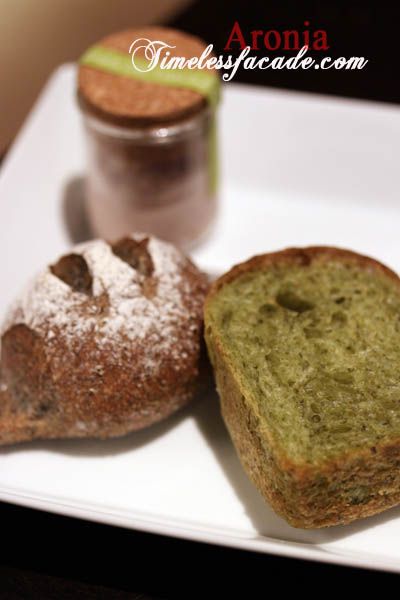 Complimentary Bread
The bread came in 2 flavours - vegetable & sesame, with a small jar of chilled pork rillette (pork simmered slowly in it's own fat, then shredded and seasoned) made from Okinawan pork that literally had me salivating for more. Lightly salty and fine without the overly strong hog taste, 1 jar was definitely not enough! The bread was good in its own right - the sesame bun fragrant with a nice balanced taste of sesame and the vegetable bun crisp yet chewy. Just so you know, you can get an extra serving of bread if you think you can handle the subsequent meal courses.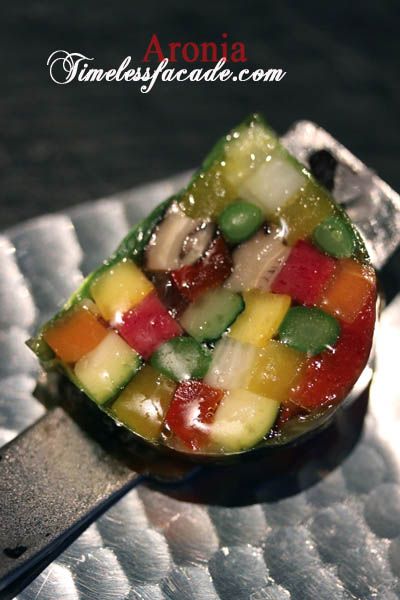 Ratatouille
One of the signature and most widely raved about dishes from Aronia - the ratatouille. Unlike it's humble French offering, Aronia's ratatouille consists of 15 cubes of vegetables individually and meticulously prepared to form up a mosaic tile slightly larger than of a quarter of my palm. Here comes the shocker. Making the ratatouille takes about half a day of preparation but is recommended to be consumed just in 1 mouthful with a tiny rock of magma salt - probably about 30 seconds! Taste and texture wise, the crunchiness and freshness of the vegetables hit first with the magma salt (salt burnt by magma) slowly kicking towards the middle and ended on a refreshing note. Very interesting.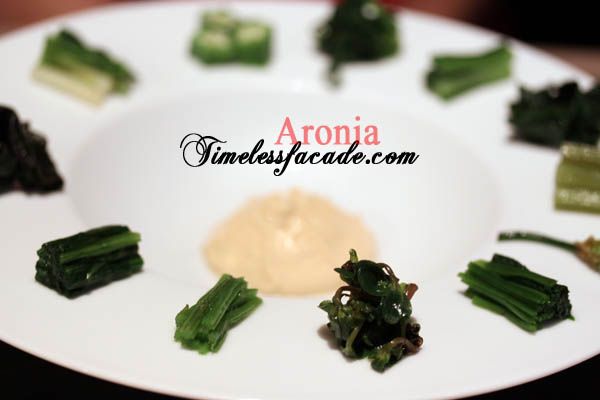 "Tasting" Seasonal Vegetables
For vegetable non eaters/haters, this dish is probably your worst nightmare come true. 12 types of vegetables sourced from various parts of Japan, served up in small tasting portions with uni (sea urchin) mousse. Though the vegetables were very fresh, this came very close to a vegetable overload. Special mention goes to the uni mousse, which was creamy and very light; totally out of my expectations.


Crab "Creamy" Croquette
Aronia's take on the croquette was essentially a ball of crispy pastry (deep fried vermicelli I believe) atop hairy crab meat and soaked in a creamy corn sauce. The sauce had a nice touch of creaminess without masking the natural sweetness of the hairy crab while retaining a strong hint of corn. Excellent!


Asparagus
True to its name, this dish consisted solely of asparagus prepared in various ways. Pickled white asparagus, asparagus coated with a thin layer of batter and deep fried, asparagus topped with summer truffle and even asparagus ice cream. I personally love asparagus so it was quite a delightful dish to stomach, especially the deep fried asparagus. However, I couldn't quite reconcile the taste of asparagus with the texture of ice cream so it did come across as a wee bit weird but interesting nonetheless. According to Akiko san, all the asparagus are from Nagano, underlying Aronia's support to using only local sources as far as possible.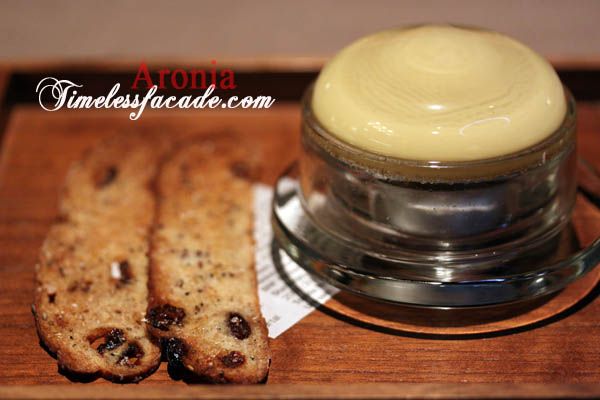 Candleholder
A rather imaginative dish, with mango chilli papaya salad served in a metallic tea light holder and a solitary rosemary leaf playing the part of a wick - naturally sweet with a twang of spiciness. Very interesting. The underside of the glass lid held a foie gras creme brulee which was a little overly torched on the surface but came across as mildly sweet sans the overwhelming taste of foie gras. Great flavour combination with the 2 crisp slices of homemade fig nut bread that came alongside.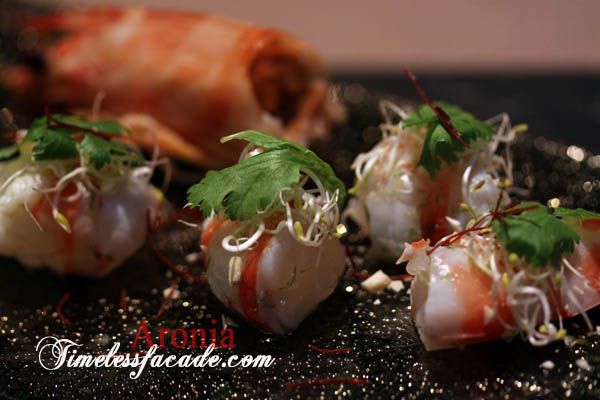 Tom Yum Goong
A deconstructed take on this ever popular Thai dish, Aronia served a dissection of the wild tiger prawn on a beautiful platter with a small mug of rich prawn broth that carried a dash of chilli induced spiciness. You are suppose to eat a piece of the prawn together with a sip of the broth. The prawn was cooked till about 80-90%, which gave it a very nice crunch and sweetness. And to prove how fresh the prawns were, they were brought out just before their sacrifice. Not much of a novelty factor, but this dish did rack up points on visual appeal and solid flavours.


Wild Eel with Taste of Earth
I didn't manage to get a shot of the powdery effect caused by the addition of liquid nitrogen powder but it sure did catch my attention. However, no visual gimmick can take away the applause that this dish rightly deserves for its sublime flavour. The eel's skin was very crisp, almost crackling, with the flesh firm yet fine. Coupled with a nice lightly charred aftertaste, it was excellent. And in case you are wondering, the red polka dots of varying sizes on the side of the serving glass isn't part of the design of the glass. It's actually edible beetroot slices plastered to the wall. And yes, these crunchy, mildly sweet slices are good for your health, so finish them off.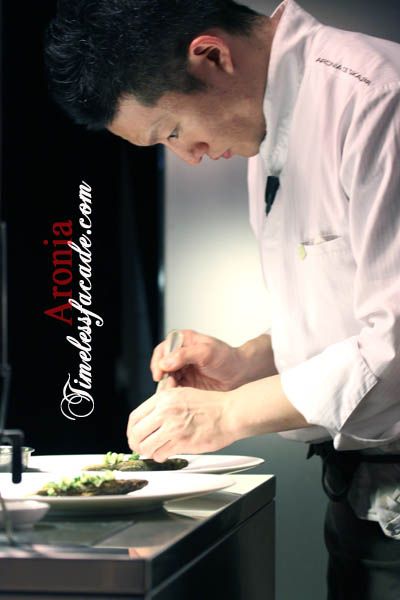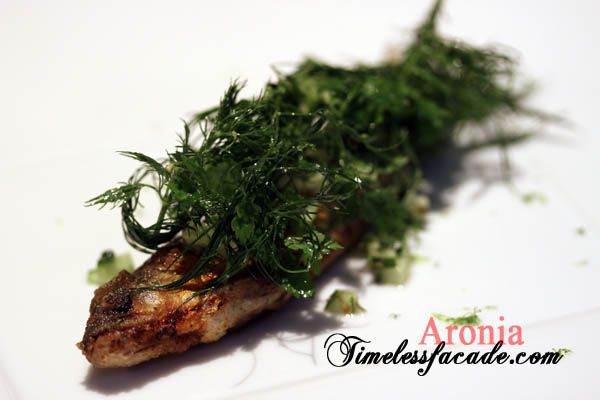 AYU in Herbal Forest
I have to admit. My perfect meal so far was tarnished by an element in this dish - the herbs that covered the Ayu (sweet fish). They were way too bitter for my liking and honestly I had the urge to just regurgitate everything out. However, the fish alone was very sweet and and its head, very crisp. Now if they would only do this dish without the herbs, I would have been a fish convert!


Intermission
Call me ignorant or a mountain tortise, but I've never seen such a napkin in Singapore where you pour hot water on it and it starts to expand vertically. Apparently such napkins do exist, as verified by a couple of my friends. Alright I am just out of the loop.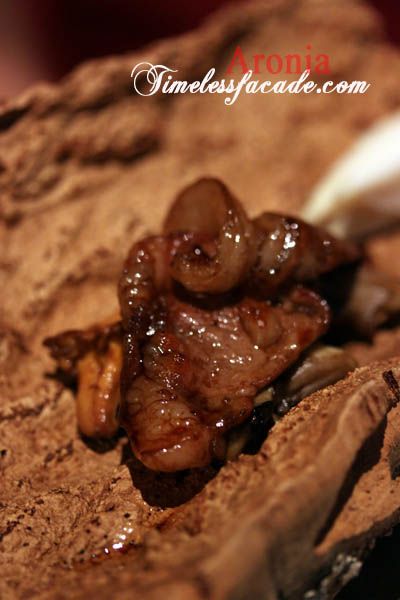 Dinner in the Primitive Times (Wild Boar)
Everyone else had wild boar for this course except me. I chose to be different and pleaded for beef instead, which I
unbiasedly
preferred over wild boar. That's not to say the wild boar wasn't good. In fact, it was great! Bits of fat surrounded the lean and tender meat, giving rise to a nice chewy, mildly sweet piece of meat. Torched pine foliage served atop (and later removed by our wait staff just before eating) provided a deep "foresty" aroma which was much appreciated! Did I mention that the meat was served on a rough piece of wood that looked like it came straight out of the tree trunk?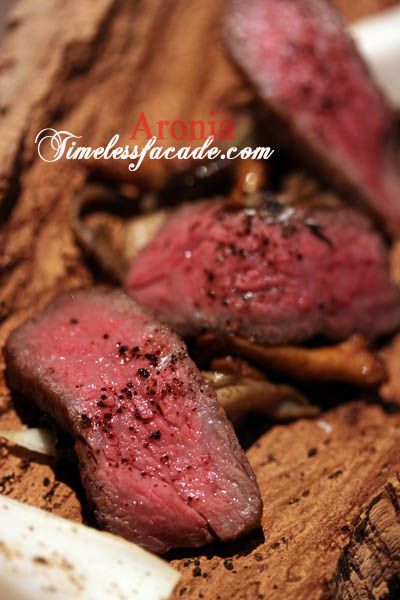 Dinner in the Primitive Times (Beef)
Mine, all 3 slices of perfectly cooked beef. It was a masterpiece that I almost couldn't bear to eat. But slowly and daintily I did chew. Done to a nice hue of red, the very well marbled beef was lightly salted and each bite brought forth an uncomplicated sublime beefy taste coupled with a nice chewy texture. The plethora of mushrooms provided a nice earthy interval for those in between moments as I waited for each dainty piece of beef to wiggle its way down my digestive tract.


Martini
This was martini alright, except in a semi jelly, semi liquid form. The skewered olives were actually baby peaches; the green one is dipped in white wine while the brown one is dipped in red wine. Crunchy and mildly sweet. Very interesting. Skip this if you are adverse to gin or alcohol in general because it carries quite a kick.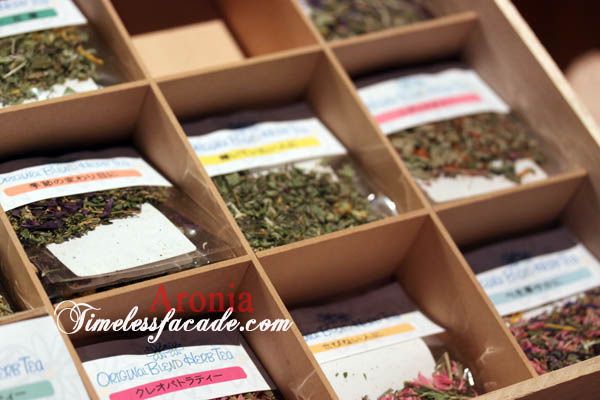 Complimentary Tea
Just before dessert is served, you get a choice from 12 different blends of tea with interesting names like "Beauty Tea", "Slimming Tea" etc. I went along with the "Make You Happy Tea" but I'm not sure it actually had any effect on me. It was good for a laugh though.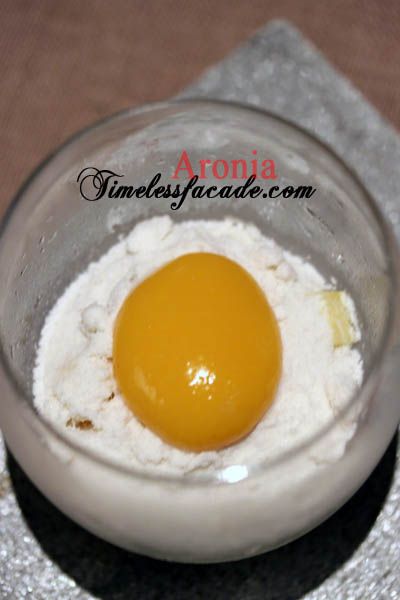 Good Morning!
I certainly didn't expect my dessert to come looking like a sunny side up with a peculiar looking spoon perched on top of the serving glass. Surprise surprise. The "egg yolk" was actually mango puree while the egg white was banana and coconut ice cream with bits of pineapple hidden beneath. The recommended way to eat the "egg" is to break the "yolk" and eat it with the "egg white". Very nice! Sweet with a mild tartness from the pineapple, it made for a wonderful ending to a wonderful meal.


Chef Takazawa hard at work (see the blocks of salt in front of him?)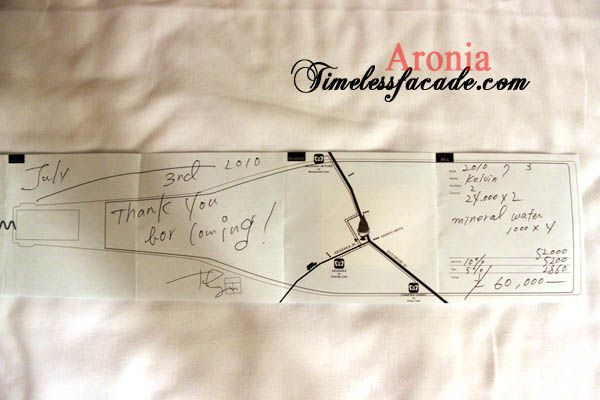 Bill
Even the bill is something out of the ordinary. If you look carefully, it's actually a bottle with the map of how to get to Aronia drawn on it. And there is no machine printed itemisation of the bill, just a handwritten breakdown and a sincere thank you. It did cost us 60,000¥ (SGD$935) though, for two 24,000¥, eleven course set dinners and 4 bottles of still water. Sure it's expensive, but apart from a couple of nuances in flavours, I personally thought that the meal was almost perfect. Aronia is truly one of Tokyo's best kept secrets and a life changing one at it (I blew all my money there and had to walk back to my hotel after that :P). And which chef will walk you to the door and graciously bid you farewell?

ps: A visit to the washroom is a must!



Final Verdict:
Ambience:9/10
Service:9/10
Food:9/10
Value for money:No Comments
Overall:9/10

Address: Sanyo Akasaka Bldg 2F , 3-5-2 Akasaka, Minato-ku, Tokyo 107-0052
(〒107-0052 東京都港区赤坂3-5-2 サンヨー赤坂ビル2F)

Contact: 03-3505-5052

Opening Hours: 18 : 00 ~ 21 : 00 (L.O)

Website: http://www.aroniadetakazawa.com/