Butagumi, or 豚組, which means 'pig clan', is renowned for its tonkatsu and has been listed as one of the best tonkatsu places in Tokyo. Serving up different brands of pork ranging from
Imobuta
(from Saiama/Chiba) to
Nakijin Agoo But
a (once an endangered breed from Okinawa) to
Iberico
(from Spain), for a total of about 50+ different varieties of pork! Now that's a mind blowing array of meat and not even Maisen (another famed tonkatsu place in Tokyo) comes close. And unlike Maisen, which offers shrimp, pork and curries, Butagumi only offers pork.
Exterior
Menu
Interior
We spent the better part of the afternoon navigating Tokyo's myriad of streets on foot in an attempt to locate Butagumi and the lack of an English signboard made it even more difficult. The only give away was the word "Butagumi" etched faintly on the menu displayed in front of the eatery. But after an exhausting 2.5hrs walk, we finally found it, housed in a quaint 2 storey Japanese-style building in a peaceful Nishi - Azabu neighbourhood. Seats are available on both the first and second floor but take it from me, go for the second floor if given a choice. The decor revolves mainly around wood, giving rise to a cosy and intimate atmosphere.


Appetiser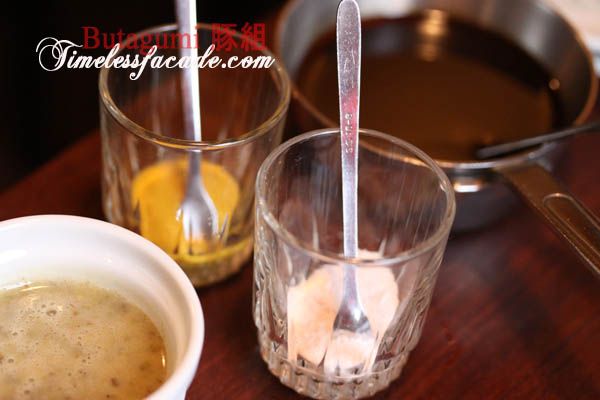 Condiments
Ryuuka Ton
Hailing from Okinawa, this is one of the most inexpensive brand (1950¥ or about SGD$30 for 160g) you can find at Butagumi but that's not to say that it was inferior in any way. Firmly tender and juicy coupled with a light and crisp layer of breading that was seemingly non oily, it was nothing short of excellent. Honestly, it would put any of the kurobuta pork tonkatsus in Singapore to shame.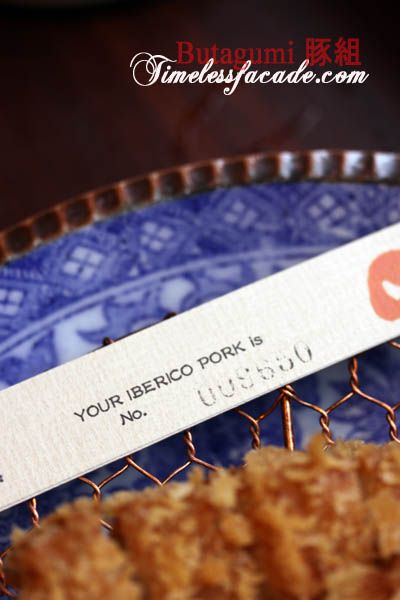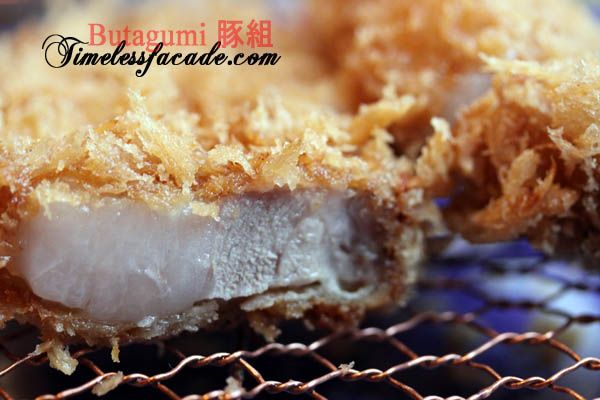 Iberico Pork
At the other end of the pricing spectrum is the
Iberico pork
(4800¥ or about SGD$75 for 160g), hailing from Spain and bred with acorn. Here's where the superlatives start. The pork to fat ratio was almost 1 - 1, with the meat moistly tender and the fats literally dissolving in your mouth for a nice and smooth buttery aftertaste. Nothing short of amazing, almost surreal! It was the best piece of tonkatsu that I've ever eaten in my almost 30 years of existence! Even if you are adverse to fats, please try it.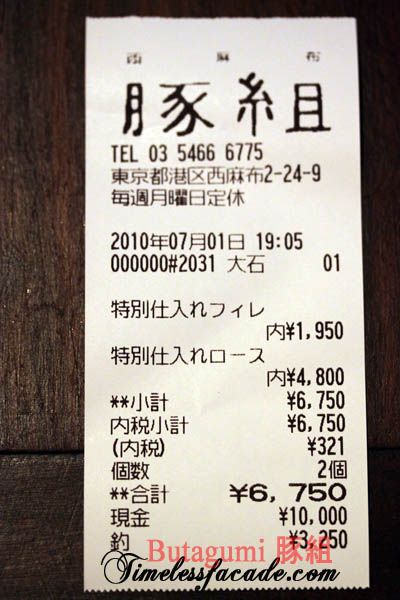 Bill
Japan is one of the most expensive places in the world to live in so it was no surprise that we chalked up 6750¥ or about SGD$105 for a fantastic dinner. The price includes rice, iced water (standard in most Japanese places), miso soup, grated organic cabbage and of course, excellent service, which Japan is well known for. Remember to make your reservations if you plan to go a weekend because seats are really quite limited.
Final Verdict:
Ambience:7.5/10
Service:8.5/10
Food:9/10 (9.5/10 for the
Iberico pork
)
Value for money:8/10
Overall:8.25/10
Address: 2-24-9 Nishi-Azabu, Minato-ku, Tokyo (港区西麻布2-24-9). Nearest station is Roppongi and the shop is just off Roppongi-dori(Avenue).
Contact: 03-5466-6775
Opening Hours: 11:30~15:00 (LO 14:00)/18:00~23:00(LO 22:00). Closed on Mondays.
Website: http://www.butagumi.com/nishiazabu