Strolling along the famed Tsukiji Fish Market is a lesson in staying alert. Heavy human and vehicle traffic coupled with reckless driving is part and parcel of the entire walking experience. And to round up our tuna auction viewing expedition, which started in a queue line at 430am at the guard post, we headed for Daiwa Sushi, one of two well known sushi stalls in the outer market (the other being Sushi Dai).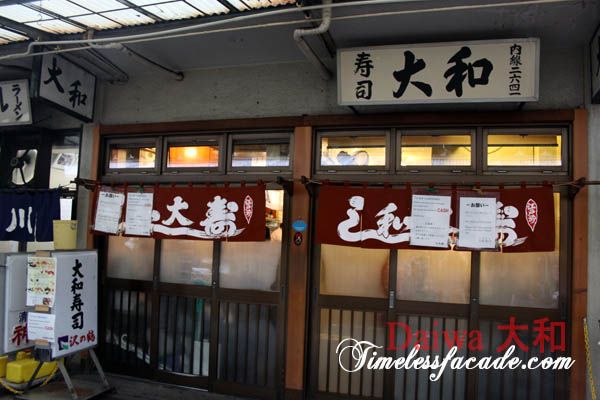 Exterior & Interior
Believe it or not, there was a long snaking queue at 615am for Sushi Dai but as luck would have it, a relatively short one for Daiwa Sushi (The queues came after). Both places were terribly cramp but that's where the atmosphere comes from I guess.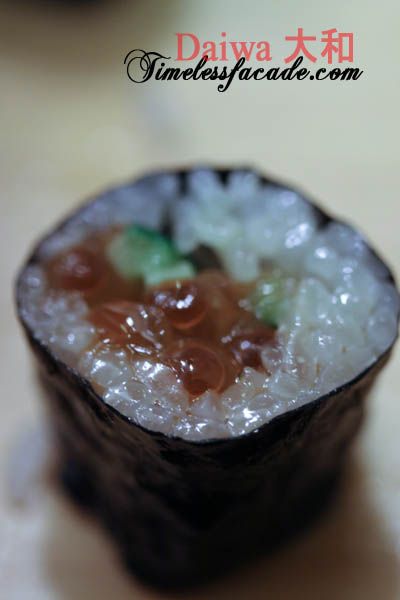 From left to right (Chu Toro, Ika, Uni, Tamago, Otoro, Ebi, Ikura & Cucumber Maki, Kanpachi, Anago) - Omakase @ 3500¥ (SGD$54)
Well, in summary, everything was very fresh and you get the satisfaction of peering at what your neighbours are having while having a conversation with the friendly sushi chef. Enjoy!



Final Verdict:
Ambience:NA
Service:8/10
Food:8/10
Value for money:No Comments
Overall:8/10

Address: Bldg 6, 5-2-1 Tsukiji, Chūō-ku

Contact: 03-3547-6807

Opening Hours: Closed on Sundays, National Holidays and second Wednesdays.