A trip to Tokyo, or Japan for that matter, is never complete without a beef sampling expedition. And it's no mystery as to why really, as Japan is famed for its
kobe
and
matsusaka
beef. The venue of choice for us was Seryna, an established upmarket eatery with a few select outlets within Tokyo and known for its shabu shabu and teppanyaki.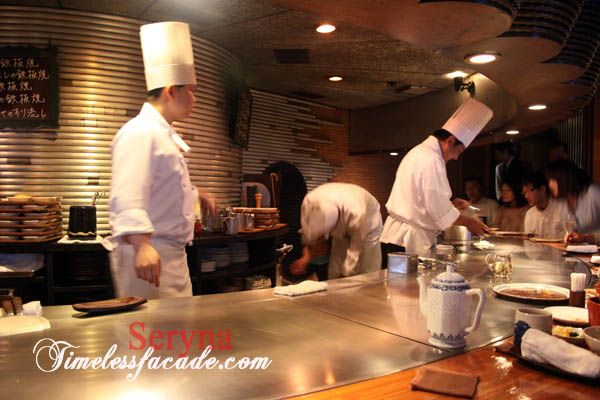 Exterior & Interior
Perched on the 52nd storey of the Sumitomo Building and a 5 min walk from our hotel, Seryna is divided into 2 sections - 1 for shabu shabu and 1 for teppanyaki. The dining area for teppanyaki was a huge crescent table shared by 12 people or so, with absolutely no spectacular views that would have been associated with being at such a high altitude. The only view you get is of your neighbour's food and the teppanyaki chefs working their magic on the stainless steel counter top.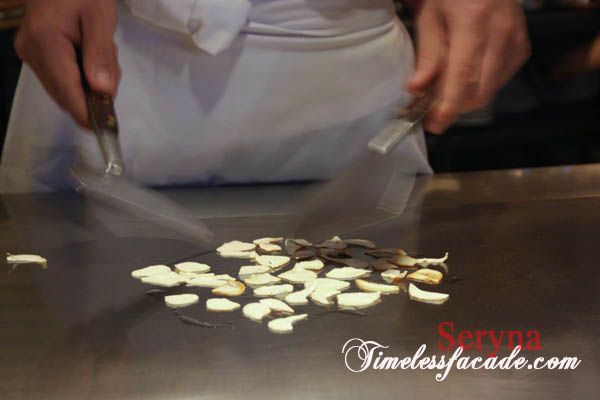 Garlic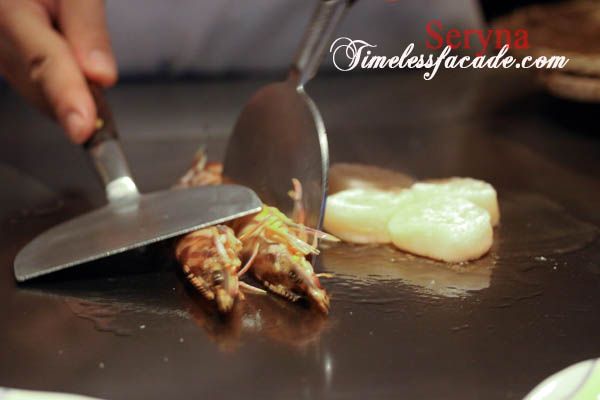 Prawns (4200¥) & Scallops (2400¥)
We started off with 2 sizable live prawns (one of them did a backflip when it hit the sizzling teppan table) and 4 relatively huge scallops. The prawns were fresh (duh!) and sweet to boot. Even the prawn legs were great - crispy with an ever so light charred taste. Even more enjoyable were the scallops; succulent, sweet and when dipped in garlic butter and a concoction of soy sauce and vinegar, it made for a perfect, almost creamy aftertaste.


Potatoes (Complimentary) & Asparagus (700¥)
Simple yet appetising, the potatoes were a little crisp on the outside and went best with a pinch of natural sea salt. The 2 huge stalks of asparagus were crunchy without being undercooked and paired well with, what else? A sprinkle of sea salt.


Mushrooms (700¥) & Sole (2400¥)
4 mushroom caps served up with a dash of salt - bursting with juices and encapsulating all the earthy flavours. Nothing short of excellent. The sole boasted firm and sweet flesh beneath a lightly brown surface and a buttery finish. Nice! And that's coming from someone who doesn't take his fish very seriously.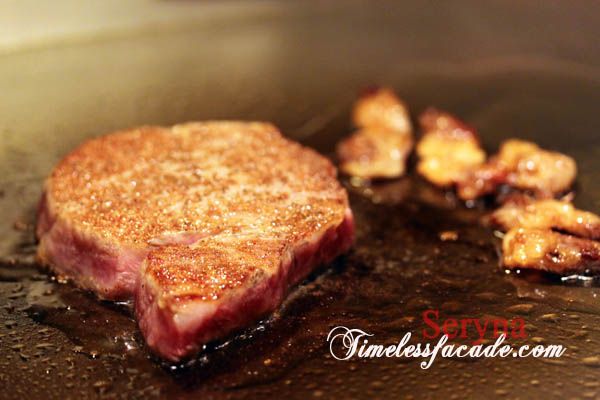 Kobe Beef Prime Sirloin (14700¥)
The undisputed star of the whole dinner and the main reason why I was here - 180 grams of very well marbled kobe beef complemented with additional strips of fat that sizzled on the hot surface. Popping one of those strips into my mouth was akin to embracing cancer (carcinogenic due to the charred bits) and obesity, in a crispy sort of way. But heck, it was worth it. Now for the beef proper, which was done up medium rare as requested. Sublimely tender and juicy with a natural beefy goodness - I was literally bowled over. Truly amazing!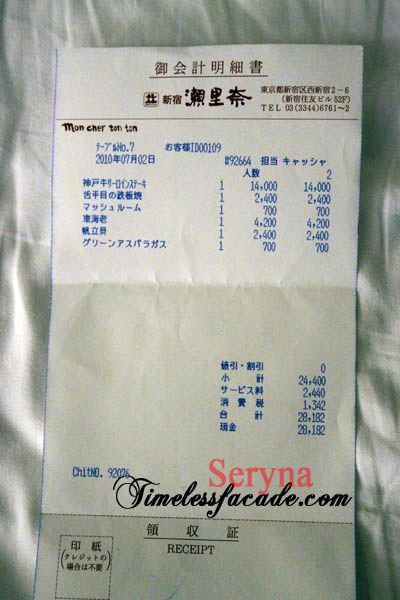 Bill
And so after the wonderful culinary trip to bovine heaven and back, I was stuck with the reality of an exploding bill that threatened to cut my Tokyo trip short. 28,182¥ (SGD$440) it was, quite a tidy sum. As I walked out of Seryna with my wallet missing a couple of significant bills, I mulled over if the quality justified the price. Yes it did. Just remember to order rice or you might have to visit your neighbourhood MacDonalds for a quick hunger fix (which I regrettably did).
Final Verdict:
Ambience: 7.5/10
Service: 8/10
Food: 8/10 (9/10 for the kobe beef)
Value for money: 7.5/10
Overall: 7.75/10
Address: Shinjuku Sumitomo Bldg.52nd Floor. 2-6 Nishi-Shinjuku Shinjuku-ku, Tokyo 163-0252
Contact: 03-3344-6761
Opening Hours:
Lunch : 11:30~14:00 Mon.~Fri. (Unavailable on Holidays)
Dinner : 17:00~22:30 / Open 16:30 (Sundays & Holidays)
Website: http://www.seryna.co.jp/en/restaurants/shinjuku_moncher/index.html