The choice of our team dinner was Cherry Garden, the flagship Chinese restaurant of Oriental Hotel. Having dined there twice before, I was more enamored by its intricately oriental design than the food (most unfortunately!). However, having said that, I was hopeful that Cherry Garden could/would spring a few surprises. After all, it did make it to the list of Singapore's Best Restaurants a couple of years back. A short disclaimer applies here as I didn't do the ordering nor did I have a chance to take a look at the set menu which we ordered, hence I am quite hazy about the exact names of the dishes.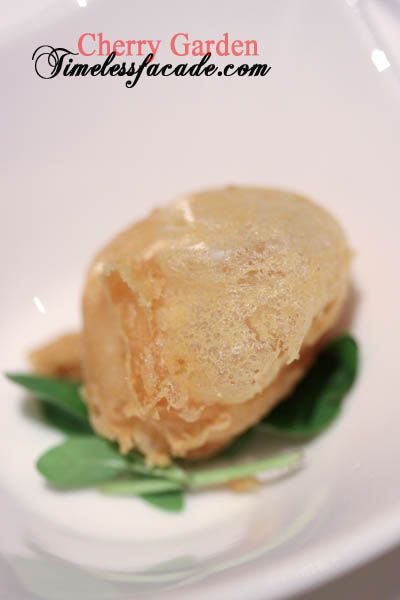 Amuse Bouche
Honestly, the idea of serving an
amuse bouche
in a Chinese restaurant in Singapore is still relatively new and very few Chinese restaurants actually practice that. Anyways, the appetiser for the day was breaded cod fish with garlic, which boasted light and crisp (not to mention piping hot) batter that had the smooth texture of cod. Couldn't quite make out any distinctive cod fish taste though.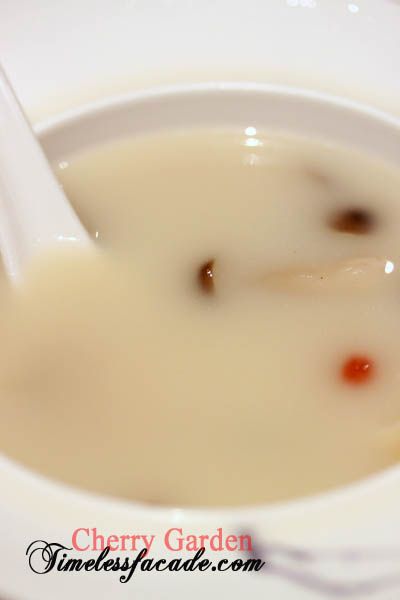 Shark's Fin Soup
The shark's fin soup had little slivers of fins swimming around in a nice, not too thick/rich broth. Doesn't say much about the quantity or quality does it?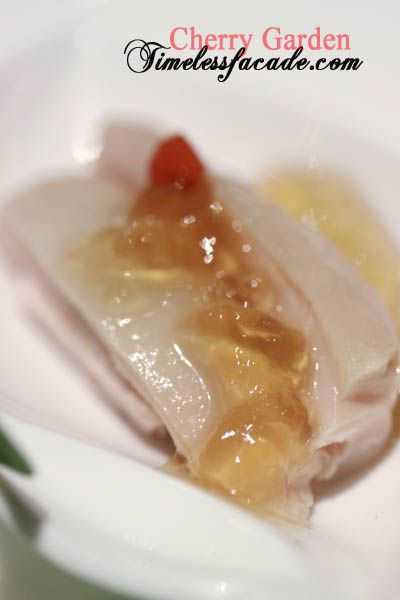 Drunken Chicken & Wasabi Prawn
This dish had 2 parts - drunken chicken and wasabi prawn, both of equally minute portions. Personally I am not a proponent of alcohol laden chicken but Cherry Garden's rendition was quite good. Tender without an overwhelming presence of the Chinese rice wine. The wasabi prawn was fresh and coated with a nice crisp layer of batter sans an overwhelming wasabi taste. Very nice!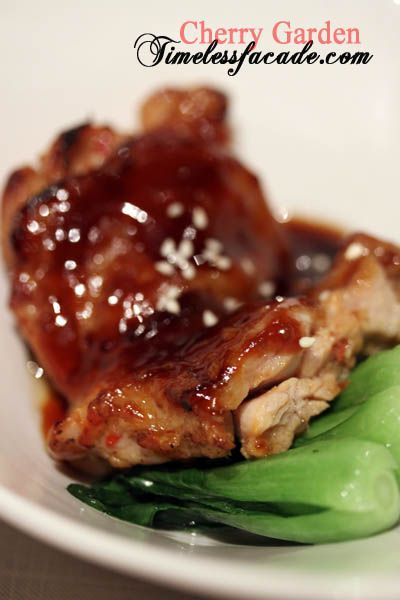 Chicken
A well executed dish with the chicken tender and juicy with a moderate splash of spiciness. It would have been better if each of us could have gotten something more substantial in size though.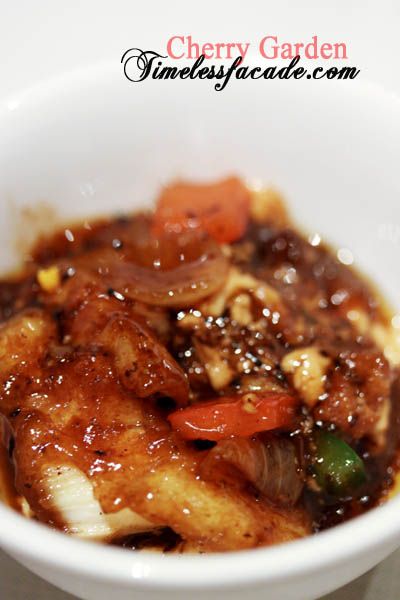 Fish with Tofu
This dish was a little too salty for my liking and I could barely make out the taste of the fish, not with the amount of gravy that it was stir fried in. I appreciated the smoothness and silkiness of the tofu though and that was the sole redeeming factor, for me at least.


Seafood Fried Vermicelli
Plenty of seafood coupled with springy but a tad overly oily fried vermicelli made for a nice carbohydrate dish. However portions were ridiculously small and barely filled up one small rice bowl.


Lime Sorbet with Fresh Fruits
A feast for the eyes with its radiant colours but I can't say the same for the stomach. This was nothing beyond normal. I mean, how bad can a combination of fresh fruits and lime sorbet possibly get?
The total bill for the evening for 10 pax went close to $940, which included a couple of beers and soft drinks. Food quality was generally a little above average but portions were less than generous, especially for a $78/pax set dinner. For the record, I had to turn to a trusty old friend with pointy red shoes to fill my stomach after that.
Final Verdict:
Ambience:9/10
Service:8/10
Food:7/10
Value for money:6/10
Overall:7.5/10
Address: The Oriental Singapore, 5 Raffles Avenue
Contact: 68853538
Opening Hours:
Lunch:
12pm-2:30pm
Weekend Dim Sum Buffet:
11am-1pm (1st seating)
1:30pm-3pm (2nd seating)
Dinner:
6:30pm-10:30pm
Website: http://www.mandarinoriental.com/singapore/dining/cherry_garden/
The team