Mention beef rump to anyone in Singapore and chances are, you would invite blank stares or a pertinent look of disgust. Long overshadowed by the more illustrious cuts like the ribeye or striploin, the rump is actually quite tasty as well and value for money to boot - a proposition that the Meat and Livestock Australia (MLA) has put forth. And it has organised a tasting session in Singapore to showcase and promote the best of alternative cuts for both beef and lamb. The venue of choice was Sage, The Restaurant, with the talented Jusman So at the helm.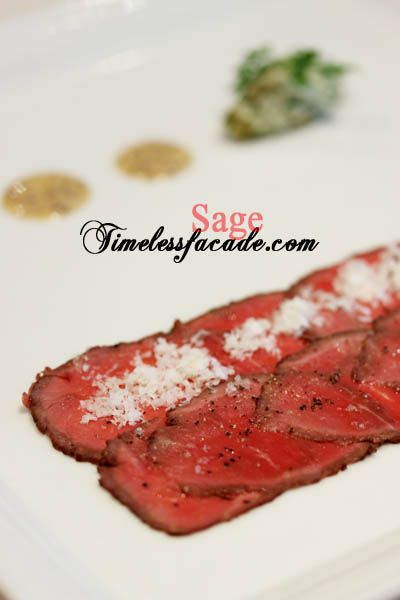 Roast Beef Carpaccio
Seared and then roasted to a perfect medium rare, the beef carpaccio was thinly sliced and very sublime. A lingering of natural beefiness coupled with a smattering of salt, black pepper and grated parmesan rounded up the taste perfect moment. And no surprise that it was a rump cut.


Lamb Shoulder
I was so transfixed by the sight of this dainty looking dish that I almost forgot to take a snap of it. Fibrous and tender without the overpowering lamb taste that I personally dislike, the lamb shoulder was very good and the smoked bacon definitely helped to provide a salty dimension to this dish. The mildly shriveled looking cherry tomatoes provided a nice explosion of red.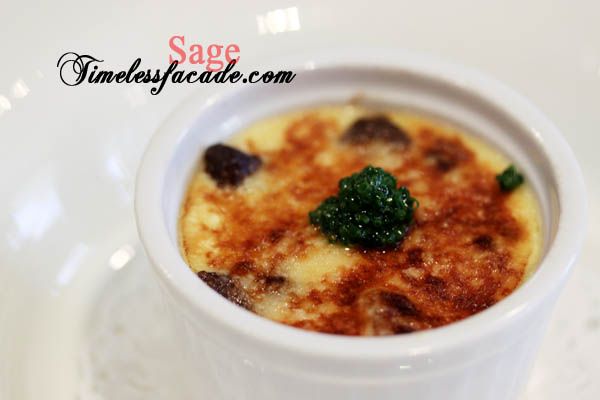 Beef Au Gratin
I felt a nice warm feeling radiating throughout as I ate the beef au gratin. It was almost homely. Generous beef chunks coupled with mushrooms, root vegetables and potatoes, baked together with Parmesan cheese and beautifully browned in the oven. Very tasty except that I found it a tad too salty for my liking.


Leg of Lamb
This dish was a little more gamy than the lamb shoulder dish I had earlier, but still very bearable. The skin had a little crisp to it which was excellent when eaten with the drool worthy layer of fat beneath it while the meat was tender yet firm. I personally liked the accompanying potato mousse, which was very smooth and creamy without being too heavy.


Lavender Pudding
My last experience with a lavender based dessert was at Ember and that honestly didn't turn out too well so I was actually quite doubtful about this dessert. My initial skepticism gave way to surprise as the pudding (essentially bread and butter pudding) was spongy yet firm and a little sweet to boot. Soaked up in a pineapple milk foam with a scoop of coconut sorbet sitting atop, I could make out faint traces of lavender. Very nice!
To end, it was a wonderful meal and I would like to thank the
MLA
and
Cuisine and Wine Asia
for graciously extending the invitation to me.
Address: No. 7 Mohamed Sultan Road
Contact: 6333 8726
Opening Hours:
Lunch: 12noon – 2:30pm (Wednesday to Friday)
Dinner: 6:30pm – 10:30pm (Tuesday to Sunday)
Closed on Mondays & Public Holidays
Website: http://www.sagerestaurants.com.sg/