Hidden in the lively district of Arab street, which is touted as an alternative to the hip Dempsey enclave, is a small cafe that goes by the name of B Bakery. We were attracted by the somewhat cosy facade it portrayed and decided to drop in for dinner.


Interior & Menu
The air conditioned interior is smallish but rather simple and homely. For those who prefer the open spaces, there is a small al fresco sitting area just outside the cafe along the side of a road, which allows you to soak you in the vibrancy of the area. Do note that it can get quite warm though.


Rosemary Chicken
Apparently one of the highlights of B Bakery, the rosemary chicken was honestly quite decent. The meat was tender and juicy with a strong hint of rosemary, which definitely helped to accentuate the taste. The only thing that bugged me was the pool of oil the chicken was sitting in. Yes, it's olive oil but somehow there is still a nagging doubt about the health implications somewhere at the back of my head.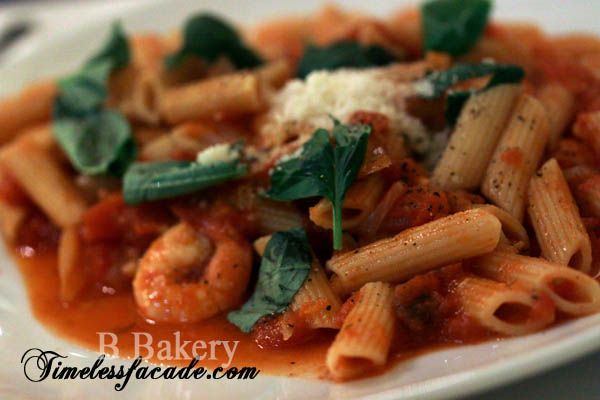 Penne, Prawns, Tomato Sauce Cream, Vodka
The penne was al dente with the tomato base lightly tart. I counted 9 average sized prawns which was really quite generous but on the flipside, they weren't exactly fresh.


Chocolate Fudge
Plain old chocolate fudge. Sweet but not very rich and topped with a petite, poor excuse of a macaron. Void of any characteristics worth mentioning. Palatable though.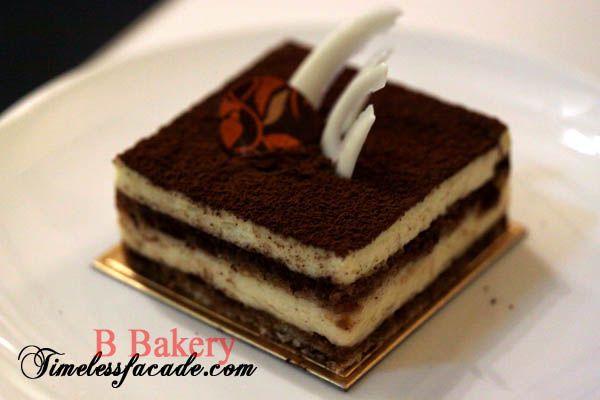 Tiramisu
A teetotaler version of one of my favourite desserts, the tiramisu carried a rather strong coffee presence in between alternating layers of rather dry sponge and light mascarpone. Decent but not really my cup of tea.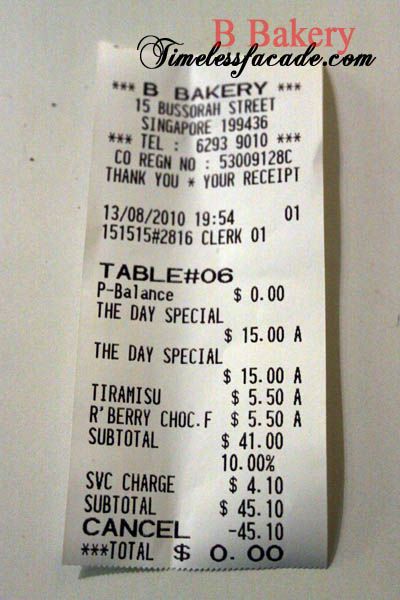 Bill
Dinner for 2 stood at $45, which stood somewhere in the overlapping pricing zones of reasonable and expensive. Quality of food is decent but I wouldn't make the trip down just to eat here. Service was acceptable but a little spotty at times.
Final Verdict:
Ambience:6.5/10
Service:6.5/10
Food:6.5/10
Value for money:6.5/10
Overall:6.5/10
Address: 15 Bussorah Street
Contact: 6293 9010
Opening Hours:
Mon–Wed: 9.30am – 6pm
Thu–Sat: 9.30am – 9.30pm
(Closed on Sun & PH)