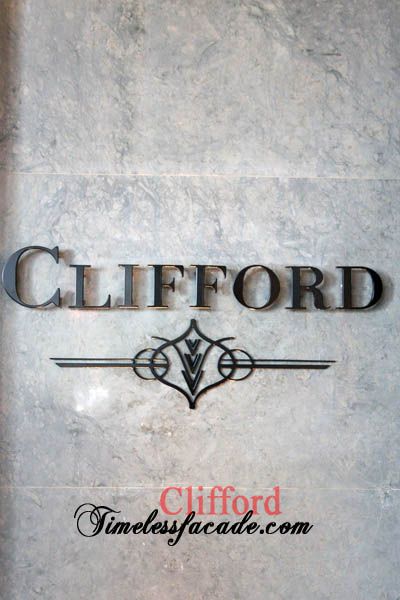 Clifford Pier, which used to be a landing point for immigrants and sea passengers in its heyday, has seen a huge transformation in recent times into what is now known as the Fullerton Bay Hotel. In it houses Clifford, a swanky French American restaurant that is aptly named after this iconic Singapore landmark.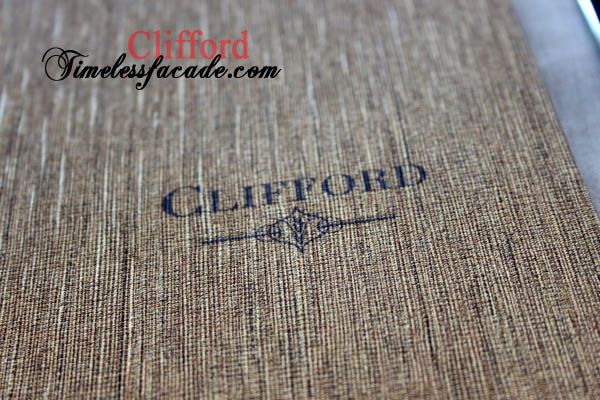 Interior & Menu
The hotel is beautiful, with vast sea views through windows that seem to stretch on forever. And the restaurant itself is no exception. Designed by Andre Fu, who is apparently one of Asia's highly sought after architect, the interior boasts high columns and ceilings, tall drapery and classic wood furnishing. In two words, awe inspiring. Throw in views of the sea and you are all set for a wonderful atmosphere.


Complimentary Bread
Imagine my surprise when our complimentary bread came with a small dish of pork rillette. Though not as moist or exquisite as
Aronia De Takazawa's
Okinawan pork rendition, it was still much appreciated, especially with the warm, crusty and chewy baguette. Very good start.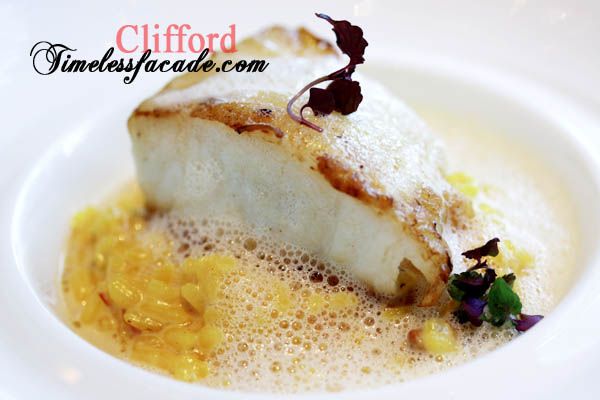 Roasted Cod Fish, Saffron - Chorizo Risotto, Parmesan Emulsion
A couple of the folks ordered this but I didn't get to try so I'll reserve my comments. I understand it was good though.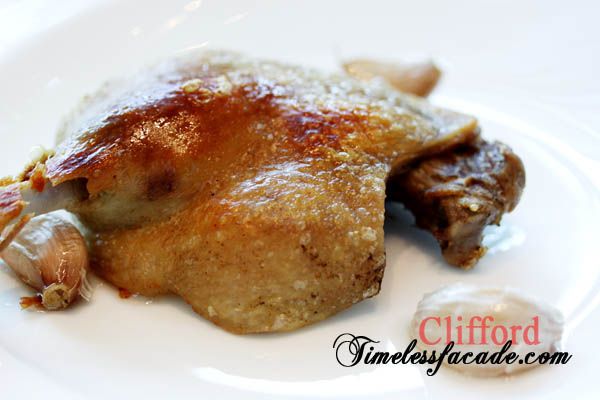 3Hr Homemade Duck Confit
You get a choice of either truffle mashed potatoes or pommes sarladaise (potatoes sauteed in duck fat and garlic). I chose the former although it is said that the latter goes best with duck confit. No regrets though as the mashed potato was very smooth with a nice truffle taste and fragrance at the top layer. The duck confit was of the crisp variant and I must say I enjoyed it quite a fair bit. Crispy roasted skin and tender meat without the excessive salt. But as you know, duck confit is essentially duck cooked in its own fat, so watch out for the oil.


Truffle Fries
At $9 a pop (we ordered 2), this is some seriously expensive fries for its portion size (imagine a packet of small fries from MacDonalds). But hey, anything with truffle is nice (I'm biased!) and the fries went like hotcakes (proves my point). It definitely helped that the fries were fresh and not reeking of rancid oil.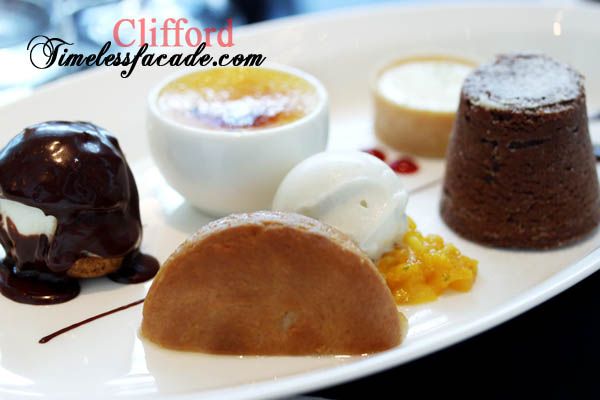 Dessert Sample
There is a grand total of 5 desserts on the menu and if you are hard pressed to pick one or are dying to try everything, just go for the dessert sample, which includes a sample of everything - namely, Dark Chocolate Fondant, Passion Fruit Rum Baba, Sugar Crusted Profiteroles, Creme Brulee and Lemon Tart.
The chocolate fondant had a nice crisp shell that crumbled under pressure from a spoon, revealing a rather thin and not too viscous filling of molten chocolate. However, the chocolate was surprisingly quite rich and overall, I thought it was quite good.
This is honestly my first time eating rum baba (a small yeast cake soaked in rum) and I liked it quite a fair bit. Soft, moist and rather sourish(from the infusion of passion fruit) with a very strong rum taste. Served up with mango tartar and yogurt sorbert, with the latter being sublimely smooth and good.
I like my profiteroles drenched in molten chocolate sauce and this one met that criteria, well almost. The pastry held up well against the chocolate sauce and didn't come across as limp. Quite good.
Beautifully torched on the surface, coupled with a smooth and creamy texture, the creme brulee had nothing going against it. Well, maybe except for the less than generous use of vanilla beans.
Last but not least, the lemon tart, which was surprisingly quite good to me, given that I am not exactly a big fan of sour stuff. The tart base was nice and crumbly with a wholesome baked taste attached to it but more importantly (to me at least), the tartness of the lemon filling was pleasantly mild.


Petit Fours
A nice simple gesture to end off our meal. But how are we suppose to split 2 pieces of cookies and marshmallows between the 5 of us?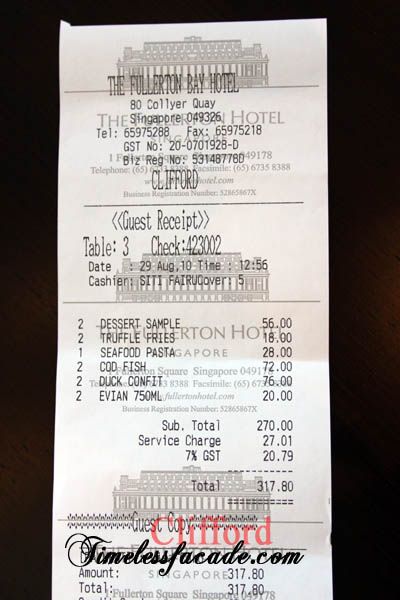 Bill
With 2 bottles of still water, the bill for the 5 of us came up to about $318, which isn't too expensive if you ask me. Especially when the food is decent and the ambience, great. Service could have been better as the wait staff did seem a little withdrawn and cold though executing their duties perfectly. I would love to be back, especially for dinner. And yes, they do serve ice water. ;)



Final Verdict:
Ambience:8.5/10
Service:7/10
Food:7.5/10
Value for money:7/10

Overall:7.5/10

Address: The Fullerton Bay Hotel

Contact: 6597 5288

Opening Hours: Daily: 6.30am–11am, 12pm–2.30pm, 3pm–5.30pm, 6.30pm–11pm

Website: http://www.fullertonbayhotel.com/dining-en.html