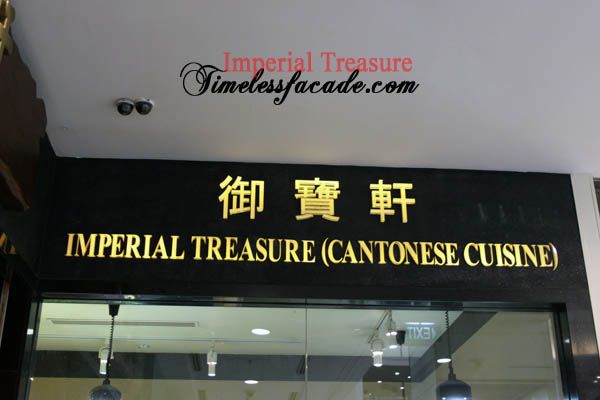 We were a little weary of always having to travel to Changi Airport to eat at Imperial Treasure Cantonese so decided to give the other outlet at Great World City a shot, seeing that it was nearer to us.


Interior
Located in a corner on the 2nd floor of Great World City, it honestly didn't ooze as much finesse as its cousin in Changi in my humble opinion. And being a Sunday afternoon, it was packed so reservations are highly recommended.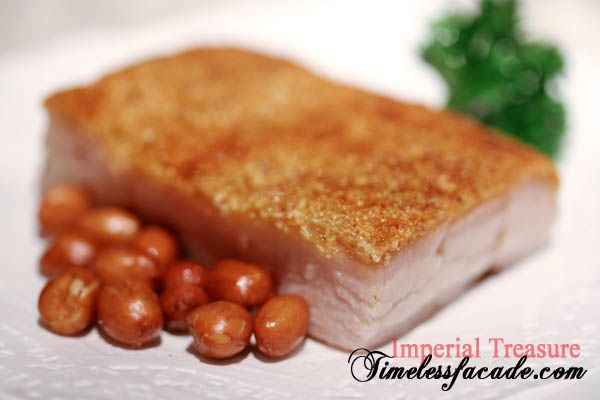 Roasted Pork
What was to have been the highlight of our meal fell short of expectations with an overdose of fat meat. It was literally 50% fat, 50% meat. Sure, the skin was crisp with nary a hint of salt but did seem a little too thick for my liking. Portions were ridiculously tiny as well.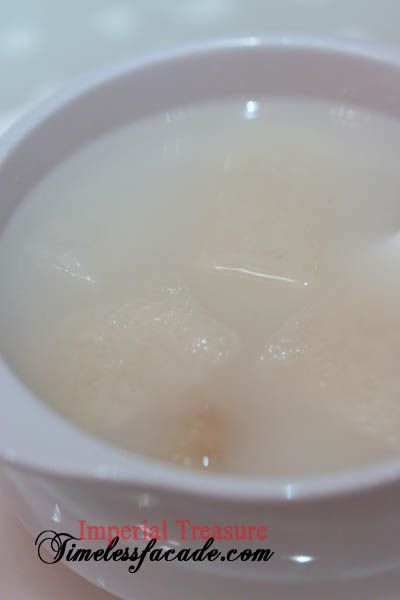 Shark Bone Soup with Fish Maw
Aside from the crunchy pieces of fish maw, I couldn't find any reason to like this soup. It was a little too coagulated which left an uncomfortable residue on the tongue and it lacked any oomph. So disappointing that I gave up after a few mouthfuls.


Deep Fried Beancurd Skin
The beancurd skin was light and crisp with a nice smooth filling of prawn paste. However, it was drenched in oil which did come across as quite a turn off honestly.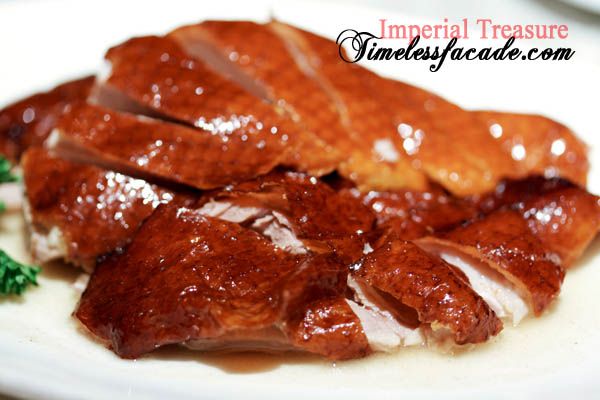 Roasted Goose
I was eagerly anticipating this dish as my previous experiences with it had been nothing short of excellent. Alas, it wasn't as good as we envisioned it to be. To be fair, the roast goose here was meaty with a thin layer of crisp skin sans the overwhelming foul taste. However, the meat was a little too dry, which marred the experience a little.


Steamed Minced Pork Dumpling
It's the first time I'm having
xiao long bao
at Imperial Treasure and I must say that its really quite decent. Smooth and silky skin enveloping a generous amount of stock and a pork filling that was fairly mild on the hog taste. Just watch out for the high salt content.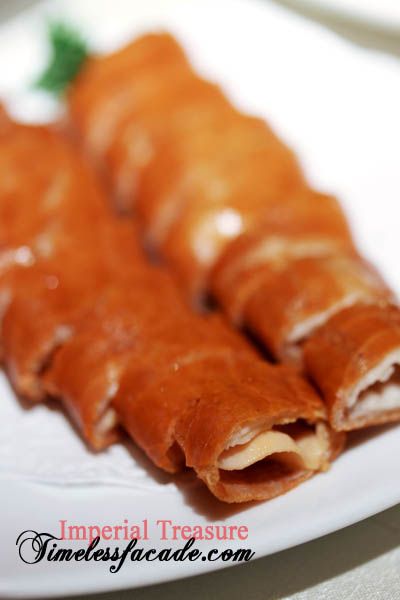 Deep Fried Pig's Intestines
I am a big fan of deep fried pig intestines so naturally I was delighted to see it on the menu. However delight turned to disappointment when I realised that the intestines were a little too oily and tasteless. The crisp exterior did nothing to salvage this dish.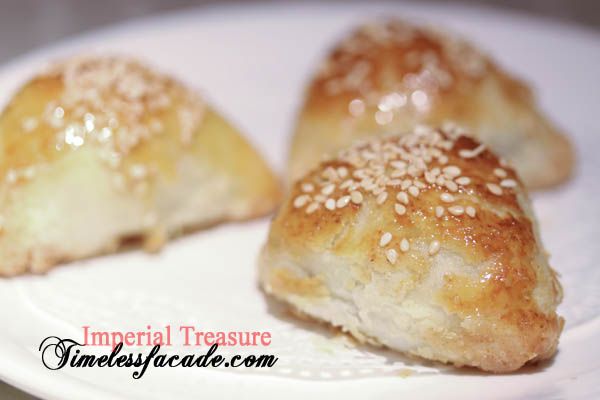 BBQ Pork Pastry
Flaky but lacking the buttery goodness that I personally like. The
char siew
filling wasn't sweet or starchy though.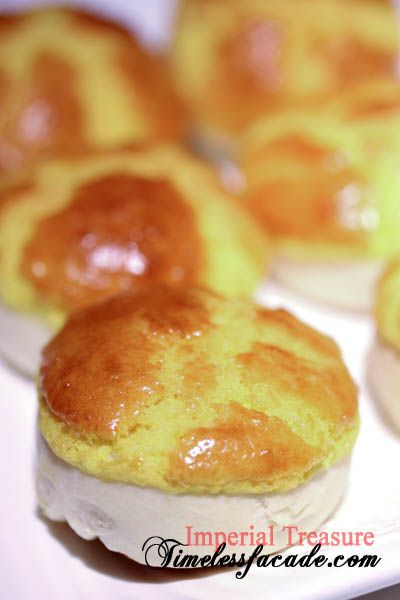 Bo Lo Bao
Another disappointment, the
bo lo bao
had a crusty top with a chewy and soft base. However, the fragrance was sorely lacking and the
char siew
filling was rather bland.
Claypot Goose Web
The claypot goose web was the only dish which I thought was comparable to what I had at the Changi Airport outlet previously. Done up Thai style, the vermicelli was very flavourful with a rather heavy dose of Szechuan and black pepper for good measure. Not recommended if you are allergic to too much oil and salt though.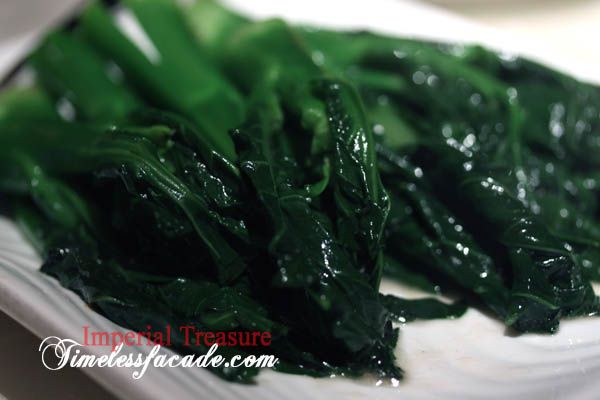 Fried Kailan
How bad can stir fried vegetables get? Flavoured with a light touch of salt without being overcooked. Nice and simple.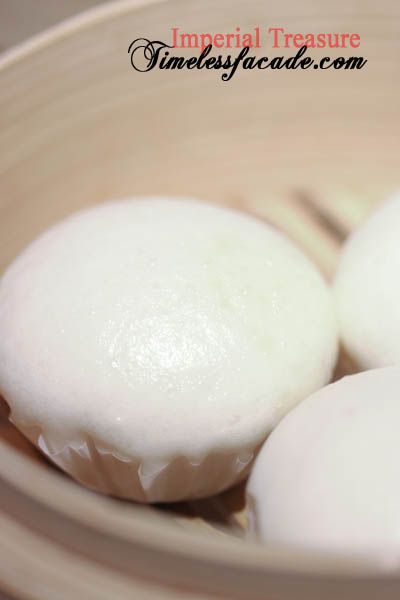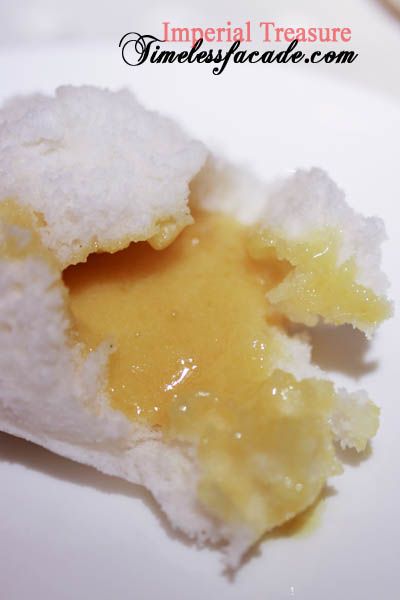 Steamed Custard Bun
Soft and fluffy bun coupled with salty sweet custard egg yolk filling - very good. Pity about the lack of yolk sediment though.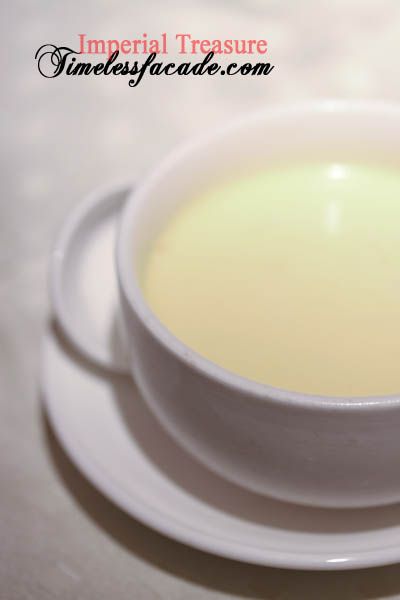 Durian Pudding
Too coagulated was the first thing that hit me as I sampled a spoonful of what I had expected to be a delightful ending to our lunch. The whole pudding felt stiff and overly sweet. Thankfully the durian taste was still quite prominent. Palatable but not very nice.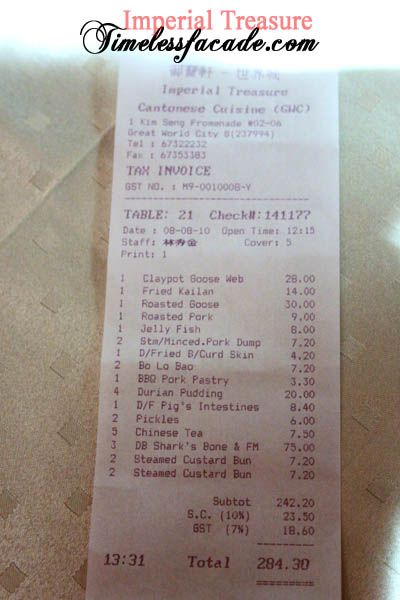 Bill
A rather disappointing lunch cost us just shy of $285 for 5 pax, which was definitely not worth the money in my humble opinion. The disparity between the food quality at the Changi Airport outlet and the Great World City outlet is just too huge to ignore and I really wonder why. Nonetheless, moving forward, I'll definitely be giving Imperial Treasure Great World City a miss.



Final Verdict:
Ambience:7/10
Service:7/10
Food:6.5/10
Value for money:6/10

Overall:6.625/10

Address: #02-06 Great World City

Contact: 6732 2232

Opening Hours: Daily: 11.30am – 2.30pm, 6pm – 10.30pm