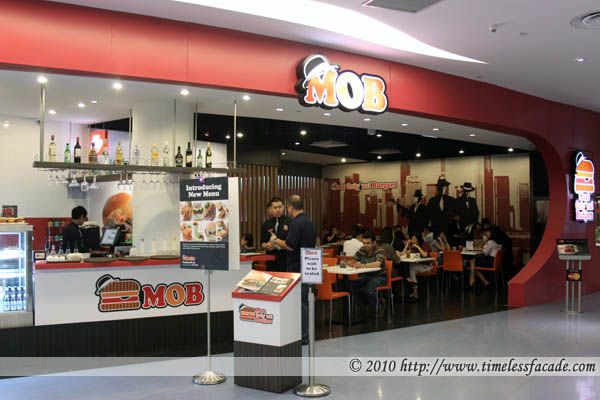 Specialty burger stalls are a dime a dozen these days so I procrastinated in trying out the one of the latest burger offering at Most Original Burgers (MOB for short) even though I am quite a sucker for new burger outlets. I was finally swayed when MOB ran a joint promotion with a website to offer a set meal at a discounted rate (cheapo me!)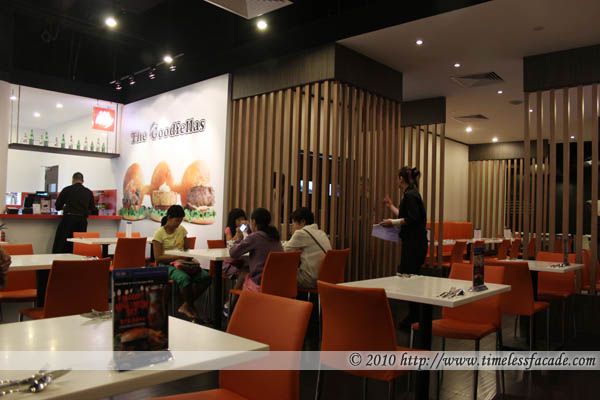 Interior & Menu
The location isn't ideal, tucked away in a nondescript corner of Vivo City, along a small section of eateries that include the more illustrious Tung Lok Signatures. The decor reminds me of a typical fast food type casual eatery usually associated with the likes of the big M and slightly more "upclass" offerings like New York New York (yucks!).


Wild Mushroom Soup
A little runny but the generous chunks of mushroom more than made up for it. The reduced usage of cream as an ingredient was a welcome change and overall a decent rendition of this classic soup.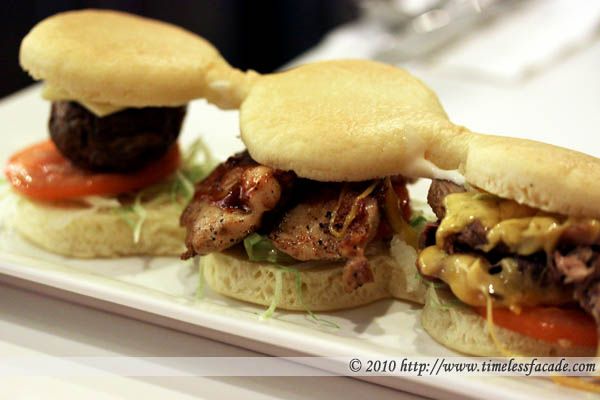 The Goodfellas
The Goodfellas actually refer to a trio of mini burgers, selected by the customer from a preset list of flavours/combinations. Yours truly chose the safest option - Classic Beef, Philly Cheese Steak and Grilled Chicken, all on MOB's signature brioche. Aesthetics wise, this dish as a whole was rather pleasing to the eye and the brioche came linked together, which I personally found a tad amusing. It didn't taste like the brioche I knew and instead, carried a hint of beer in every bite. And it was rather dry. I thought that the classic beef, which came in the form of a ball, was quite decent but a tad dry. The philly was just way tough and I couldn't quite make out the taste of cheese even though it was visually very evident. Nothing like the real deal from Philadelphia. Best of the lot was the grilled chicken, which had a nice smokiness to it that I personally like. It also helped that the meat was tender.


Grilled Oregano Chicken
This dish seemed like a super sized up version of the grilled chicken burger and no, I'm definitely not complaining. Nicely grilled and tender with a sizeable portion to boot, the chicken was well complimented by the oregano and pommery mustard sauce, which imbued a rich saltiness to it.


Waffle with Ice Cream
Crisp but a little too hard. And the ice cream tasted like hardened milk, lacking the usual richness I would expect even from lower end brands like Kings, which is easily available at most supermarkets. I ate a quarter and gave up.


Bill
Apparently my set (mushroom soup + good fellas + waffle & ice cream + drink) would have cost in excess of $40 without the voucher but I only paid $17, which I personally thought was still within the reasonable range. But have me pay the original price for the set and its definitely a big no no. Also, I'm not sure the grilled chicken was worth the $18.90++. Overall it is my personal judgment that this place falls into the same category as Swensens and the likes - not worth a revisit.



Final Verdict:
Ambience:6.5/10
Service:6.5/10
Food:6.5/10
Value for money:5.5/10 (Based on non discounted pricing)

Overall:6.25/10

Address: VivoCity #01-52

Contact: 6376 9681

Opening Hours: 11:30 am - 11:00 pm

Website: http://www.moburgers.com/