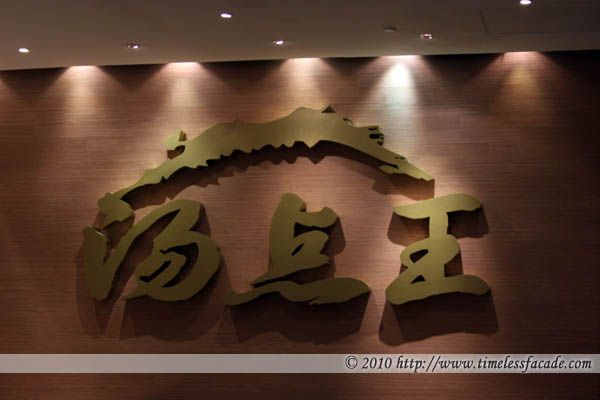 It was one of those quiet weekday evenings that we headed to town to grab a bite while running some errands. Chinese food was on the list and Tang Dian Wang (汤点王)seemed decent enough for us to pop by for dinner. This Shanghainese restaurant is owned by the folks who brought you New York New York, Xin Wang HK Cafe, Thai Express etc - restaurants that leave much to be desired in my humble opinion. But hey, life is full of second (or maybe third or fourth) chances.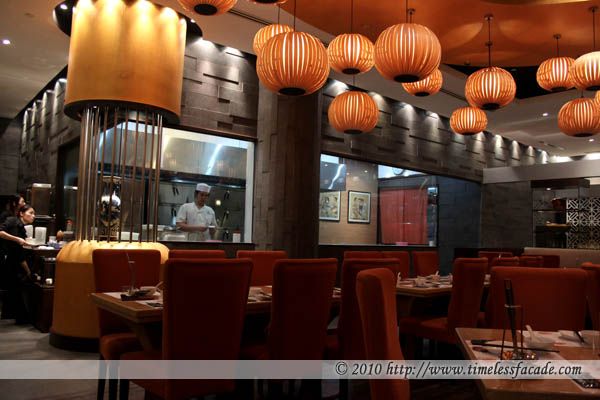 Interior
Prominently situated amongst the ring of eateries that circle the Fountain of Wealth in the basement, Tang Dian Wang practises a open dining concept where passers by and customers alike are free to let their gaze roam. The decor is decidedly modern Chinese with a nod to tradition in the form of round laterns hanging from the ceiling. During our visit, the place was barely a quarter full, though I can't say the same for weekends.


Roasted Meat & Salted Egg Fragrant Rice in Lotus Wrappers (烧肉咸蛋荷叶饭)
I don't usually order rice in lotus leaf wraps (荷叶饭) when dining out because of the high oil content but apparently Tang Dian Wang is known for it so I made an exception. Oily as usual but moist with a nice lingering aroma. However I did find the roasted meat way too fatty for my liking and overall a little too bland for my liking. Decent but nothing fantastic.


Prawns with Golden Pumpkin Sauce (金瓜奶虾球)
Initial impressions of this dish were good as the prawns were crunchy with a crisp along the edges due to the light batter coating. But it soon became nausea inducing due to the starchy and bland pumpkin sauce that masked any sweetness the prawns might have to offer. Overall a rather insipid dish.


Deep-fried Bean Curd with Bak Kwa (炸肉干豆腐)
The bean curd with
bak kwa
(dried meat jerky) was a let down honestly. Deep fried till crisp on the outside but lacking the smoothness that I was expecting. Granted, I could make out tiny shards of
bak kwa
embedded within but they were too little, too small to have any impact on the dish. Although bean curd is one of my favourite dishes, I gave up after the second piece.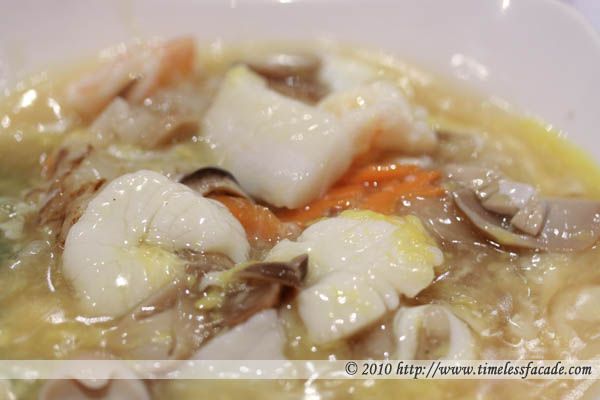 Sauteed Horfun with Seafood
The humble
horfun
(河粉) was the most unlikely star of the evening with its silky smoothness and hint of
wok hei
. Another plus point was the relatively fresh seafood that it came served with. On the flip side, I did think that the egg gravy was a little too starchy for my liking, which added to the nausea from the earlier dishes.
Bill
The 2 of us chalked up a bill of about $65 for dinner which I felt was a little pricey given the quality of food. Every seemed to be heavy on the starch/flour which made me squeamish after a while. Service was okay but that's not enough reason for me to ever step in again.
Final Verdict:
Ambience:7/10
Service:7/10
Food:6/10
Value for money:6/10
Overall:6.5/10
Address: #B1-033/036 Suntec City
Contact: 6334 3007
Opening Hours:
Mondays – Thursdays:
11am to 3pm
5pm to 10pm (Excluding PH)
Fridays – Sundays:
11am to 10.30pm
Website: http://tangdianwang.com.sg/