Christmas (aside from New Year and Chinese New Year) seems like the perfect excuse for restaurants to jack up prices to justify some "special and painstakingly prepared" celebration menu in commemoration of the yuletide season. And I fell for it, line, hook and sinker. Only difference was I decided to skip dinner on the eve in favour of dinner on the actual day itself. And my venue of choice was rather unconventional - Yan Ting.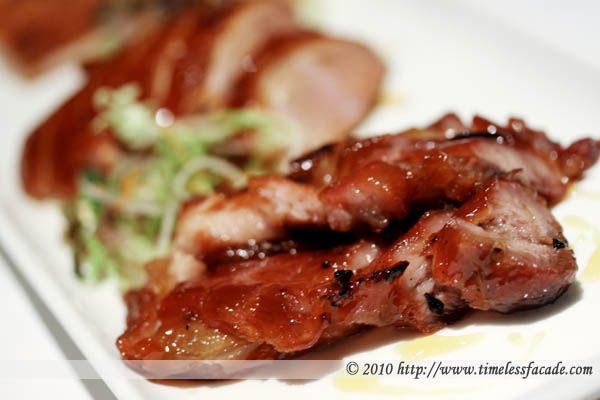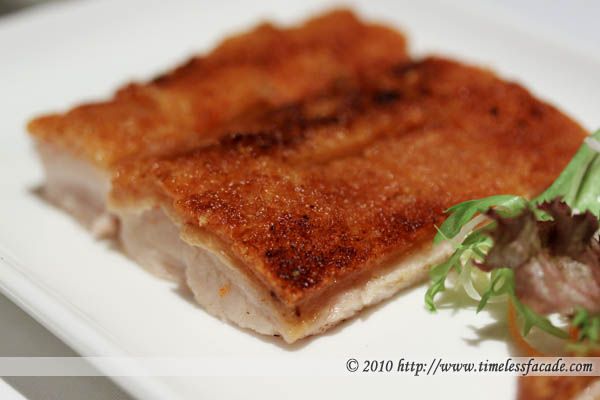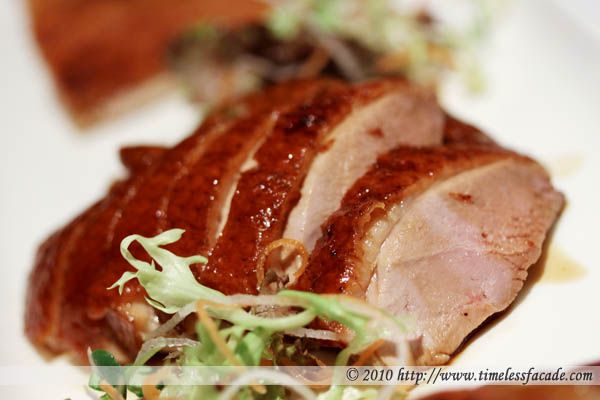 Hong Kong BBQ Platter
From a list of about 6 items, I opted for the quintessential BBQ pork, roasted pork and roasted duck combination - staple favourites of mine that I personally hold high standards to (or at least I think I do).
The BBQ pork was rather lean and tender which is definitely a plus for health conscious folks unlike myself and the gravy came across as a little too watery and mild for my liking. Faring slightly better was the roasted pork, which met the crackling crispy skin prerequisite. However, the pork taste was a wee bit too overwhelming for my liking. As for the roast duck, it was tender but a little bland. I'm sure many places do a meaner rendition.


Deep Fried Prawn Filled with Fresh Mango
Delicately wrapped in beancurd skin and deep fried, the prawns were mind blowingly crispy but I couldn't make out any taste of mango even though I could see a slice of the fruit sandwiched between. Reminds me of the deep fried prawn dumplings that are usually served during dim sum.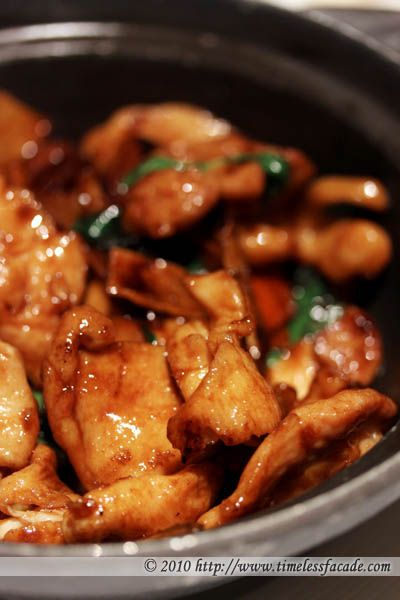 Claypot Chicken with Basil and Golden Garlic
This ever popular Taiwanese dish, better known as 三杯鸡, was good in my humble opinion. Fragrant, tender and savoury chicken slivers infused with a nice heavy dose of garlic. Best enjoyed with steamed white rice.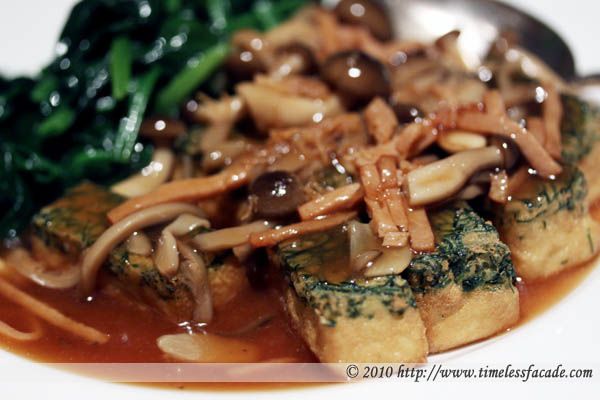 Homemade Spinach Tofu
Smooth and silky with a layer of spinach atop, the homemade tofu lacked that little bit of savouriness which I personally like. Portions were a little small as well but overall a very palatable dish and something that I wouldn't hesitate to order again. The side of stir fried spinach was great by the way.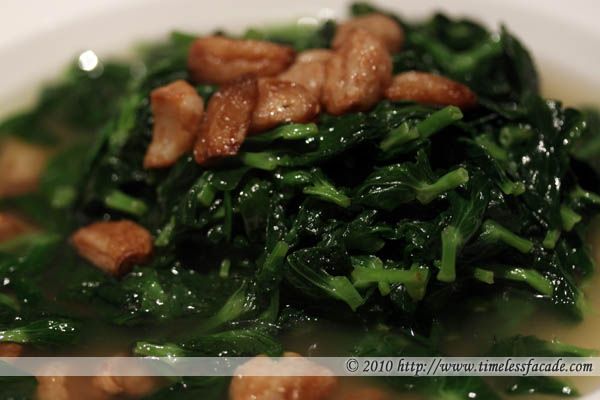 Dou Miao in Superior Stock
We were recommended the
dou miao
as apparently the restaurant received a batch of really good ones and that prompted us to say yes. On hindsight, that probably wasn't the wisest thing to do, considering that none of us at the table were big fans of the vegetable. And things weren't just about to change because of this dish. I'll give it credit for looking really green and fresh but other than that, this dish was pretty normal.
Seafood Olive Fried Rice
Homogeneously fried with a pop of
wok hei
and a tinge of olive, this dish was simple yet satisfyingly tasty. A medium serving is good for 5 pax.
Char Siew Pastry
My absolute favourite and to date, I have yet to find a better
Char Siew Sou
in Singapore. Sublimely fragrant and buttery crust coupled with an ample BBQ pork filling made for a delectable treat. It's so good that I usually go for seconds and have a couple more to go.
Chinese Pan Cake
Now this dessert didn't look like any red bean paste pancake I was familiar with, reminding me instead of
goreng pisang
, which is essentially banana coated with flour and deep fried. Well it wasn't too far off the mark. The red bean (I believe was azuki bean) was coated with a rather improportionate amount of flour and deep fried. Appearance aside, it was decent but could have really done with alot less flour.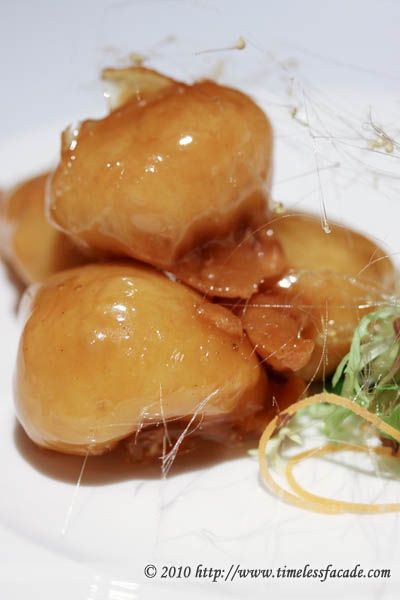 Toffee Banana
Interesting and reminiscent of candy apples, except that it was banana with a nice shiny coating of caramelised toffee. You crack the hardened caramelised exterior and bingo, a filling of soft warm banana. I didn't quite take to it though as the banana didn't seem to gel well with the toffee, which had a nice baked taste to it but also a dominant sweetness that overwhelmed any inherent sweetness the banana might have had.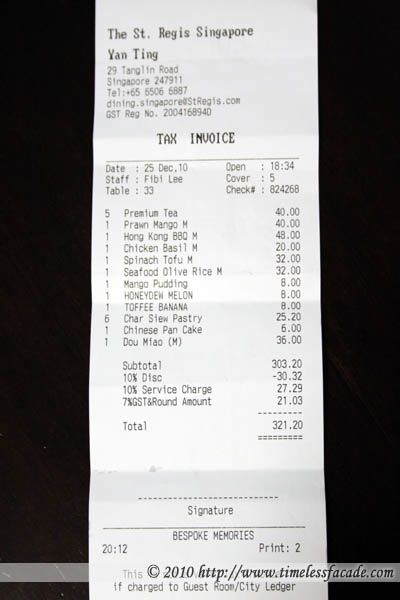 Bill
I was lucky to get a 10% discount during Christmas and the 5 of us chalked up a bill of about $320 for a decent but not outstanding dinner. Nonetheless, it was still enjoyable and the company was great!

ps: As this will be my last post for 2010, here's wishing everyone a smashing 2011! I'll be gone until the middle of Jan so no updates till then. Cheers!



Final Verdict:

Ambience:8/10
Service:8/10
Food:7/10
Value for money:6/10 (without discount)

Overall:7.25/10

Address: St. Regis Singapore, 29 Tanglin Road

Contact: 6506-6888

Opening Hours: 11.45am to 3.30pm, 6 to 11pm