Summer Pavilion was full so we decided to stick to the tried and tested Imperial Treasure for our reunion dinner (seems like we are making a trend out of it with dinners at Imperial Treasure in
2008
,
2010
and this year!) A second seating at 815pm ensured that we could enjoy our dinner at a leisurely pace in the comforts of a private room.
Walnuts
We've always been a fan of how Imperial Treasure's walnuts and to show our support, we had an additional 2 tubs to go. I don't know if they are priced any differently during the normal period but it's $28/tub (probably 500g or less) during CNY.


Salmon Yu Sheng
I've never quite understood or taken to the tradition of tossing
yu sheng
during CNY but well its good fun to be able to mess up the tables once in a while and not feel guilty about it. This yu sheng came across as delicate in the sense that everything was finely chopped and sliced, with a nice addition of lime leaves for an added fragrance.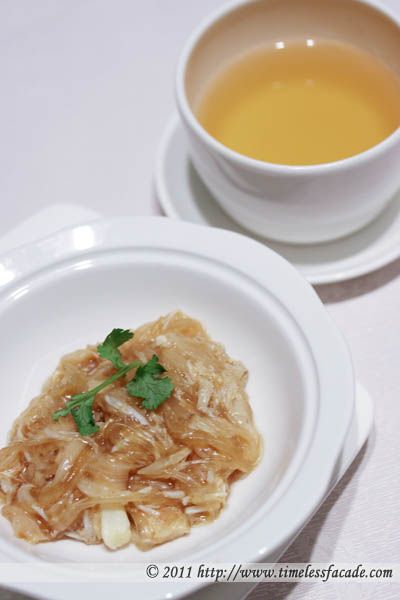 Stir Fried Special Shark's Fin with Fresh Crab Meat
This was not your conventional shark's fin dish. It came in 2 parts - a bowl of chicken and mushroom (very strong woody smell) soup and a plate of stir fried shark's fin with plump pieces of crab meat. A joy to eat, when consumed individually or paired together. A subtly savoury taste comes forth with every mouthful of the fins and crab and the ever so light chicken broth comes across as savoury and uplifting. And when paired together, the flavours complement each other to a T. I am definitely going to be ordering this again if I ever see it on the menu.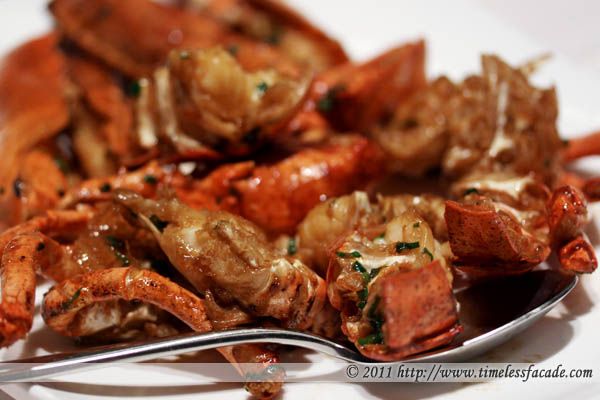 Pan Fried Baby Lobster with Superior Soya Sauce
Now this was one huge baby lobster (but the amount of meat was still less than generous!). Succulent and savoury without being overcooked, it was however, a little heavy on the salt content.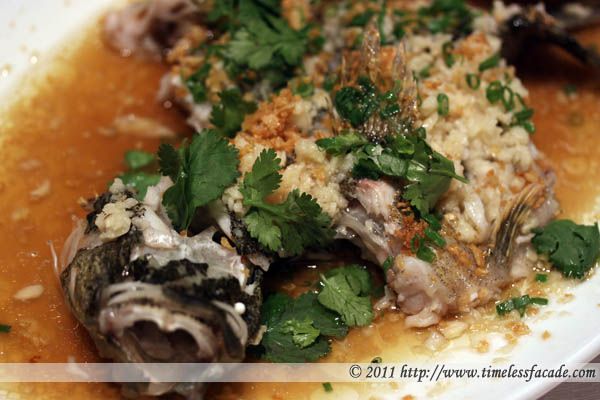 Steamed Soon Hock Fish with Minced Garlic
If you love garlic, you will definitely love this dish! The garlic taste was rather strong (through the addition of both fried and raw garlic) which at times did threaten to overwhelm the natural sweetness of the fish. The firmness of the flesh was done just right though and overall I liked this dish quite a fair bit.


Roasted Crispy Goose
Ever a personal perennial favourite, the roast goose lived up to expectations. Succulent meat coupled with a layer of crisp skin. Excellent!


Braised Australian Sliced Abalone with Black Moss and Vegetable
Although I'm not quite a fan of starchy vegetables dishes like this, I must say that it tasted quite good. The abalone was soft while the gravy had a nice savouriness and didn't come across as too starchy. Throw in some crunchy vegetables and
fa cai
and you have a wonderful dish to go with your bowl of steamed rice.
Fried Glutinous Rice with Wax Meat & Sausage
The glutinous rice was fragrant and not too heavy on the palate. Dried shrimps and waxed meats were plentiful, which made for a good eat.


Chilled Cream of Sago with Mango & Pomelo Topped with Ice Cream
I was expecting the cream of sago to be sweet but by golly, it was cringingly sour. Thank god for the scoop of ice cream which balanced things out with its sweetness. Nice contrast if I may say.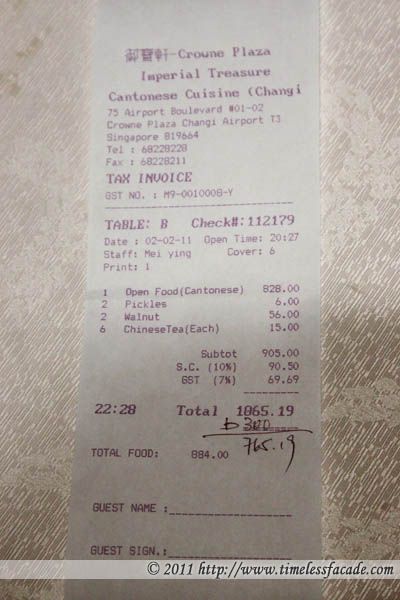 Bill
The 5 of us had a set meal for 6 and still wolved everything down (save for parts of the glutinous rice which we had to doggy bag). The damage? A cool $1,065, inclusive of tea and the 2 small tubs of walnuts we ordered. Quality of food was evident and it served to reinforce our belief in Imperial Treasure's food consistency.

Happy year of the rabbit!



Final Verdict:
Ambience:7.5/10
Service:7.5/10
Food:8/10
Value for money:7/10

Overall:7.5/10

Address: #01-02 Crowne Plaza Hotel, 75 Airport Boulevard

Contact: 6822 8228

Opening Hours:

Mon–Fri
11.30am–3pm, 6pm–11pm

Sat–Sun & PH
10.30am–3pm, 6pm–11pm