Dropped by Peperoni Pizzeria's newest outlet at Binjai Park for lunch one scorching Saturday afternoon. Very much like the original outlet at Greenwood Avenue, parking is a perennial problem with limited lots, tons of cars and no valet parking.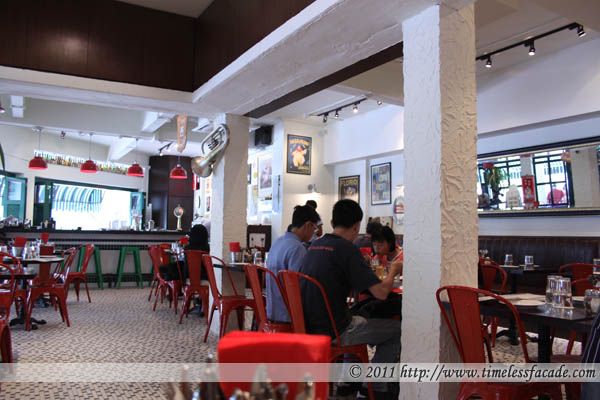 Interior
I like the retro themed interior, which is a throwback to the western diners of the 60's and 70's when science fiction and UFOs were all the rage. There is an open pizza counter where you can look (if you actually bother) at the pizza guys doing up your order.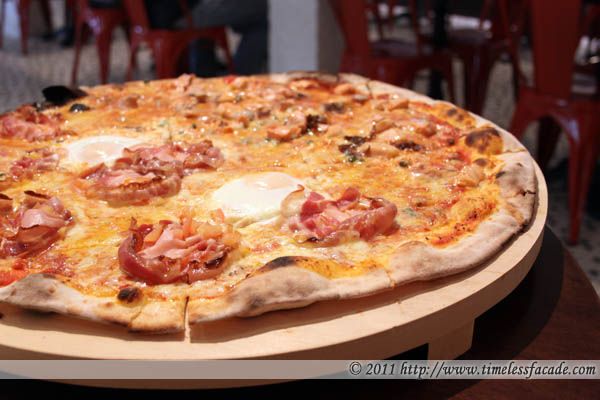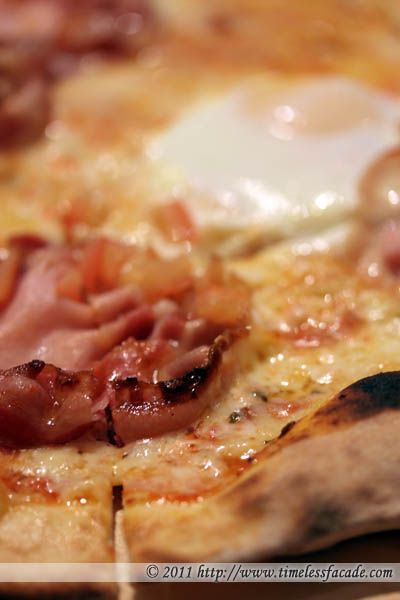 XXL Pizza ($50)
We had an XXL pizza (21 inch and good for 3 at least) done in 2 flavours - Pancetta & Salmon, which on hindsight, probably wasn't the best combination. The crust was Italian style thin but did seem a little flimsy at times. It was also alarmingly charred in certain areas. Taste wise, the caramelised onions were a nice touch to counter the fishiness of the salmon chunks but it still got a little overwhelming after a while. The pancetta (pork belly that has been salt cured, spiced and dried for a few months) tasted like tender bacon, which was well and good except that there was no other flavour. It was just salty, unless of course you consider the random egg yolk oozing out in certain areas of the pizza, which by the way, was the highlight of my afternoon.


Tiramisu ($11)
The tiramisu came served in a cup and I actually mistook it for coffee with whipped cream, much to the mild amusement of my dining companion. Initial embarrassments aside, I was actually not too impressed with Peperoni's take on this classic Italian dessert. Aside from being a teetotaler version (which I personally don't prefer), the mascarpone was overly thick, which threatened to overwhelm the puny layer of sponge. Well at least the sponge carried a pleasant coffee taste. Overall, averagely decent.
All in all, the 2 of us spent $71.80 on an extremely filling but rather unsatisfying meal. To be honest, the pizza standards have slipped since my
last visit
and with it, the value proposition. Oh and yes, service needs serious reworking. Being aloof (I'm being kind here) certainly isn't going to bring in or retain any customers.
Final Verdict:
Ambience:7/10
Service:5/10
Food:6.5/10
Value for money:6.5/10
Overall:6.25/10
Address: 7 Binjai Park
Contact: 64637800
Opening Hours:
12pm - 12am (Last seating at 1030pm) daily.
830am - 11am (Breakfast on Saturdays and Sundays only)
Closed on certain holidays. Call to enquire.
Website: http://www.lesamis.com.sg/index1.html