I think I'm getting addicted to Mortons (which isn't exactly a good thing!), with my last visit
less than 3 months
back. Whatever happened to dining during special occasions only? Well, to cut the long story short, we got our favourite booth seats and a charming waiter for the evening.
Onion Loaf
We resisted the temptation to stuff ourselves silly with the devilishly delicious onion loaf and only took a nibble or two in anticipation of the courses to follow.


Caesar Salad
Well tossed in dressing but pretty much your average salad with fresh iceburg lettuce and non rancid croutons.


Jumbo Lump Crab Cake
Contrary to the wonderful crab cakes we had the
previous round
, this was disappointing. The surface was way too charred and the crab meat came across as a tad too dry. Not that it was bad but I just didn't have the stomach to finish it all.
Broiled Sea Scallops Wrapped in Bacon
It was the sort of dish that made me go wow and grin with glee, not by how complicated it was, but more of how something so simple could taste so good. The scallops were huge, succulent and bursting with natural sweetness to boot. The bacon tasted fresh and added a salty dimension to this dish. Served alongside was a dollop of apricot chutney, which came across as mind numbingly sweet when eaten alone. But paired with the scallops and bacon, it helped to mask the oiliness. Sinfully wonderful!


Mashed Potatoes
A staple in all our visits to Mortons, we pampered ourselves with numerous servings of fresh, crisp bacon bits and sour cream to accompany the smooth mashed potato. Would still like more butter in it though.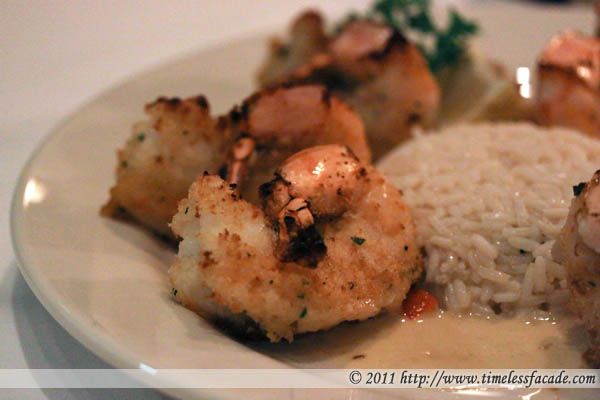 Colossal Shrimp Alexander
What you get for $84++ is six unbelievably huge shrimps lightly dusted with crumbs, deep fried and served with a generous portion of paella. The shrimps were absolutely crunchy and tasty and like the scallops, made me exclaim in appreciation. The paella was firm and tasty almost to a fault. Read. It's salty so drink more water.


Single Cut Fillet Mignon
Done to a perfect medium rare with little charred bits along the edges, the fillet mignon was still good - no unhappy surprises here.


Upside Down Apple Pie
Still good with tart apple slices coupled with raisins and a generous scoop of vanilla ice cream. I never seem to get sick of this dessert.


Morton's Hot Chocolate Cake
The legend never fails me and I'm more than happy to indulge (at the expense of my health) in the viscous molten chocolate and crisp shell with a side of vanilla ice cream.


Bill
Total bill for 2 with a $100 discount voucher stood just shy of $200, which isn't cheap (no one walks into Mortons expecting a cheap meal anyway) but definitely satisfying. Service towards the end (especially the billing part) did seem a little slow but commendable nonetheless.



Final Verdict:


Ambience:7/10
Service:8/10
Food:8/10
Value for money:7/10
Overall:7.5/10

Address: 4th Storey, Mandarin Oriental Singapore

Contact: 6339-3740

Opening Hours:

Bar
Monday - Saturday 5pm - 11pm
Sunday 5pm - 10pm

Dining Room
Monday - Saturday 5:30pm - 11pm
Sunday 5pm - 10pm

Website: http://www.mortons.com/singapore/