Amici, which means friends in Italian, has been around for quite a while but we've never really gotten down to trying it even though there have been quite a number of favourable reviews circulating around on the internet. That changed when we popped by the Holland Village area to buy some baking supplies and decided to give Amici a shot.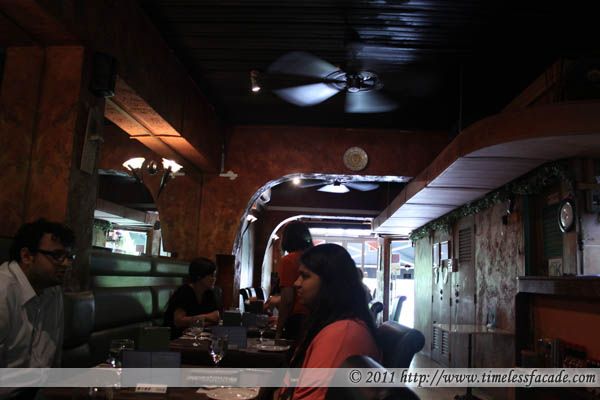 Interior
Finding the place takes some navigation skills as the place around it seems to be under construction which makes it hard to see the place until you actually walk near it. There is a small al fresco area but I wouldn't recommend that especially if you go in the afternoon and with all the construction going on. The seemingly narrow air conditioned interior lets loose a cosy vibe but watch out for the too close for comfort table spacing and the unforgiving air circulation system which will have you smelling of food within minutes.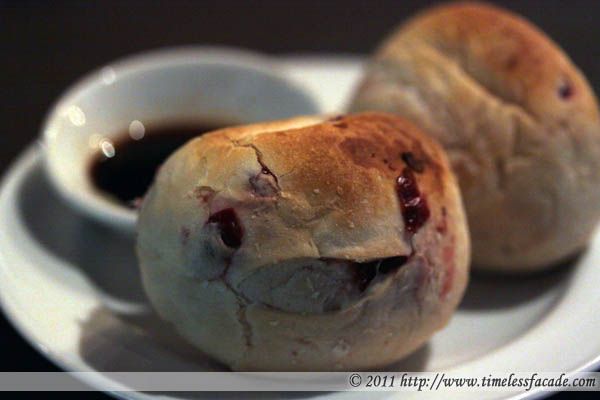 Complimentary Bread
We got off to a nice start with the warm and crusty complimentary bread that had pockets of what seemed like cranberries. Mildly sweet and comforting.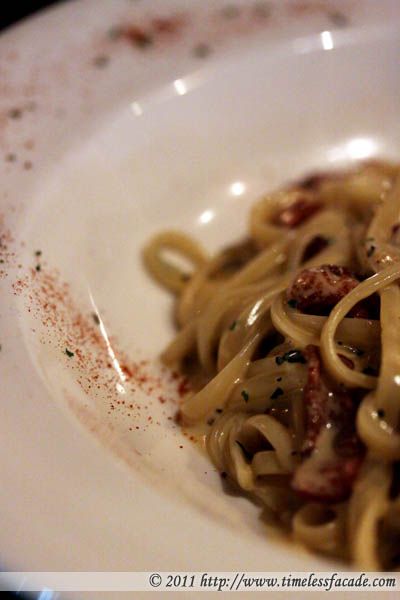 Carbonara
The carbonara wasn't al dente but on the upside, it didn't come across as too rich which toned down the nausea inducing factor. The plentiful bacon pieces were a plus as well.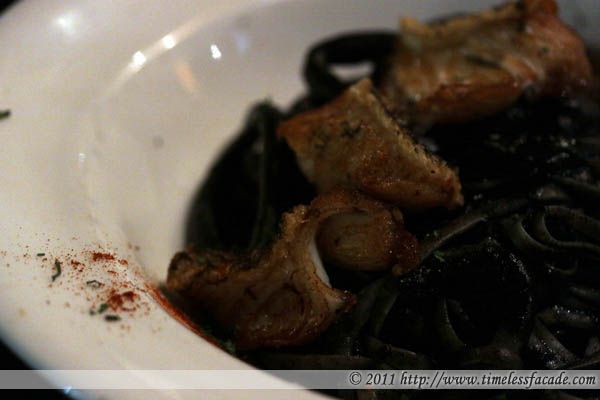 Squid Ink Pasta
Apparently a specialty at Amici, the squid ink pasta was the drenched in squid ink variant, not the made from squid ink kind, of which the latter I personally prefer. I could make out a noticeable tartness in the pasta ( I assume they probably tossed the pasta in tomato sauce first before dunking it in squid ink) which did make it more appetising. What caught my attention was the delectable pieces of cod fish that were crisp on the outside and exuded a natural sweetness from within. There was also a generous serving of squid rings which served to up the chewy factor.


Tiramisu
The desserts were certainly the stars of the evening and it started with tiramisu, which had a great sponge to mascarpone ratio. The sponge wasn't overly soaked in coffee but where's the alcohol?! Still very good though and if there's any reason I'll return to Amici, this would be it!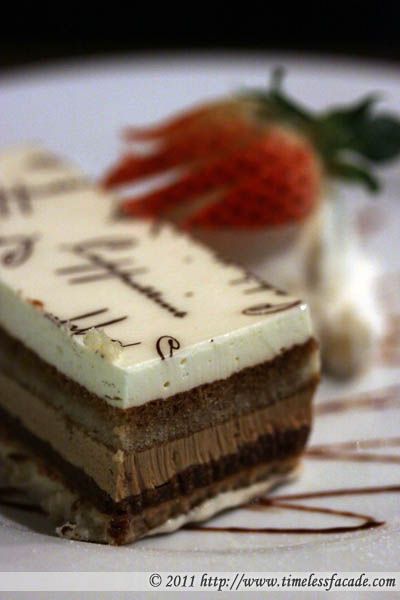 Cappuccino Cake
I'm no big fan of coffee but this dessert surprised me. 5 layers of sponge compacted with a thin layer of wafer in between - firm in texture with a sweet hint of coffee. The ice cream that came alongside didn't gel with me though, seeing that it was literally milk solidified and came across as overpowering.


Bill
Through the use of a voucher, we had the cheaper main course free, which brought our bill to a more manageable $56 for a 2 pax lunch. Reasonable I may say, but I'll probably only be back for the desserts. Service was decent but then again, the place wasn't packed so it's probably not a good gauge.
Final Verdict:
Ambience:7/10 (Doesn't take into account the poor ventilation system)
Service:7/10
Food:6.5/10 (7.5/10 for both cakes)
Value for money:6.5/10
Overall:6.75/10
Address: 275 Holland Avenue
Contact: 6469 9989
Opening Hours:
Mon–Thu: 11.30am – 3pm,6pm – 11pm
Fri–Sat: 11.30am – 11.30pm
Sun: 11.30am – 11pm
Website: http://www.amici.com.sg/