Arranged to meet up with a friend over dinner at Imperial Treasure Fine Chinese Cuisine (or ITFCC for short), purportedly the crème de la crème of the Imperial Treasure group of restaurants, which of course explains the choice of location - Marina Bay Sands.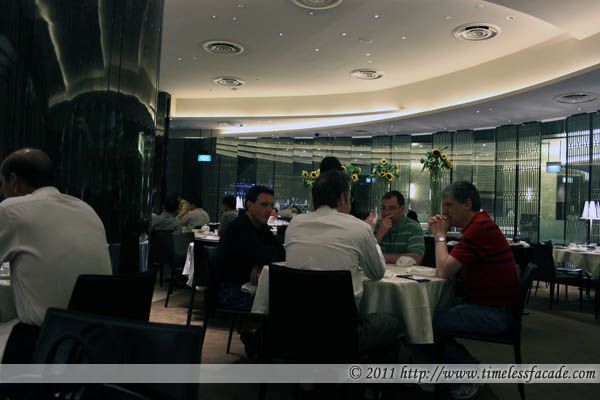 Interior & Menu
Situated alongside the celebrity restaurants on the second floor of the Marina Bay Sands shopping arcade, ITFCC's decor is reminiscent of its sister restaurant, Imperial Treasure Cantonese - modern classical with lots of glass and sombre colours.


Roasted Pork
We started off with a well known dish from the Imperial Treasure group - roasted pork, which had a good fat to meat ratio with a crisp top. Unfortunately, it wasn't served warm and that marred the experience quite a bit.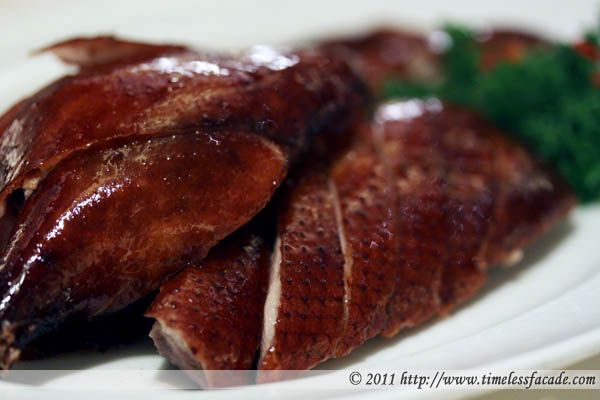 Roasted Duck
Roast goose wasn't in the menu so we had to make do with duck instead. Lean crisp skin coupled with succulent and not too gamy flesh made for a good eat. I still prefer goose though.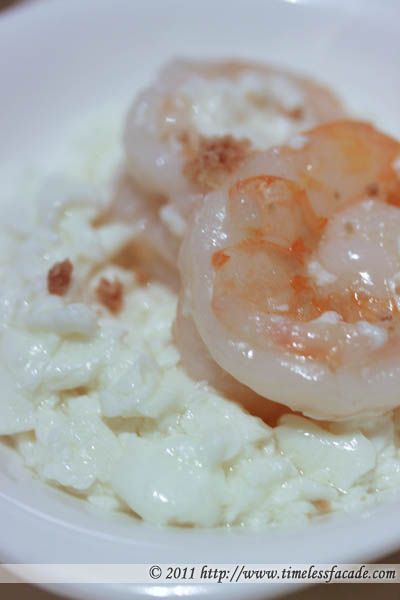 Sauteed Prawns with Italian White Truffle Oil
My usual order of scallops was out so the wait staff recommended substituting with prawn balls, which on paper, sounded equally enticing. But in reality, the truffle oil just didn't gel that well with the prawns however huge and crunchy they were.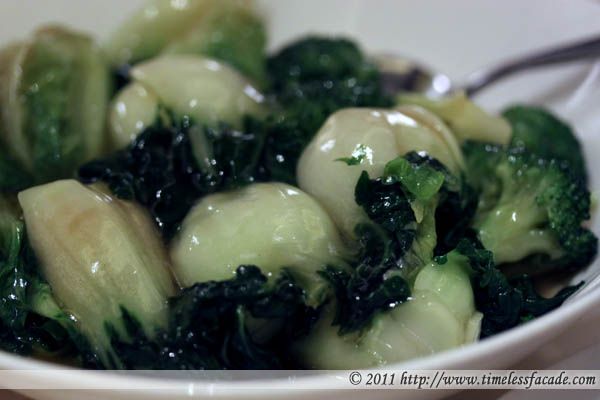 Four Types of Vegetables with Oyster Sauce
Basically the kitchen chooses what four varieties of vegetables you will be getting based on what's available on that particular day. Served up with slightly starchy oyster sauce. Decent.


Yong Chow Fried Rice
Apart from the plentiful prawns and
char siew
(BBQ pork), I couldn't find any other reasons to like this dish. Lacking in
wok hei
and tasting flat throughout, the fried rice looked the part but failed to deliver.
Durian Pudding
A sweet and smooth ending to the meal and probably the highlight of the dinner. At least the quality was consistent with what I had at
Imperial Treasure Cantonese
.
Bill
We could barely walk after the meal. Heck, we could barely even finish the meal, all at a cost of about $130 for 2. Going by what we ordered, that's not exactly cheap and I certainly wouldn't consider it value for money for the quality of food. Don't get me wrong, the meal wasn't bad. In fact it was above average but personally I just felt it didn't warrant such a price tag. Especially since
Imperial Treasure Cantonese @ Crowne Plaza
can produce better food at that price point.
Final Verdict:
Ambience:7.5/10
Service:7.5/10
Food:7/10
Value for money:6/10
Overall:7/10
Address: L2-04 Marina Bay Sands Casino. Access via Bay Level (L1) lifts at UOB and Grand Colonnade North, as well as from Casino.
Contact: 6688 7788
Opening Hours:
Monday to Saturday 11.30am to 10.30pm
Dim Sum Available from 11.30am to 4.00pm
Sunday 11.00am to 11.30pm
Dim Sum Available from 11.00am to 4.00pm
Website: http://www.marinabaysands.com/Shoppin/Shop/Imperial_Treasure_Fine_Chinese_Cuisine.aspx