Eons ago when I was still in primary school, I remember the existence of TGIFridays and TGIF in Singapore. Both were American styled diners that offered a break from the mundane likes of Swensens. Both eateries eventually folded but fast forward to 2010 and TGIFridays is back in Singapore, apparently under a new management and with its one and only store at The Heeren.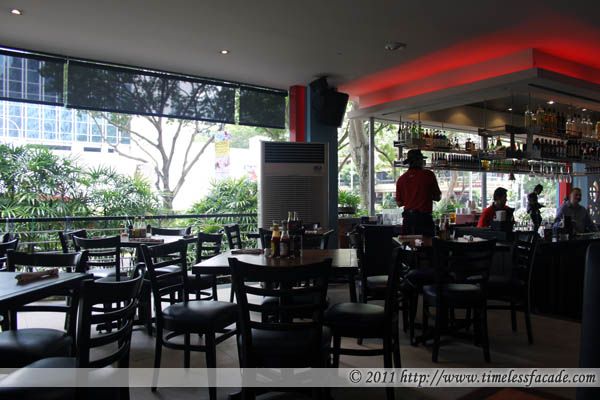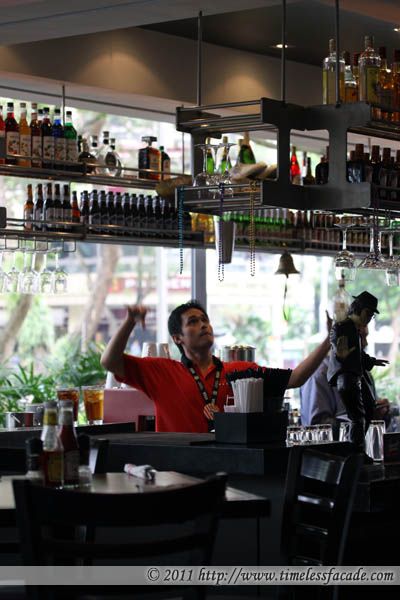 The Place & Menu
Interestingly enough, TGIFridays occupies 2 sections within the Heeren compound - one al fresco dining/pub area on the first floor, just outside the mall and one air conditioned sitting area on the 2nd floor inside the mall. Both spaces are apparently linked by a staircase that features prominently at the entrance of the al fresco area on the ground floor. The decor is typical of any western diner with it's booth seats, wooden chairs and bottles of ketchup/chilli on the tables. Think Swensens or Pizza Hut.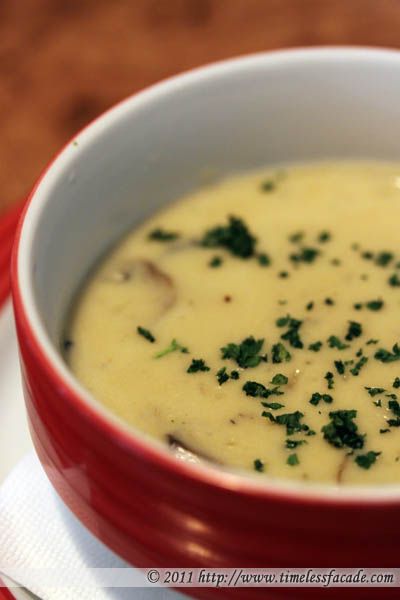 Mushroom Soup
This was one seriously thick mushroom soup, probably due to the addition of potato. Tasty with a hint of peppery aftertaste but I wouldn't really call it mushroom soup due to the lack of a significant mushroom taste. Good for hungry people as it fills you up real fast.
Fried Mac & Cheese
I ordered this with much excitement as I'm just a sucker for anything with macaroni and cheese in the same line. I was secretly hoping that it would turn out like the mind blowing mac and cheese from The White Rabbit, even though that wasn't fried. Alas, it wasn't (duh!). But I still loved it anyways. Very cheesy with a crisp, deep fried flour shell encapsulating a gooey center of mac and cheese. Absolutely lip smacking! Definitely not for the health conscious or the anti junk food crusaders (now you know why I've been growing horizontally).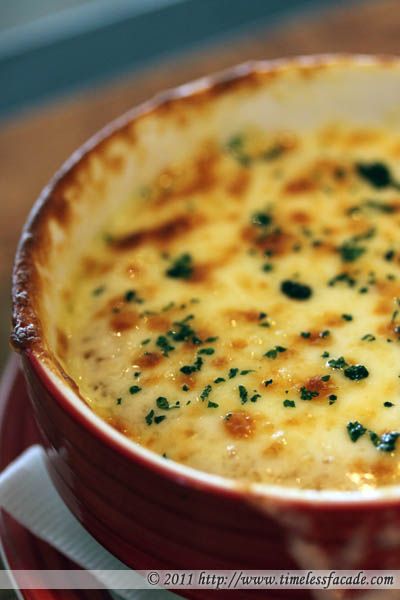 French Onion Soup
Alright this was another extremely cheesy dish. The layer of cheese atop the soup was simply wonderful - chewy and strong. A pity the same couldn't be said of the soup, which was muted at best.
Jack Daniel's 6oz Striploin
I'm honestly not a big fan of Jack Daniels whiskey but since it's TGIFriday's signature line of food items, we decided to give it a shot by starting off with a medium well striploin. I must say that although the meat did come across as a little too chewy, it had succulent written all over it with a nice crisp along the fatty trimmings. I guess the highlight here was the sauce, which was lightly sweet with a tinge of spice. Something new yet so familiar.
Jack Daniels Chicken
Following the steak, we had the chicken, which was tender and juicy. A pity the sauce didn't quite shine here as somehow the taste of chicken didn't gel quite well with it. But that's just my personal opinion.
Peanut Butter Pie
I loved this dessert. Okay I admit I'm biased towards anything with peanut butter (ie. Reese peanut butter cups). Creamy, smooth with a hint of peanuts on a soft base of peanut crumble - The ultimate peanut butter fan's dream! If you love Reese peanut butter cups, you will love this not so sweet and much larger version.
Bill
The bill stood at $73.70 for a belly bursting lunch for 2 (we had the lunch set. Imagine if it was dinner), which was honestly quite expensive considering the quality of ingredients that went into the meal. I personally thought the food was decent but I'm not so sure that alone justifies the price tag. Service was decent but spotty and at times it was difficult to catch the attention of anyone even though the place was almost empty.
Final Verdict:
Ambience:6.5/10
Service:6.5/10
Food:7/10
Value for money:6/10
Overall:6.5/10
Address: #01-K5, 260 Orchard Road, The Heeren
Contact: 67374223
Opening Hours:
Sunday - Thursday : 11am to 12mn
Friday - Saturday : 11am - 2am
Website: http://www.fridays.com.sg/