The Paradise group is expanding rapidly nowadays, extending on its brand name to create various eateries in an attempt to cater to practically everybody and anybody who eats Chinese food. Paradise Inn is one such entity, being marketed as an affordable restaurant, tea house and dessert house all rolled into one.


Interior & Menu
We had a go at the Bedok Point outlet of Paradise Inn, which sported large windows framed by wooden partitions and interesting looking wood cage lamps. Bright sunlight flittered in, giving rise to a cheery atmosphere sans the heat.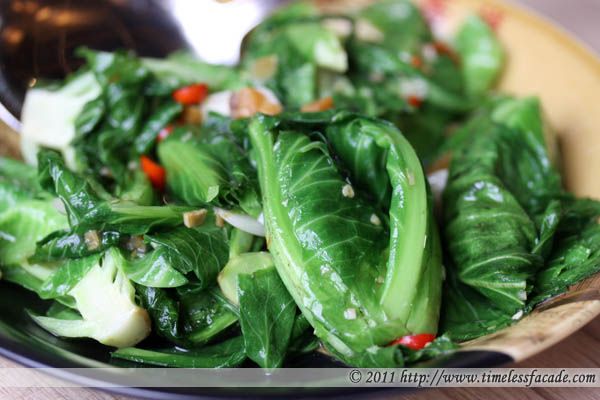 Thai Baby Kailan with Salted Fish
This dish came across as rather slip shod as the Kailan failed to absorb the gravy and came across as lightly sourish and raw. And the little bits of salted fish weren't salty enough to make much of a difference.


Prawns with Salted Egg
I'm a big fan of this dish but somehow Paradise Inn's rendition left much to be desired. For starters, it didn't look freshly prepared and the amount of oil was a turn off. Adding to the woes was the rather watery salted egg coating and thicker than ideal batter. However, taste wise it was still decent.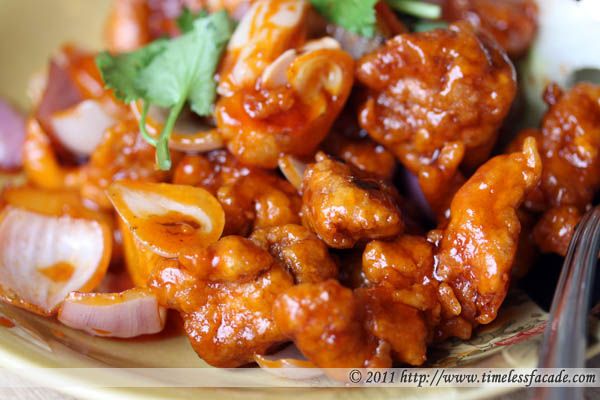 Sweet and Sour Pork
Restaurants tend to use quite a bit of fat meat in their sweet and sour pork dish and Paradise Inn was no exemption. The miniscule amount of meat tended towards the fatty side and the flour was too thick in my humble opinion. Average at best.


Mini Wok Tofu
Seafood Paradise
has the exact same dish, just under a different name (and with significantly more ingredients) that's all. The tofu was soft but not exactly smooth and lacked the hint of smokiness that the one at Seafood Paradise offered. The portion of meat floss atop was found wanting as well. Still very palatable though.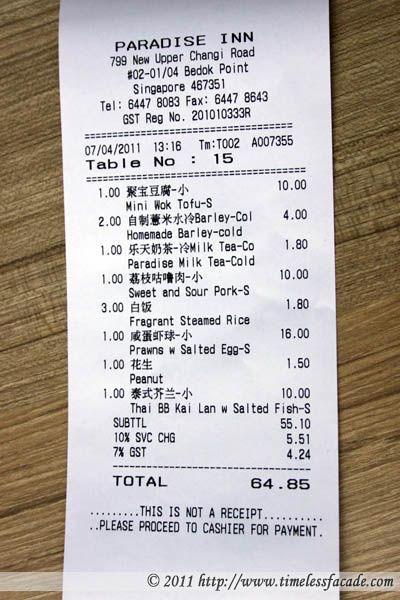 Bill
Honestly, $65 for a 3 pax lunch isn't really expensive but quite a few of the dishes are similar to that of Seafood Paradise, albeit with a decrease in portion size and utilisation of inferior ingredients. Food overall is still decent though and so is the service. However I am not comfortable with the dilution of the Paradise brand name, one that I've always associated with above average quality food (save for the
less than stellar experience at Taste Paradise Ion
). Is the Paradise group really biting off more than it can chew? Only time will tell.
Final Verdict:
Ambience:7/10
Service:7/10
Food:6/10
Value for money:6/10
Overall:6.5/10
Address: #02-01/04 Bedok Point
Contact: 6447 8083
Opening Hours: Daily 11.30am – 10.00pm (last order 9.30pm)
Website: http://www.paradiseinn.com.sg/index.html