Finally got down to posting about the 2nd edition of Restaurant Week Singapore, which happened from the 21st to 27th March 2011 (Yes I know it's long overdue). With all the prominent restaurants (think Les Amis, St Julien, The Cliff etc) fully booked even before reservations were open to public, I had to settle (with some luck and fast fingers) for Capricci - the best of the remaining lot in my personal opinion.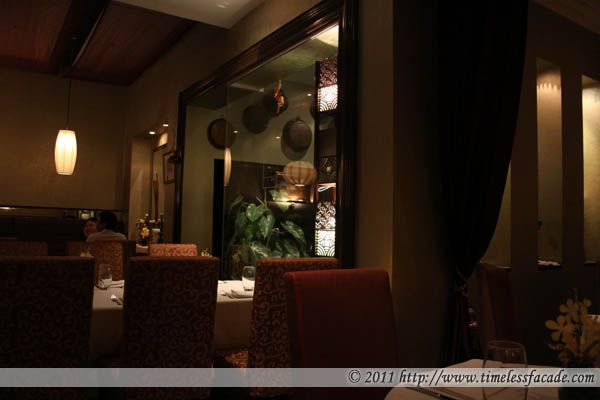 Interior
And so we made our way down on a cool Tuesday evening and were ushered to a table smacked in the middle of the dining room and sandwiched between 2 others. So much for a romantic evening, especially since we were within earshot of the other tables and vice versa. But I've got to give it to Capricci. The place was tastefully done up with ambient lighting and oozed a serene sort of comfort - great for winding down after work, if only the table placements were better.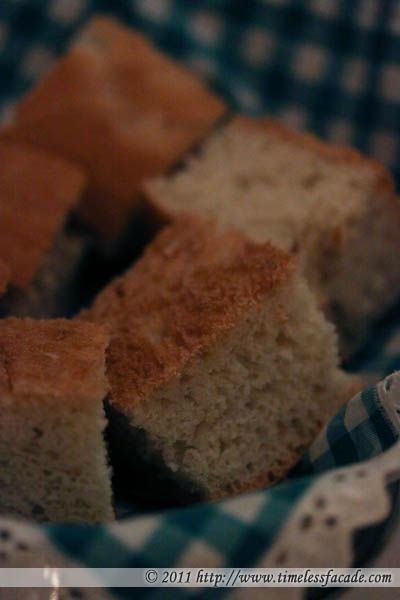 Complimentary Bread & Cream of Tomato
I honestly have no idea if the cream of tomato was meant to be consumed as a standalone but I had it with the complimentary bread, which had a positive effect of elevating the boring, bland piece of dough to one that had a nice creaminess with a lightly tart bearing.


Seafood Burger of Crabmeat and Salmon and Mix Salad
Personally I wasn't a fan of the seafood burger as it was way too fishy for my liking due to the combination of crab and salmon. So no comments.


John Dee Beef Tenderloin Tartar with Truffle Oil, Shaved Parmesan and Arugula
The beef tartar was soft and overly salty in my humble opinion. But when paired together with the parmesan and arugula, it was great as the saltiness wasn't so apparent. Nice way to kick start the dinner.


Oven Baked Suckling Pig Sardinia Style with Portobello Mushroom
I certainly didn't expect the suckling pig to come looking like something out of a Sci Fi movie. Sitting on a huge piece of mushroom was a bed of pork and sheltered by what looked like a warped piece of cracker, which was actually a piece of crackling crispy pig skin! The meat was a little too gamy for my liking but the drizzled sweet sauce helped mask it a little. Not something I would go for seconds though.


Gnocchi with Slow Cooked Kurobuta Pork Ragout
Yearning for flour, I had the gnocchi with slow cooked kurobuta pork ragout, which came across as above average. The not overly thick dumplings were stuffed with cheese but didn't threaten to overwhelm. And honestly, I wasn't able to tell if the pork ragout was really kurobuta as the shreds were too fine. But hey they provided a nice mildly chewy texture.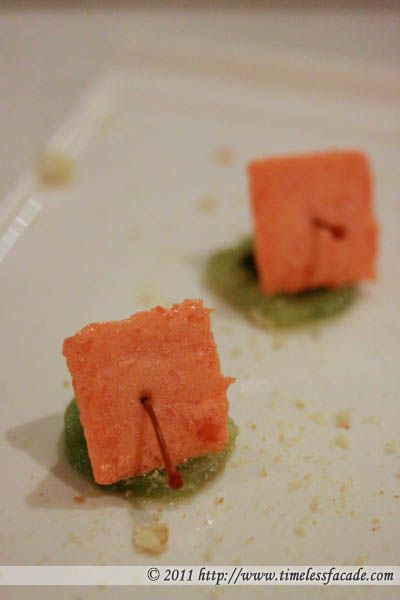 White Chocolate Mousse with Maraschino Cherries
This dessert turned totally different from what I was expecting. I envisioned a mould of white mousse but what I got was a mini popsicle lookalike. And it was all cherry and no chocolate taste. Way too strong.


Cocoa Cream Caramel Pudding with Amaretti
The cream caramel pudding was quivery and tasted quite a fair bit like almond jelly with toppings of crispy caramel bits. Interesting but nothing really outstanding.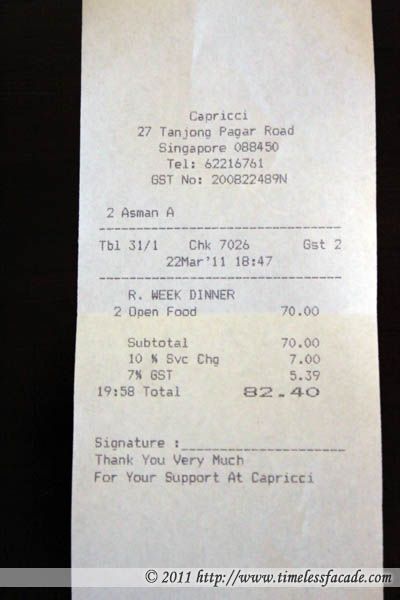 Bill
Owing to the restaurant week deal, both of us only had to fork out $70++ or $82.40 after tax in total, which is a reasonable amount in quantitative terms. However, food quality wasn't up to my personal expectations and that might have had something to do with the discounted prices but I am unable to say for sure as I've never dined at Capricci prior to this. But I guess I'll never know as the menu somehow lacks that pull for a revisit.
Final Verdict:
Ambience:7/10
Service:7/10
Food:6.5/10
Value for money:6.5/10 (with the restaurant week discount)
Overall:6.75/10
Address: 27 Tanjong Pagar Road
Contact: 6221 6761
Opening Hours:
Monday - Friday
Lunch: 11:30am - 2:30pm
Dinner: 6:30pm - 10:30pm
Saturday
Dinner: 6:30pm - 10:30pm
Website: http://www.capricci.com.sg/