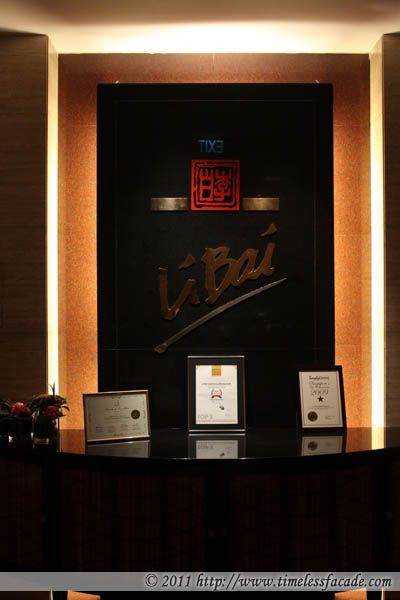 Another year has passed and yet another Mother's day celebration. And sticking to the tradition of Chinese restaurants, we settled on Li Bai, the flagship Chinese restaurant of Sheraton Towers Hotel and where I once had a
pleasant dining experience
at.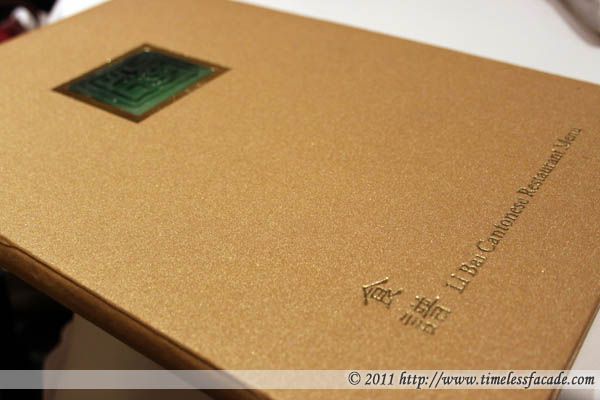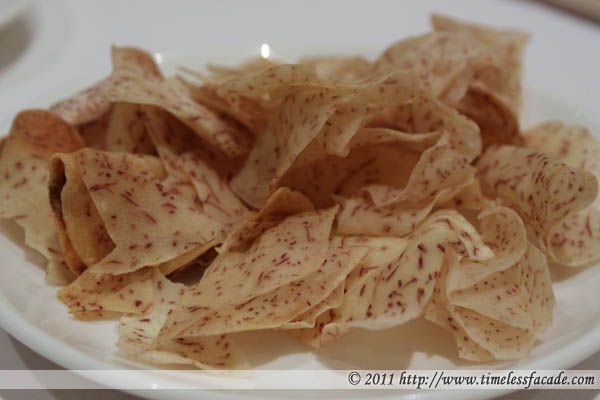 Menu & Yam Slices
I loved the yam slices to bits. Crackling crispy and light on the palate but watch out as the chewed up pulp has a tendency to stick to your teeth. Great way to start off the meal though.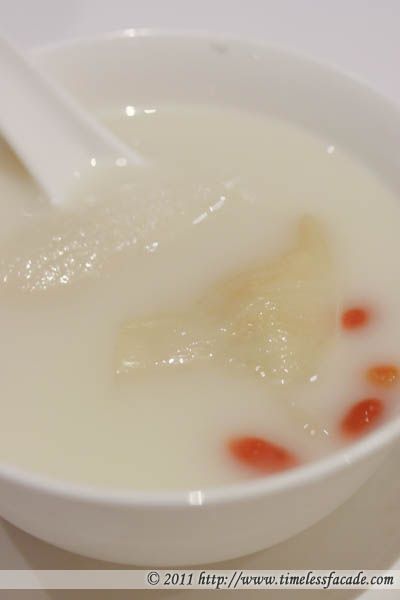 Shark Bone Soup
A specialty of Li Bai, the shark bone soup was very light and tasty without the usual nausea inducing factor. The bamboo pith in the soup had a nice crunch to it whilst the fish maw's fishiness was minimal with a mild chewy texture. Sweetness of the soup was enhanced through the use of wolfberries.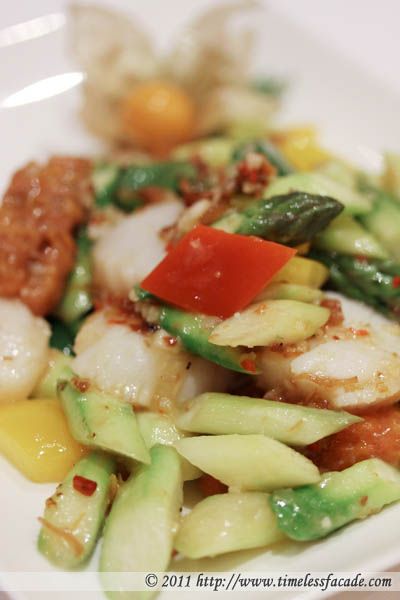 Asparagus with Coral Clam and Scallops
Well stir fried, the asparagus retained its crunchiness but the scallops, though big, weren't really firm. I'm not exactly a big fan of coral clams but these were chewy and flavourful from the XO sauce. Definitely a great dish to go with steamed rice.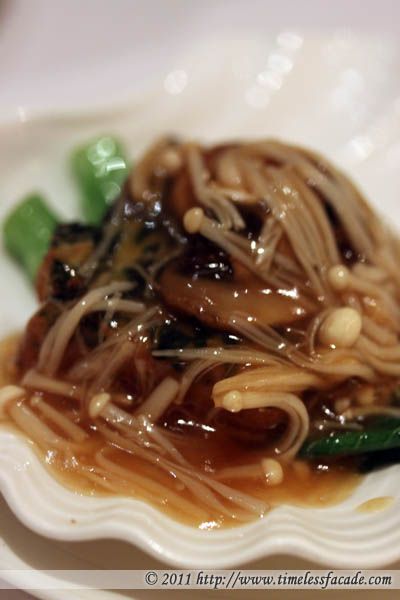 Homemade Spinach Beancurd
Another signature dish of Li Bai and rightfully so. Silkily smooth and savoury, topped with plentiful mushrooms and dried scallops shreds for that extra taste and texture. Great!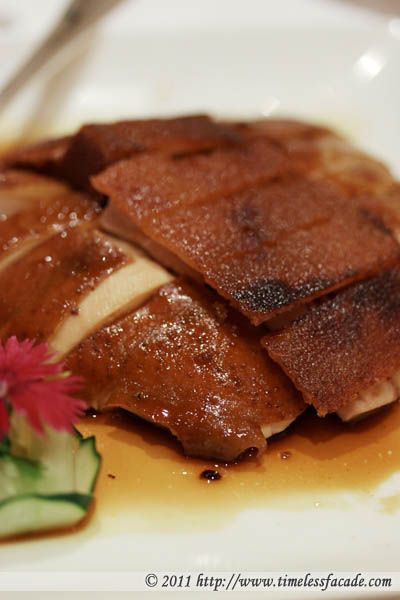 BBQ Pork Combination
We opted for the combination of suckling pig and soya sauce chicken. The chicken had me craving for more with its firm yet tender meat but I couldn't say the same for the pig, which had crackling crisp skin but less than adequate salt level. But maybe I am just used to a heavier salt intake.


Tea Smoked Duck
Fragrant, tender and succulent meat coupled with a tinge of smokiness from the tea, what's not to like? Throw in the crackling skin and a dip of sweet sauce to round up an excellent dish.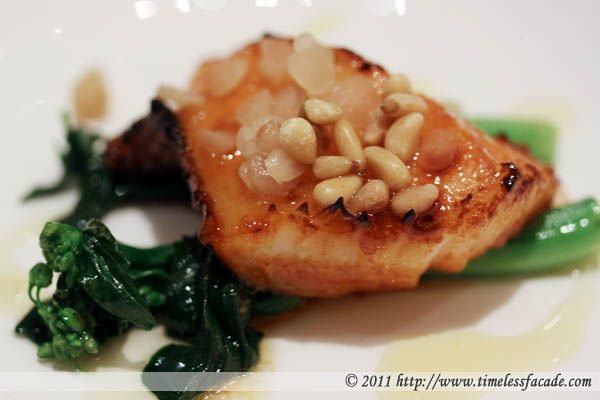 Cod Fish
A most interesting dish with the firm cod both sweet and sour from the lemon juice and brushed honey. I personally liked the taste but thought it was a pity that the natural sweetness and richness of the cod was masked over. Topped with pine nuts and chipped ginseng from the extra health boost.


Jellyfish with Topshell
Not my cup of tea so I shall reserve my comments on this save for the fact that the jellyfish was springy and the topshell, chewy.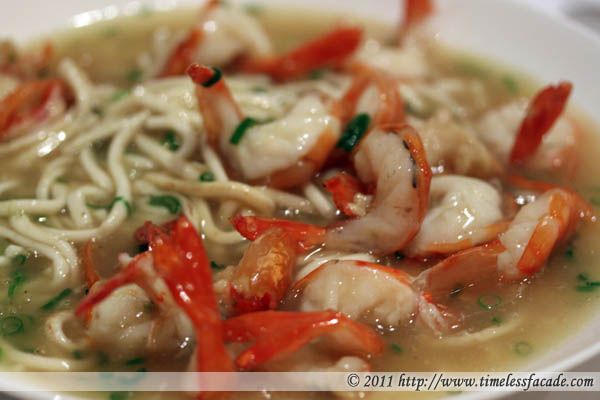 Fish Paste Noodles with Prawns
I absolutely love fish paste noodles and not many places in Singapore sell it so it's quite a bonus for me if a restaurant happens to have it on the menu. The noodles here were first stir fried, as evident by the little burnt marks on them, then simmered in broth. Deliciously full of bite. However the only gripe I had was that the accompanying prawns didn't have their intestines cleaned out, which really isn't something I would expect from a reputable restaurant like Li Bai.


Mango Sago
Nothing too fancy, coming across more like your average bowl of mango sago with sourish mangoes.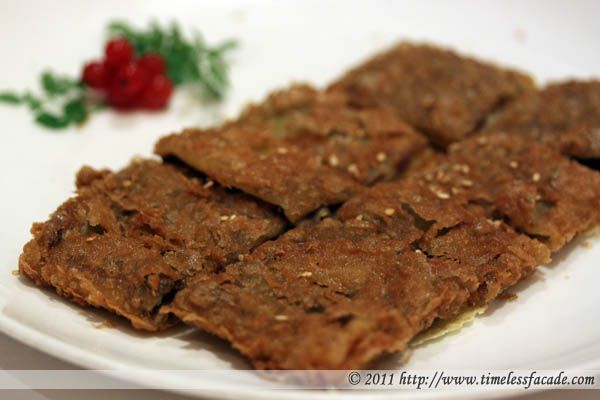 Red Bean Paste Pancake
I was utterly disappointed in the red bean pasta pancake, which sported many layers of flour, excessive oil and a darker than acceptable surface colour from over deep frying. On the upside, at least it was very crisp and not overly sweet, but never again.


Bill
An above average dinner for the 5 of us amounted to $419, which wasn't expensive but not exactly cheap either. Quality of food was definitely above average ( save for the desserts) and service was good with our tea constantly refilled and the wait staff ever eager to accede to our every request. I wouldn't say that this ranks amongst the top few Chinese restaurants in Singapore but I would be more than happy to return for its consistency of food.
Final Verdict:
Ambience:8/10
Service:7.5/10
Food:7.5/10
Value for money:7/10
Overall:7.5/10
Address: B1 Sheraton Towers Hotel
Contact: 6839 5623
Opening Hours:
Monday to Saturday: Lunch, 11.30am to 2.30pm
Monday to Sunday: Dinner, 6.30pm to 10.30pm
Sunday: Yum Cha, 10.30am to 2.30pm
Website: http://www.sheratonsingapore.com/libai.html