The opening of myVillage @ Serangoon Gardens has added a variety of new restaurants to the area, with mostly established brands like Da Paolo, Shin Kushiya and Old Hong Kong vying for pole position in this vibrant dining scene. Enthralled by the prospect of having dim sum in the neighbourhood, we dropped by Old Hong Kong Taste (OHKT for short) - one of the 4 restaurants under the Old Hong Kong Group.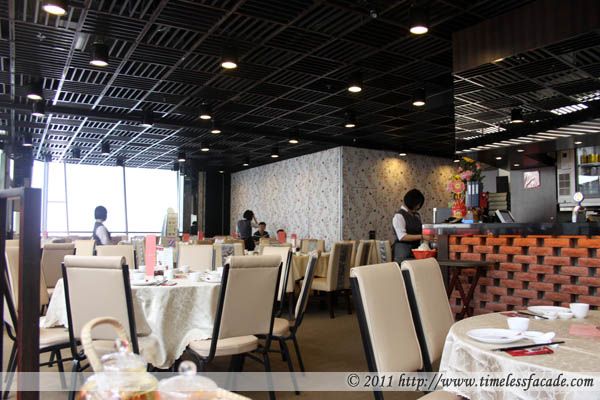 The Place & Menu
OHKT's open kitchen greeted us as we took the escalator up to the 2nd floor of the mall, allowing us a peek at the culinary maestros ( I hope!) who would be whipping up our orders soon.


Tea & Appetiser
There is a variety of tea, ranging from Rose Tea to Longan Tea, all served up in a glass kettle atop a glass stove with a candle to keep the tea warm.
The appetiser was simple yet satisfying. Anchovies dotted the beancurd cubes alongside sweet chopped chilli - would have loved seconds or a bigger serving.


Dim Sum in The Cage
I was intrigued by the name, however gimmicky it may have sounded. This dim sum platter had a combination of various items such as -

Bird Nest Egg Tart - The custard was quivery and not too sweet with strands of birds nest. Couldn't make out any taste or texture from the birds nest so it's really just a gimmick. Crust was a tad too soft for my liking.

Deep Fried Prawn Wanton - A little too oily but prawns were plentiful. Best eaten with the bowl of accompanying soup.

Deep Fried Prawn Roll with Cheese - Lots of prawns but lacking in cheese, which made it rather similar in taste to the prawn wanton. Best eaten with Mayonnaise.

Siew Mai - Full of bite without too much fatty meat. Prawns fresh and crunchy.

Har Gao - The skin was a little too thick for my liking but the generous serving of crunch prawns made up for it.

Steamed Mushroom Wrap - As with the Har Gao, the wrap was a wee bit too thick for comfort but I did appreciate the mushrooms which didn't come across as too overwhelming.

Marinated Duck
A signature dish of OHKT, the duck came across as rather gamy but tender with a bit of roughage for a nice chewing sensation. The accompanying beancurd slices were very smooth and overall, quite a good dish.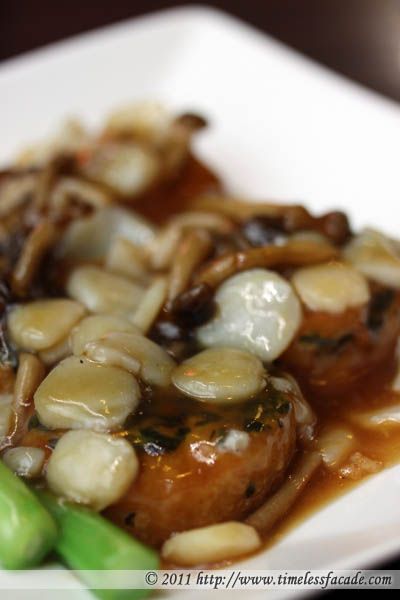 Braised Homemade Beancurd with Scallops & Mushrooms
I loved this dish. Not because it's beancurd but because it was very well executed. Topped with generous servings of sliced scallops and mushrooms, the beancurd was silky and had a nice savoury charred taste to it.


Bo Lo Bun with Barbecued Pork
Served up piping hot, the Bo Lo Bun was decent with the BBQ pork pieces soaking in the mildly sweet and viscous gravy. Only gripe? The flour was a tad too thick and dry.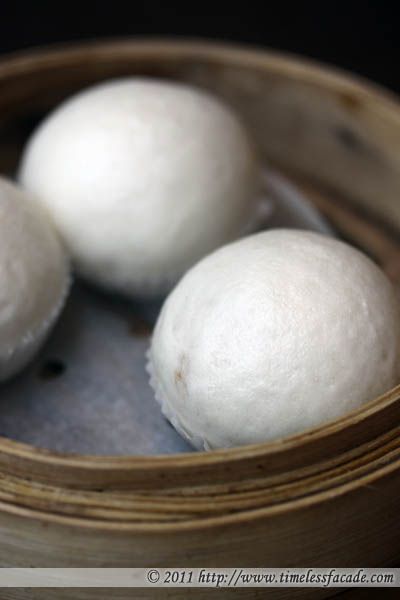 Steamed Egg Yolk Custard Bun
Now this was rather disappointing. Sure, it had molten custard oozing out with a breach in the shell but the custard was a tad overwhelming and I couldn't make out any traces of egg yolk sediment. I've had better.

Bill
Lunch cost the both of us about $83 after taxes which honestly isn't cheap for the amount/type of dishes we ordered and the location. However I must admit that overall, food quality was above average and this meal was worth it (well, except for the Bo Lo buns and the Custard buns). I will definitely be back but this time I'll be more inclined towards ordering from the ala carte menu rather than the dim sum menu.


Final Verdict:
Ambience:7/10
Service:7/10
Food:7/10 (8/10 for the beancurd)
Value for money:6.5/10
Overall:6.875/10

Address: #02-01 myVillage, 1 Maju Ave

Contact: 68343013

Opening Hours: Daily 1030am to 11pm.

Website: http://oldhongkong.com.sg/base.html