When a kind anonymous reader left me a comment on my blog about discovering a place that served poutine a couple of weeks back, I was naturally delighted as it's been almost a decade since I had poutine (bar Yella Fellas, which has gone the way of the dodo). And so there I was at Hummerstons, on a lovely Saturday morning, just 2 weeks into brunch service.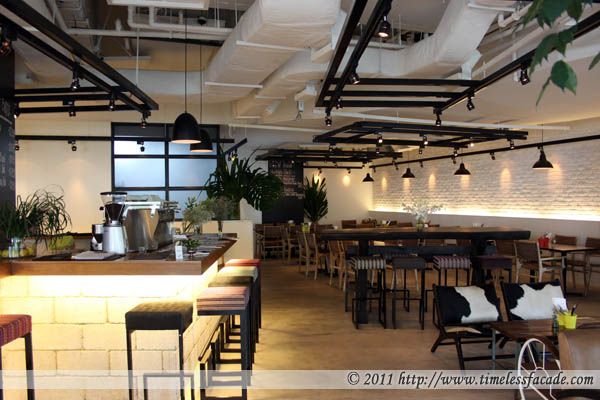 Interior & Alfresco Dining Area
Hummerston's interior features visible white bricks and warm lighting coupled with a bar counter and wooden furniture. Rather inviting I must admit but we chose to sit outside on the sidewalk instead, in acknowledgement of the beautiful weather.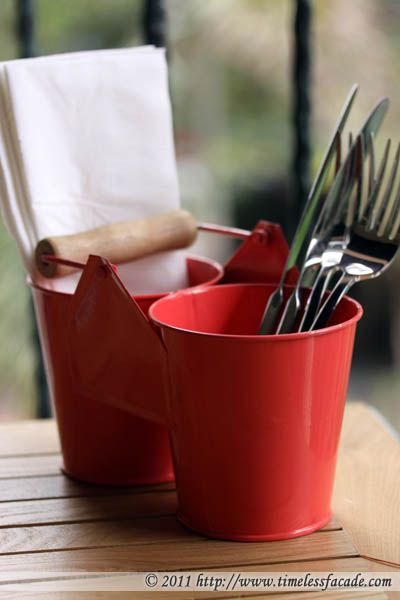 Cutlery
I just posted this picture for the fun of it. I personally find it quirky to use a gardening pail to put your cutlery, but hey, its practical. The handle prevented the serviettes from sliding down or flying away.
Classic Poutine
Evenly cut fries with skin? Check. Brown gravy? Check. Cheese curds? Where's my cheese curds?! Apparently emmental cheese is used in Hummerston's rendition of this classic Canadian dish but honestly, the cheese was almost nonexistent - pathetic to say the least. Give me copious amounts of fresh cheese curds any day. The gravy tasted like the real deal although it did come across as a little too sweet for my liking. Having said that, I'll still recommend giving this dish a try, even if it costs $11 for a rather small portion (think Macdonalds regular fries portion).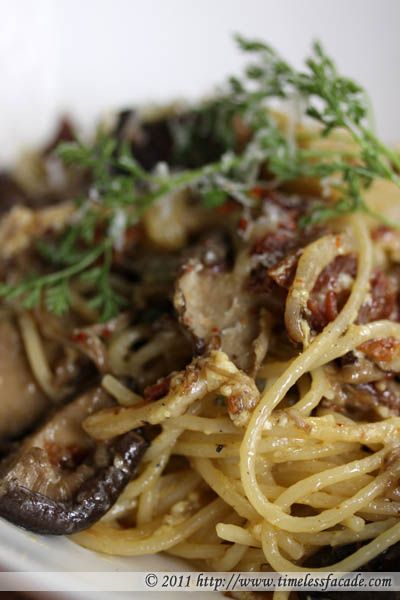 Carbonara
This was a very different carbonara from what I'm used to. Al dente spaghetti with generous bacon bits and mushrooms but surprise surprise, no cream sauce. Lots of oil though, which reminded me more of aglio olio than carbonara. But the absence of the cream sauce meant that I could chug down more pasta without feeling nauseous. I sincerely hope, for everyone's health, that the oil Hummerston uses in this dish is olive oil.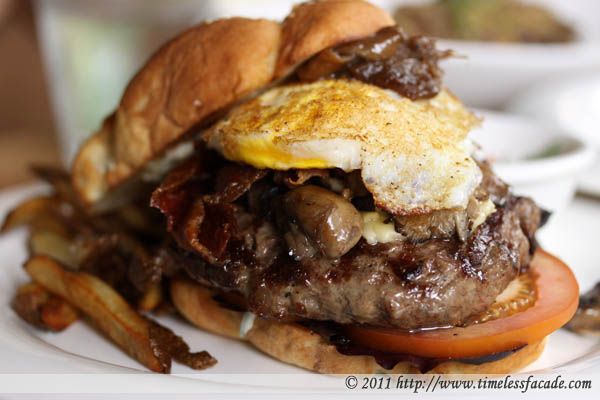 Brunch Burger
I loved the burger bun to bits. I kid you not. It was probably the best I've had in eons. Warm, crusty, topped with sesame seeds and layered with a thin spread of mayonnaise. So good that I could just eat it on its own! The patty was done medium well as per request and had crisp bits on the surface with a nice grilled beefy taste. Topped with cheese, egg, bacon, caramelised onions and mushrooms. How's that for a mouth watering combination? A couple of gripes though. The meat had a nicely uneven texture but came across as a little too soft for my liking. Also, get a load on the amount of oil! The accompanying fries were a little too limp and oily for my liking as well. But I did like the tomato chili aioli dip, which had a sweet mild chilli taste sans the heat.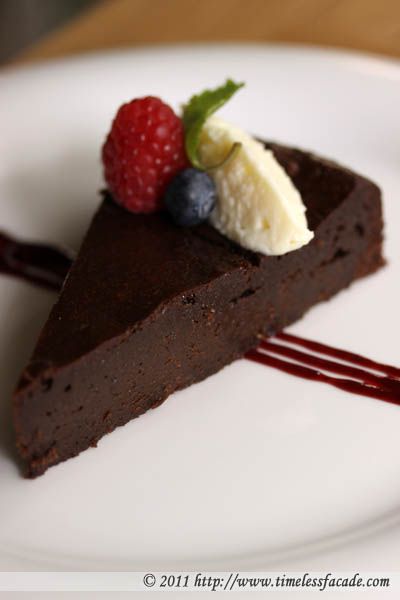 Flourless Chilli Chocolate Torte
Although we were stuffed through and through, we were adamant about trying out Hummerston's desserts. First up was the flourless chocolate torte - dense, rich and not too sweet. I couldn't make out any chili though even though I am quite sensitive to it. Still a decent eat though.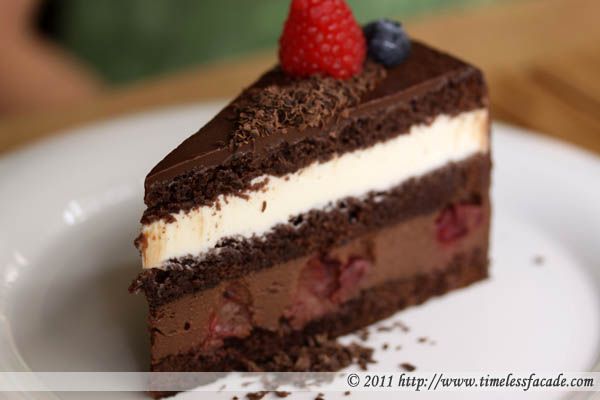 Blackforest Gateau
The blackforest cake was decent but not impressive. Light and airy but lacking in the taste of kirsch. Honestly it would have tasted like pure chocolate cake if not for the pockets of cherries.
Bill
A fantastic but heart seizing (oily!) brunch cost the both of us to the tune of $84 after taxes. Not ridiculously expensive if you ask me, especially for the quality of food (desserts are optional though). And service was warm and heart felt. I would definitely be back in a heartbeat for the burger or if I'm craving for poutine. Only condition? Less oil please.
Final Verdict:
Ambience: 7.5/10
Service: 7.5/10
Food: 7/10 ( I would have given 7.5 if not for the oil)
Value for money: 6.5/10
Overall: 7.125/10
Address: #02-14 Robertson Walk
Contact: 6737-8863
Opening Hours:
Tues - Fri: 12:00 pm - 12:00 am
Sat - Sun: 10:00 am - 12:00 am
Website: http://www.hummerstons.com