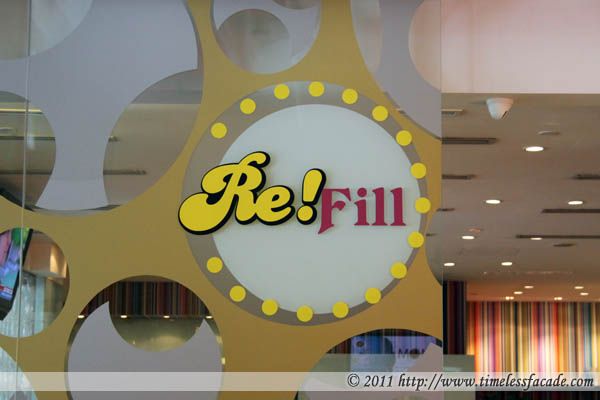 If you are into retro themed hotels, Hotel Re!, a rather new addition to the boutique hotel scene in Singapore, might just be what you are looking for. However, I'm not so much a hotel person and I'm actually more interested in what the restaurant (in this case, Re!Fill) has to offer.


Interior & Menu
Personally I think the cafe's decor is clean and cozy but I don't quite see signs or indications of a retro theme. Well, except maybe for the psychedelic strips of wallpaper that adorn the L boxes. There is a different lunch menu each day and you get to choose 1 of 2 main courses that are available each day. Everything else (appetisers and dessert) is pre decided, which can be good or bad, depending on your personal preferences.


Complimentary Bread
Decent but tasted not unlike a packaged loaf of bread off the supermarket shelf, nicely toasted and served up with a small container of SCS salted butter. Simple but satisfying.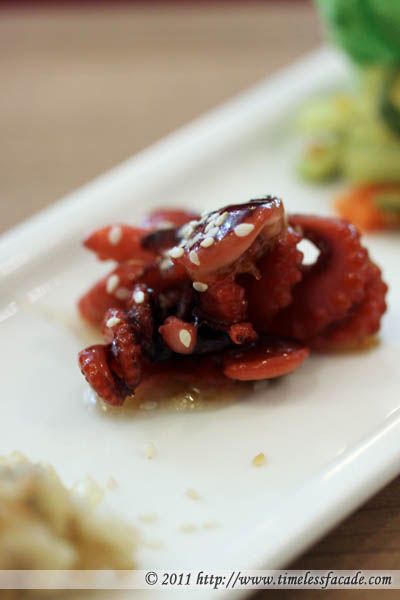 Seasoned Baby Octopus, Egg Foo Yong, Sweet Potato & Taro Fritter
I liked how everything was presented in one long platter in bite sized portions. The baby octopus was a tad sweet and chewy whilst the Egg Foo Yong tasted savoury and all but had so much oil in it that it made my heart beat faster. Just imagine the oil from the egg sitting in a shooter glass. Gross. Luckily the fritter didn't turn out to be an oil sponge as well but I did find the flour a little too thick. Still crisp and enjoyable in small quantities though.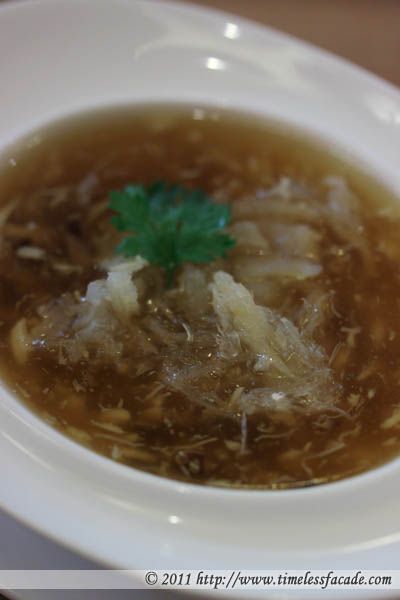 Braised Shark's Fin Soup with Crabmeat
Although I could make out respectable slivers of shark's fin and crab meat, the soup was too starchy and rather bland. But for the price of the set lunch, I really shouldn't be complaining.


Salted Egg Prawn, Parisienne of Fruits & Almond Flake, Garlic Fried Rice, Sauteed Asparagus
I'm usually a fan of salted egg prawns but this one seemed a little too moist and soggy for my liking. Flavour was also lacking and honestly, the salted egg coating was aesthetically unpleasing. But at least it was edible.


Wok Fried Duck Breast with Olive Vegetable, Garlic Fried Rice, Sauteed Asparagus
At first glance, I thought the duck slices looked uncannily like beef. Even the texture was similar to the beef slices you would find at a typical beef
hor fun
stall - chewy from the addition of lots of flour. Compounding matters was the fact that the duck just tasted salty with a dash of pepper. No inherent fowl taste whatsoever.
Hotel Re! Temptation Delight
It sounded grand but came as a flop. I liked the presentation but the taste left much to be desired. In short, everything tasted out of sorts and even something as basic as the lychee agar agar tasted artificial. Ditto the apple crumble.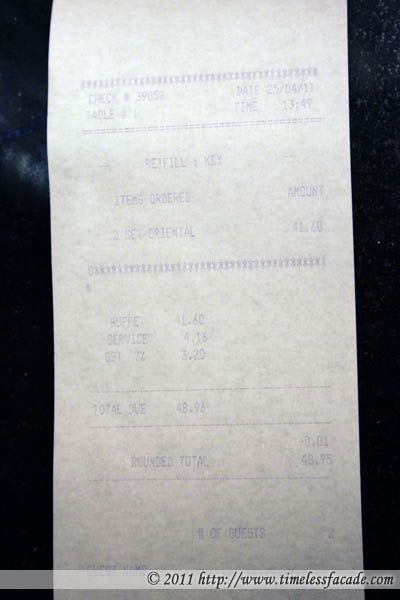 Bill
I have read rave reviews online about the food at Re!Fill but unfortunately, mine turned out to be a disaster. Honestly, $49 nett for 2 pax for set lunch isn't over the top and service was decent. However, food quality really needs to buck up in my humble opinion. And the number of customers the cafe had that day was testament to that. We were pretty much the only table that afternoon. Only when we were about to leave did a couple drop by.


Final Verdict:
Ambience:7/10
Service:7/10
Food:5.5/10
Value for money:5.5/10
Overall:6.25/10

Address: Lobby Level, Hotel Re! @ Pearls Hill

Contact: 6827 8228

Opening Hours: Daily: 7am – 11pm

Website: http://www.hotelre.com.sg/restaurant.htm