The initial plan was for Pizzeria Mozza but apparently the place is so popular that I couldn't get reservations even though I called in slightly over a week earlier. Still sticking to our initial theme of Italian food, we decided to head for Gattopardo instead, which happens to be under the Garibaldi group.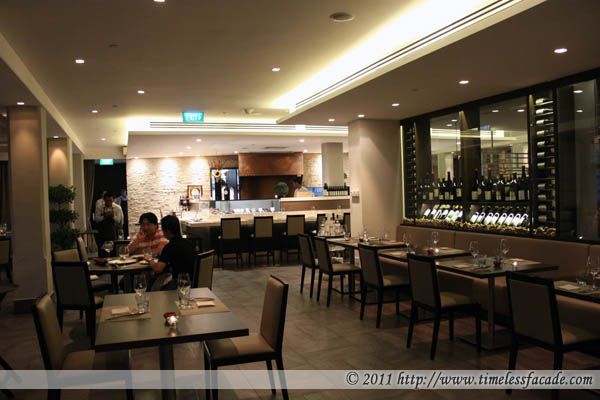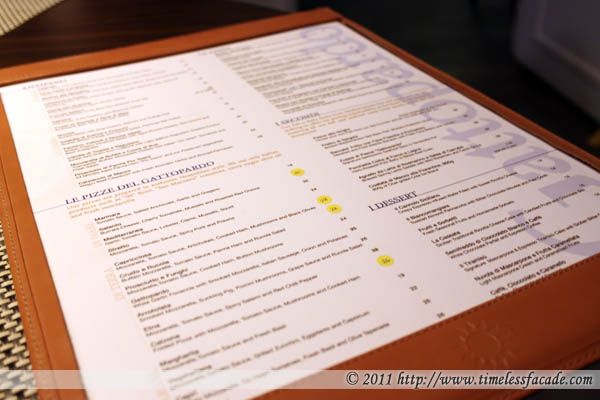 Interior & Menu
Gattopardo is located at Fort Canning Hotel, a rather swanky looking hotel that sits at the top of, where else but Fort Canning Park? Probably not the most central place to get to if you don't drive and even if you do, road signs are misleading. There are a couple of carparks around Fort Canning but please do park at the hotel's basement carpark to save on the hassle.

The restaurant itself looks rather inviting with its simplistic layout and dim lighting. There is even a seafood counter where you get to take a look at the day's seafood, all laid out on mountains of ice behind acrylic covers (sashimi anyone?), very much like a Japanese restaurant. As there were quite a number of us, we managed to snag the private room, which can comfortably seat 10.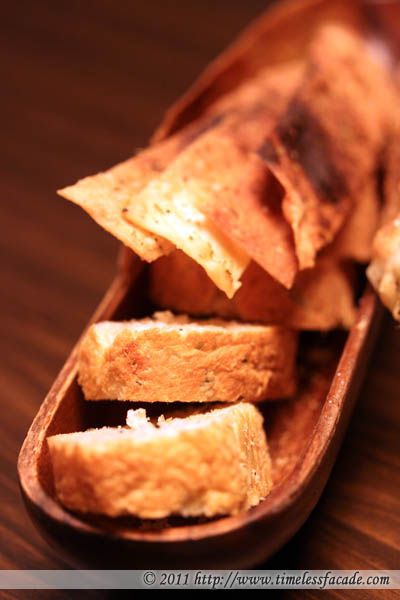 Complimentary Bread
We had multiple servings of the bread as it was honestly quite addictive, especially the thin and long wafer like biscuit. Crackling crispy and heavily salted with a tinge of spiciness, I was guilty of eating at least 6 slices of it. We were demanding refills of the bread so often that our waiter must have felt intimidated.


Grilled Calamari
The grilled calamari was a recommendation from the chef who manned the seafood counter (who incidentally was also a friend of someone at my table that evening). I have got to give it to him. This was an excellent recommendation and everyone around the table agreed in unison that the calamari was nicely grilled with a smokey, savoury aftertaste and a nice chewy texture.
Mozzarella di Bufala e Cuore di Bue
Nice and light but nothing too outstanding in my humble opinion. And $25 did seem a little too expensive for 4 slices of quivery cheese.


Gattopardo
This was the namesake pizza of the restaurant and was essentially white garlic focaccia with smoked mozzarella, Italian sausage, onion and potatoes - all in all it sounded like a smashing combination. Alas, reality is often harsh and the pizza tasted nothing more than your typical cheese prata with onions. Oh and yes, with a lingering hint of fishiness from god knows where.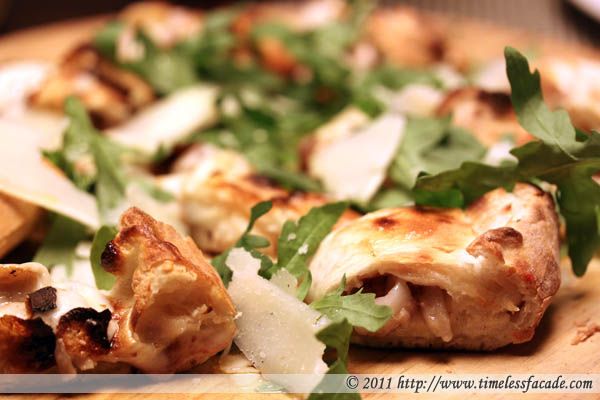 Arrotolata
Divided up into small segments, the Arrotolata (Smoked mozzarella, suckling pig, porcini mushrooms, grape sauce & rucola salad) was another one of those pizzas that looked good on paper but came out as average in reality (like the Gattopardo). The crust was a little chewy and crisp with little bits of pork stuffed in between so no complaints about the crust. However taste wise, the pizza lacked the oomph and the harmonious blend of distinct flavours I was looking for. Sadly, the whole thing just tasted like bread with cheese. Also, the grape sauce wasn't evident and I had to resort to asking for a side serving of the grape jam.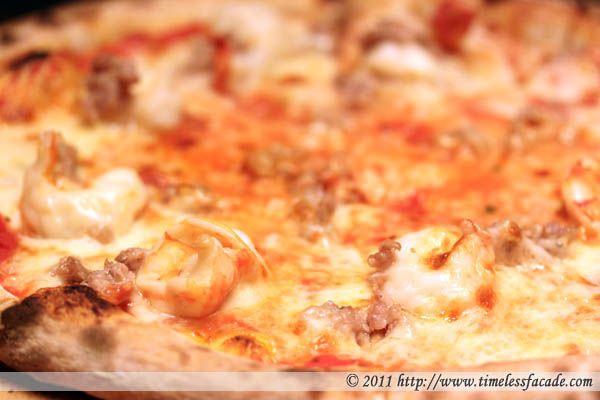 Stretto
I only had a small slice of the Stretto (mozzarella, tomato sauce, spicy pork and prawns) so I shall reserve my comments save for the fact that the tomato sauce made for a nice break from the cheese based Arrotolata and Gattopardo. But still not anything near great.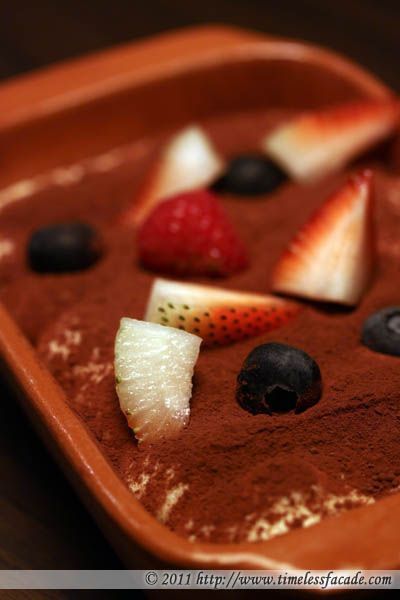 Tiramisu
I was impressed by the huge portion of tiramisu which doesn't seem to be the norm at Italian restaurants nowadays. The mascarpone cheese was light but the sponge fingers did seem a little too "waterlogged". And I couldn't make out any alcohol taste. A teetotaler version or is it just my numbed tastebuds? Would have appreciated if the tiramisu was served a little more chilled as well as that would have enhanced the eating experience.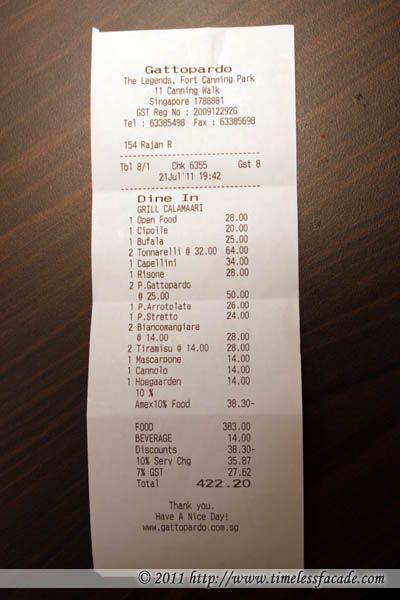 Bill
The 8 of us had a rather unsatisfying dinner to the tune of $422 (with a 10% discount). That works out to be an average of about $53 a head. Not too expensive but I don't think the quality of food corresponds to the price tag (save for the grilled calamari). Service was decent but that's hardly enough reason to make me go back.
Final Verdict:
Ambience:7.5/10
Service:7/10
Food:6.5/10
Value for money:6/10
Overall:6.75/10
Address: Hotel Fort Canning, 11 Canning Walk
Contact:
6338 5498
Opening Hours: Daily: 12pm–3pm, 6.30pm–10.30pm
Website: http://www.gattopardo.com.sg/